Pancakes recipes
We have a glorious list of delicious pancake recipes, whether you enjoy them on Pancake Day or you're a regular on Saturday morning. The humble pancake is made from a batter of milk (or milk and water), eggs and flour which is then cooked in a frying pan or on a griddle until golden brown on both sides. You can buy special pancake pans which are shallow and non-stick with curved sides. French pancakes are made slightly thinner and are called crêpes. Scotch pancakes are small and thick, usually cooked on a griddle and sometimes flavoured with sultanas or raisins. American pancakes are normally served at breakfast. They tend to be light and fluffy, served in generous stacks with bacon and maple syrup. There is also the Russian blini, Chinese pancakes served with Peking duck, Italian crespelle and so on. Pancakes are traditionally eaten in the UK on Shrove Tuesday.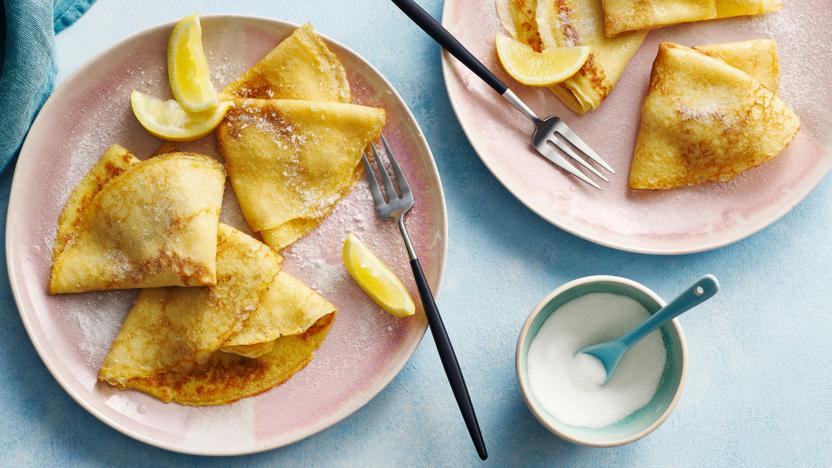 by Delia Smith
Trust Delia Smith to show you how to make the perfect pancake recipe – and enjoy Pancake Day without any flops.
Each pancake provides 88kcal, 7.5g carbohydrates (of which 0.9g sugars), 5g fat (of which 2g saturates), 0.4g fibre and 0.2g salt.
(Not including the lemon and sugar topping)
Desserts
Preparation
Pancakes are delicious eaten simply with lemon juice and sugar, but they can be filled with a variety of sweet ingredients such as maple syrup, fruit, ice cream or chocolate sauce. They make a good base for savoury fillings too, such as fried mushrooms, cheese, spinach, seafood – anything goes really. Pancakes are made from a wide variety of flours and in a range of styles in many countries.