Mutton recipes
As sheep mature they become mutton, a word that has suffered from a negative PR image. The truth, however, is that mutton is not just a clapped-out piece of old lamb but a different product altogether. Definitions of when lamb becomes mutton have long varied. However, it is now generally agreed that the animal should be aged two years or more, and hung for at least two weeks: the result is a juicy, well-flavoured meat, firm but not tough.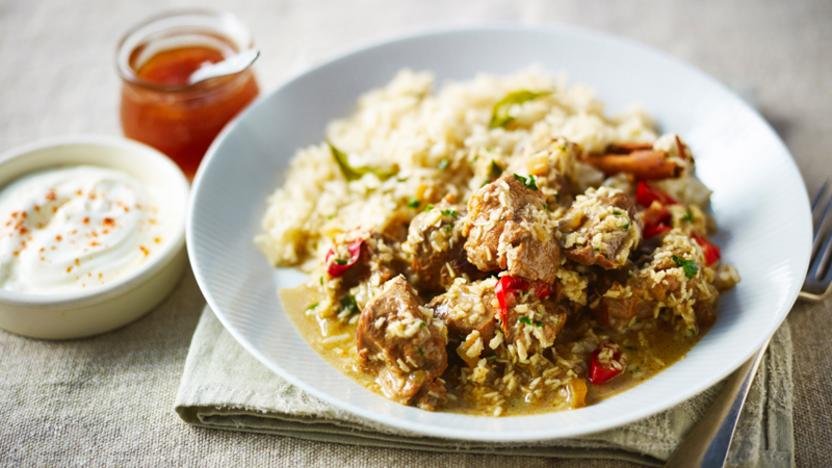 by James Martin
James Martin's easy Goan lamb curry is hot, sour and coconutty. Serve with an easy pilau rice.
Main course
Buyer's guide
Top-quality British mutton is now available in butchers, farm shops and mail-order outlets throughout the country. Far from second-rate, mutton has the potential to be future first-choice.
Mutton is greatly underrated in this country. The cuts are similar to lamb, but tend to be larger, darker in colour with a richer flavour (almost 'gamey'). Choose mutton of a rich brown colour; avoid any grey meat with yellowy fat. Mutton lacks the mildness and tenderness of lamb and tends to have more fat.
Preparation
This meat is especially good for pies and puddings, slow-cooked curries and spicy Middle Eastern dishes, braises and pot-roasts. Cooking with mutton brings a convenience that is often overlooked: a simple mutton casserole or tagine can be left in a low oven for a few hours. The flavour of the mutton mellows and sweetens during the gentle cooking and delivers an eating experience that is truly delicious.