Mince pies recipes
There's nothing quite like a homemade mince pie, served warm from the oven with a glass of mulled wine, to get you into the Christmas spirit. We've got plenty of mince pie recipes to choose from - Paul Hollywood bakes a big batch of deep-filled mince pies, while Mary Berry's mince pies are topped with a delicate sprinkle of marzipan. Whether you like yours iced and full of frangipane or mostly puff pastry with a tiny bit of mincemeat, we have the perfect mince pie recipe for you.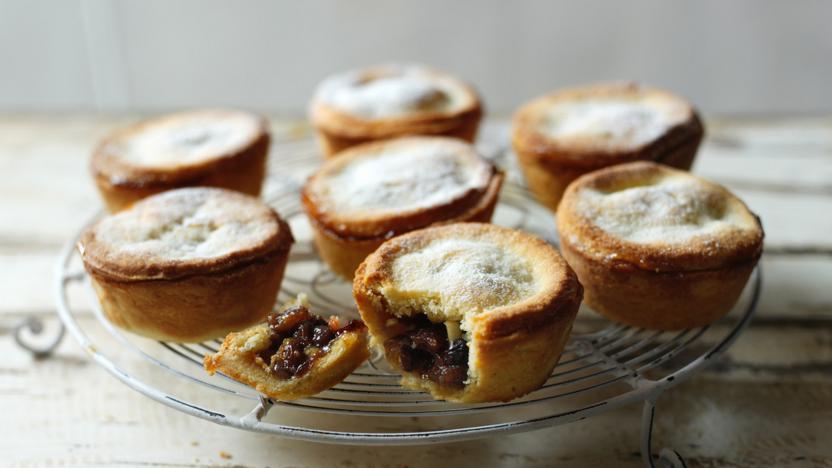 by Paul Hollywood
These deep and crumbly mince pies are so simple and delicious. The secret to Paul's mince pie recipe is to jazz up shop-bought mincemeat with a little extra fruit and zest. (No soggy bottoms, please.)
Equipment and preparation: You will need a deep muffin mould with 12 holes, a round pastry cutter and a fluted pastry cutter.
Cakes and baking
Buyer's guide
There are many varieties of mincemeat in the shops now, and most are suitable for vegetarians but do check the label. You can always customise a jar of mincemeat by adding citrus zest (oranges and clementines work well), alcohol like brandy, sloe gin or ginger wine, or extra fresh fruit like finely chopped apple or orange.
Storage
Mince pies, once baked, will keep for a few days in an air-tight tin but the bottoms may become soggy. You can make the pastry ahead and freeze it for up to a month so it's ready to roll when you are. Baked mince pies will also freeze fairly well. Just make sure they are piping hot before you serve them.
Preparation
Reheat mince pies in an oven preheated to 200C/180C Fan/Gas 6 for 10-15 minutes.
Also made with shortcrust pastry