Herring recipes
The tasty herring is an oily fish rich in protein and vitamins and omega-3 fatty acids, which are beneficial to health. They can grow up to 40cm/16in in length. Whole herrings can be poached, fried or grilled, or pickled, soused, marinated, salted and smoked. Rollmops are pickled, filleted herrings that are rolled around pickled cucumber.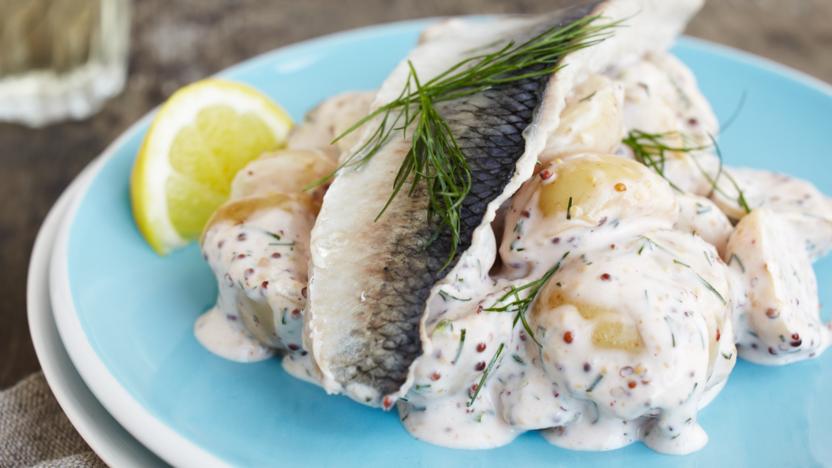 by Simon Rimmer
Herring with mustard, dill and potatoes is a Scandinavian favourite. This one has an unusual kick of curry powder.
Light meals & snacks
Buyer's guide
Herring stocks are suffering from the effects of over-fishing and ecological changes, so herring is less widely available than it once was. If you can find it, choose a sustainable source, labelled with the MSC blue tick. Herring is available year round, but the flavour is best from spring to autumn. Herrings are usually sold whole. Ensure freshness by choosing large, firm and slippery fish. Mackerel or sardines can be used as a substitute in recipes if you can't buy herrings.
Preparation
You'll need to clean the fish before cooking: it's usual to dispose of the head and guts but not the bones, which are usually soft and edible. Herring is perhaps best cooked in white wine or light vinegar - the acid flavours suit its rich flesh. Herring roe is also full of flavour and worth keeping.