Harissa recipes
This is a fiery North African paste that is orangey-red in colour. It's a mixture of peppers, dried red chillies, garlic, caraway seeds, ground cumin and coriander, tomato purée, salt and olive oil. It can be used as a condiment or as an ingredient in cooking and provides a real boost as an accompaniment to vegetables and pulses.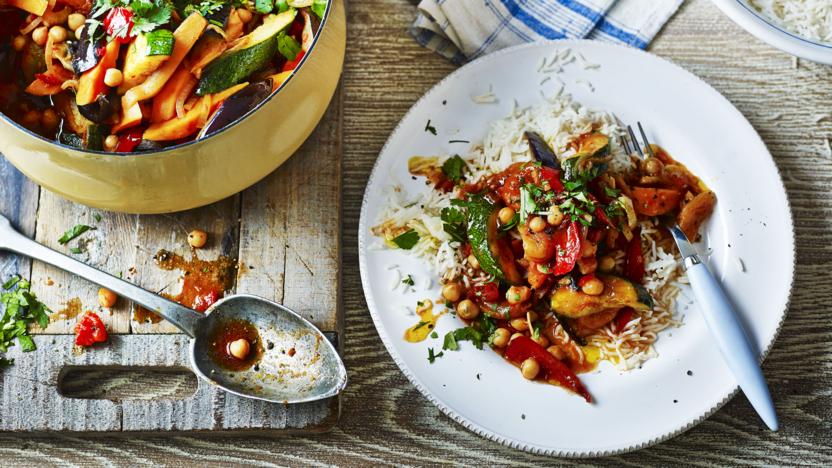 by Justine Pattison
This full-flavoured tagine is a cheap, healthy way of getting extra vegetables into your family's diet. This dish is suitable for freezing; in fact, freezing will intensify its flavour.
This meal, if served as five portions, provides 299kcal, 9g protein, 41g carbohydrate (of which 24g sugars), 9g fat (of which 1g saturates), 11g fibre and 0.1g salt per portion.
Main course
Buyer's guide
Harissa can be bought ready-made in jars, or you can blend red chillies to create your own hot sauce, making it as deadly or as delicate as you want it to be.
Storage
Harissa paste will keep in the fridge for a couple of months if you cover the surface with a layer of oil. The flavour gets better over time.
Preparation
Fish and seafood have a natural affinity with harissa: stir the paste into seafood stews, spread it over salmon fillets and grill until crisp, or swirl a generous spoonful through yoghurt to make a spicy marinade. Treat harissa as an alternative to chilli paste in stir fries, soups and grilled dishes, or serve it as a dip to accompany cooked meats.