Halloumi recipes
Halloumi is brilliant - it's great for quick dinners and veggie barbecues. BBC Food has halloumi recipes for every occasion. Try it in veggie burgers, risottos, pastas or even as a veggie alternative to bacon.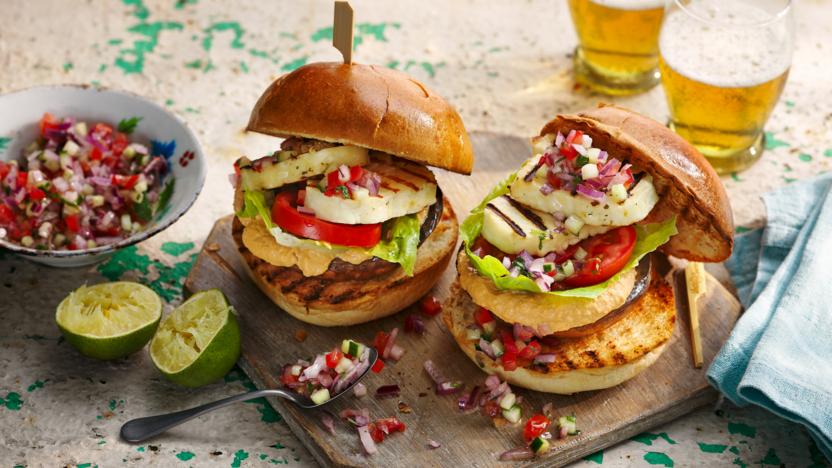 by Sunil Vijayakar
An easy smoky halloumi burger that will make you rethink burgers for ever. Whip this up for a veggie barbecue or a quick Friday dinner.
Main course
Buyer's guide
The best halloumi is made from sheeps' milk, and will come from Cyprus, although these days you can even find varieties made in Britain.
Storage
Halloumi will keep in the fridge for many months if left in its original packaging, complete with brine or whey. Once opened, submerge in salt water and refrigerate.
Preparation
A firm, slightly springy white cheese from Cyprus, traditionally made with sheeps' milk, although these days mass-produced varieties often use cows' milk. In texture, halloumi is similar to a firm mozzarella, making it a popular ingredient in Middle Eastern cooking. Unlike mozzarella, however, it has a strong salty flavour, particularly when preserved in brine.
Halloumi can be dry-fried in a hot frying pan or griddle pan to render the texture soft and stringy, and to make a caramelised crust on the outside. Eat immediately while still warm as it will soon revert to a slightly rubbery state.
In the Middle East, halloumi is usually fried or grilled to take advantage of its high melting point. Although halloumi can be eaten straight from the packet, some chefs recommend soaking it in buttermilk for a day or two before preparing, to give it a richer, less salty flavour.