Goats' cheese recipes
From warm salads to fancy tarts, our goats' cheese recipes will give you inspiration for using this tangy, lip-smacking cheese. Mary Berry uses it for delicious goats' cheese party foods, dolloped in a goats' cheese tartlet, wrapped in parma ham or stuffed in doughballs. Make brunch fantastic by crumbling goats' cheese on top of roasted mushrooms, or wrap it up in cannelloni for a vegetarian supper.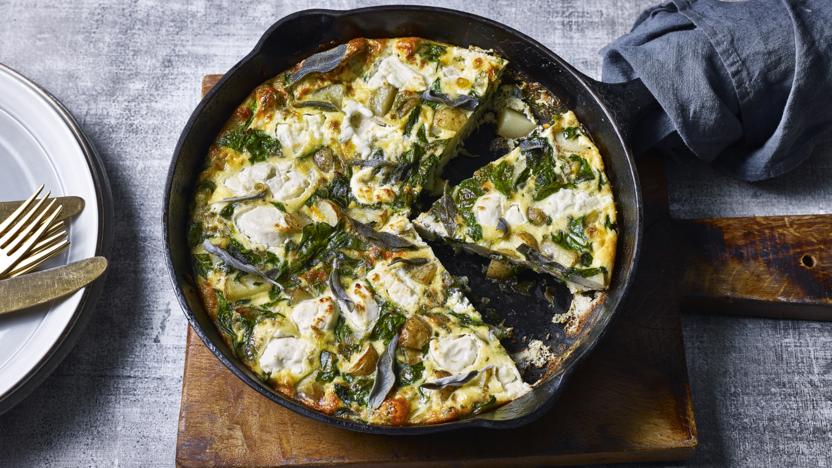 by Tom Kerridge
A delightful frittata that will make a great light supper with a green salad and some crusty bread.
Each serving provides 481 kcal, 28g protein, 21g carbohydrates (of which 6g sugars), 31g fat (of which 13g saturates), 4g fibre and 1.2g salt.
Light meals & snacks
More goats' cheese recipes
Buyer's guide
Goats' cheeses should always be white on the inside, with none of the yellowness common to cows' milk cheeses. If you're worried about the pungent flavour that some goats' cheeses can have, look for young, soft, creamy curd cheeses instead. Due to the number of varieties, goats' cheese is available year-round, but some, such as Banon from South East France, are best in the summer.
Cheeses are made from goats' milk in every country where the animals are farmed, but usually this is on a small, domestic scale. France produces by far the largest range of commercial examples, from young, soft cheeses suitable for use in desserts to tangy, aged varieties that can be grated like parmesan.
In recent years, thanks to an increasing taste for goats' milk products, many British versions have come onto the market – they are particularly common in Wales. The younger cheeses may be flavoured with herbs, pepper or fruit and spread like pâté, and older hard cheeses can be eaten in much the same way as Cheddar. Some people who have an intolerance to cows' milk may find goats' milk cheeses easier to digest.