Garlic recipes
Garlic is technically neither herb nor spice but a member of the same family as onions and leeks. There are many varieties and they differ in size, pungency and colour. The most widely used European variety has a white/grey papery skin and pinkish-grey cloves and is grown in southern France. The bulbs found on sale are actually dried (in the sun), though we tend to consider them fresh.
Smoked garlic is dried garlic that has been smoked to give it a golden colour and mellow smoky flavour. You can also buy garlic purée and garlic salt (or garlic granules). They don't have the juicy perfume of bulb garlic but are useful when making spice rubs.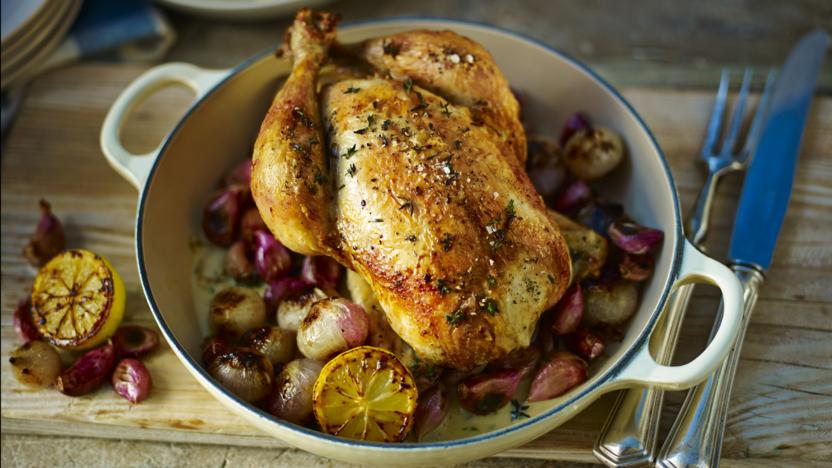 by The Hairy Bikers
This roast chicken is a real show stopper, perfect for Christmas or a big Sunday lunch. It isn't usually cooked with shallots but we've added a few to make the sauce extra delicious. Leave them out if you prefer.
To make a richer sauce from the cooking liquor, you can stir in freshly chopped tarragon and some double cream or crème fraîche. Not traditional, maybe, but very delicious.
Main course
Buyer's guide
Green, or fresh, garlic is usually only available from June to August in the UK.
Preparation
Garlic has many culinary uses. The cloves are separated, peeled and then used whole, or chopped or crushed. If the garlic is old, be sure to remove the bitter 'germ' from the centre of the clove. The easiest way to crush garlic is to place a clove on a board and, using the flat side of a small knife, press down firmly until you have squashed it to a pulp. Sprinkle a little salt on the clove to help the knife grip. Garlic crushers are fine, but some say that crushing the garlic this way gives it a bitter taste. The more finely the garlic is crushed, the stronger it will taste in the dish, but slow oven-baking tends to mellow the flavour.
Varieties of garlic
Typically made with garlic