Fruit cake recipes
Fruit cakes are heavy, dense cakes that have a relatively low flour content and contain lots of mixed dried fruit.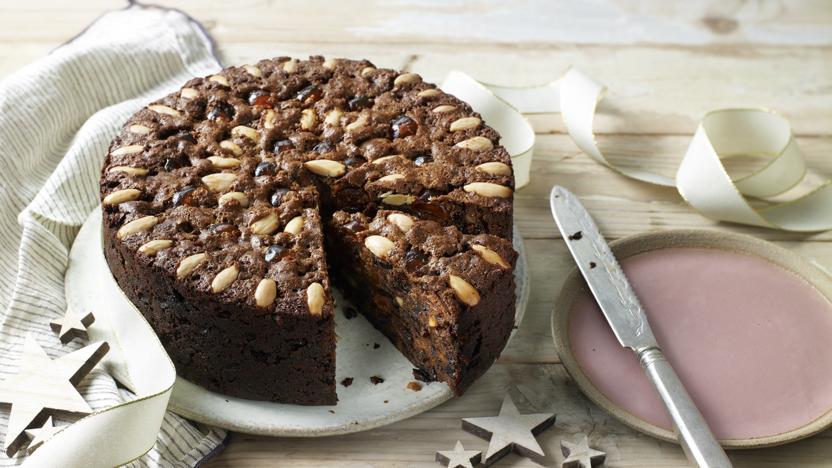 by Mary Berry
Mary Berry has created the perfect fruit cake recipe for Christmas. It's boozy and fruity, with loads of cherries, apricots and raisins. Skip the decoration and cover with marzipan and fondant for birthdays, weddings and special occasions.
Cakes and baking
Storage
The best fruit cakes are matured for at least a month and moistened or 'fed' from time to time with alcohol such as sherry, Madeira or brandy. Fruit cakes made solely from dried fruit will keep for several weeks and up to a month; fruit cakes containing both dried and fresh fruit will go mouldy more quickly. Fruit cakes that have been matured and fed with alcohol can be stored for a year or more.
Preparation
When making dense fruit cakes such as a Christmas cake, the batter needs to be heavy enough for the dried fruit and nuts to be suspended in it; if it's too thin the fruit will sink to the bottom. Another challenge comes from the sweetness of the dried fruit, which will scorch and turn bitter if the oven temperature is too high. This is why traditional fruit cake recipes often require you to bake the cake slowly at a low temperature and to line the inside and outside of the tin with paper: a double thickness of parchment paper inside, and several layers of newspaper secured with string outside.
Varieties of fruit cake
Also made with dried mixed fruit