Fig recipes
This striking fruit, with its fresh green or deep purple skin and vibrant deep pink flesh, is a wonderful addition to the autumnal table. Figs have a naturally high sugar content, making them an ideal match for equally intense ingredients, such as salty prosciutto - a classic Italian combination.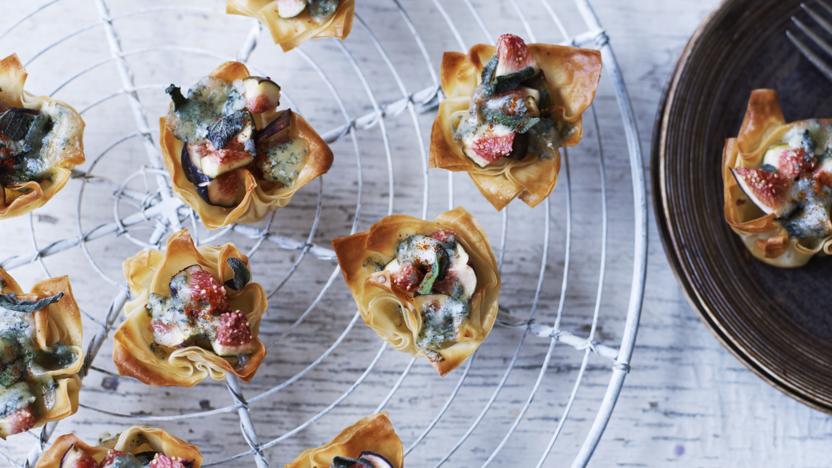 by Mary Berry
These little blue cheese and fig tarts are incredibly simple to make, yet look so sophisticated, and most of the preparation can be done in advance. A great drinks party nibble.
Starters & nibbles
Buyer's guide
For reasons of convenience, many figs are imported hard and immature. When buying figs, it's worth noting that they do not ripen after picking, so choose the ripest fruits you can. Look for figs with rich colouring, and those that are plump and yield slightly to pressure. Smell is important too - avoid any figs that have begun to smell slightly sour. Dried figs are readily available all year round.
Storage
Fresh figs have an extremely short shelf life. Thin-skinned and easily bruised, they need careful handling and should be wrapped in tissue for travel. Ripe figs are highly perishable and will not keep for longer than three days in the fridge. Bring out their delicate scent and flavour by leaving them in the sun for an hour or so before serving.
Preparation
Eat fresh figs on their own with goats' cheese, or slice into wedges and caramelise lightly and toss in salads with bitter leaves. Alternatively, bake them until tender and drizzle with honey and crème fraîche or yoghurt, or poach in port or sweet sherry with aromatic flavourings such as cinnamon, citrus peel and pomegranate seeds and serve with cream.
Dried figs can be soaked in boiling water or lightly steamed to reconstitute. They're excellent chopped, mixed with nuts and spices and added to tea-breads and cakes, or stewed, flavoured with anise and fennel.