Dill recipes
Also known as dill weed, this is a green herb with wiry, thread-like leaves that grow in clusters. It has a strong, distinctive taste that is like a combination of fennel, anise and celery, with warm, slightly bitter undertones.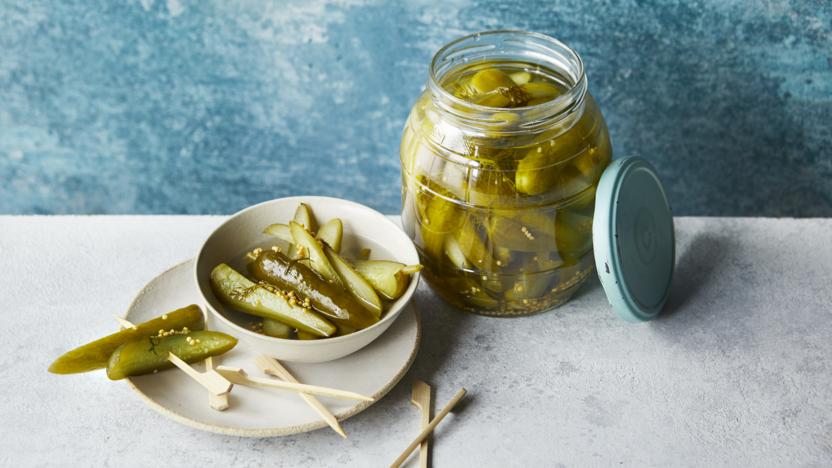 by Pam Corbin
More often than not dill pickles have a dill flower in the jar; mostly for the addition of dill's soothing aniseed flavour, but they do make the jars look pretty too. Dill flowers are best harvested just as they finish flowering and when the tear-shaped green seeds are beginning to set. If you can't get any dill flowers, then a few dill fronds can be used instead. A true dill cucumber is between the size of a gherkin and a small cucumber, but if you can't get hold of any, you can use gherkins or small immature cucumbers instead.
You will need two 500–600ml/18–20fl oz sterilised jars. See the Recipe Tips for information on how to sterilise jars.
Side dishes
Buyer's guide
Fresh dill is available from supermarkets and ethnic grocers. Dried dill is a perfectly acceptable substitute to fresh, and is even preferred in some Middle Eastern dishes.
Storage
Keep fresh dill refrigerated for up to one week.
Preparation
Use only the leaves of dill, and discard the thick stems. This herb is popular in Scandinavian and Eastern European cookery, and is added to soups, grilled and boiled fish, gravlax, potatoes and vinegars. In the USA, pickled cucumbers and gherkins are flavoured with dill; in India, it is used as a vegetable in regional dishes. It is combined with yoghurt and soured cream in Greece and Turkey, and with broad beans, rice and koftas in Iran.