Date recipes
Widely grown in Arab countries, the date is the fruit of the date palm. Dates are sweet and rich with a chewy, sticky texture. Fresh dates are plump and dark brown with a glossy sheen. Dried dates look very similar and it can be hard to tell the difference if you buy them packaged. Dried dates are often coated in syrup to keep them soft and sticky.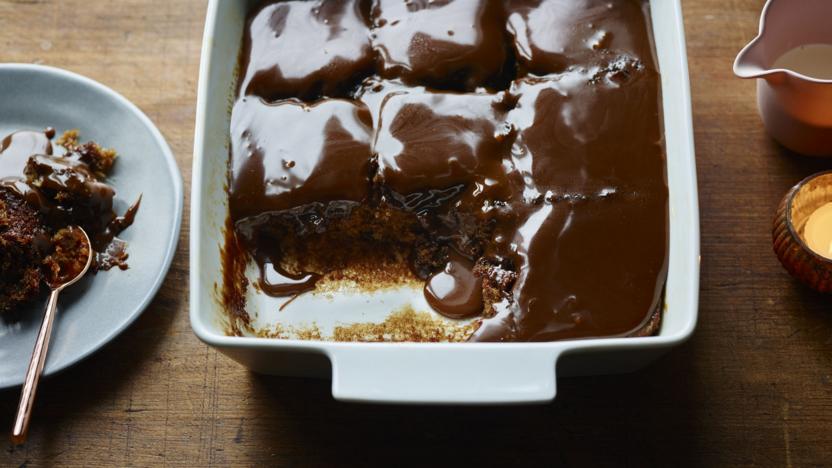 by Nigella Lawson
My STP is altogether deeper and darker than the original version: it is still sweet, but the muscovado sugar and black treacle give it an almost savage intensity. It seems redolent of ginger, cloves, allspice – and yet none of these spices are used. It's a miracle. I don't understand it – but then, miracles are not to be questioned.
Equipment: You will need a 23x23cm/9x9in square baking dish.
Desserts
Buyer's guide
As dates are harvested in late autumn and early winter, this is when the best selection is available in the shops and they're more likely to be fresh. There are hundreds of varieties, but deglet noor from North Africa and the Middle East is the most plentiful. Medjool are large, deep-red coloured dates, usually from Jordan or California. They're expensive but worth it for their delicious toffee-like taste. You can buy clusters of dates still on the stem or packaged in boxes – stoned or unstoned. Buy unstoned dates for the best flavour.
Storage
Fresh or dried, dates keep really well – for at least a few months in a cool, dark cupboard. They also freeze very well.
Preparation
Eat dates as a sweet snack, or chop them up and scatter them onto cereal in place of sugar or honey. Chopped up they can also be added to cakes, biscuits and desserts. They're delicious served with cheese or as an after dinner treat, stuffed with a whole almond and rolled in icing sugar. North African cuisine makes varied use of dates, notably in tagines and sweet couscous dishes.