Dark chocolate recipes
Our dark chocolate recipes are for chocoholics who like it on the dark side - from beefy chilli with chocolate to Nigella's devil's food cake and Mary Berry's rich chocolate ripple cheesecake.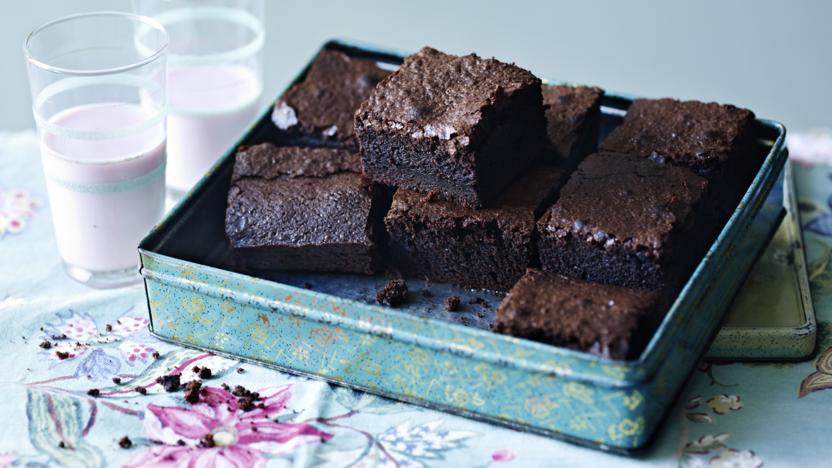 This is our most perfect chocolate brownie recipe. It's everything you want in a brownie – fudgy, dark and chocolatey. Serve these brownies warm with a scoop of vanilla ice cream and you'll understand what happiness is.
Cakes and baking
More dark chocolate recipes
Buyer's guide
According to the experts, a good dark chocolate should contain at least 70 per cent cocoa solids to deliver the desired chocolate hit, but chocolate made from 100 per cent cocoa solids is available from speciality chocolate shops. It is extremely bitter and an acquired taste.
Storage
Properly stored, dark chocolate will keep for a year.
Preparation
Dark chocolate can be dairy-free and suitable for vegans. European law does not recognise the adjectives 'dark' or 'plain' usually added to this chocolate; it's just known as 'chocolate'. Dark chocolate should contain a minimum of 35% cocoa solids, at least 18% of which should be cocoa butter. However, the cocoa content can be, and often is, much higher than this, and can reach up to 80% and even 90%. High-quality dark chocolate has a more bitter taste than chocolate confectionery. It can be eaten as a snack or incorporated into rich cakes, sauces or desserts.
Typically made with dark chocolate
Other chocolate