Courgette recipes
We have hundreds of courgette recipes to make use of this endlessly versatile vegetable. Courgettes make a decent meal of any storecupboard ingredient. They can be dressed up in a creamy lemon sauce and served with pasta, grated and added to a quiche, or served as crisp fritters. In fact, recipes for courgettes come in as many shapes and sizes as the squash itself: varieties of this summer vegetable can range from small and flying-saucer shaped, to dark-green and tennis ball-sized, to long and yellow. Give courgettes a go: remember, the smaller they are, the more flavour - if you don't pick them early enough they grow into marrows.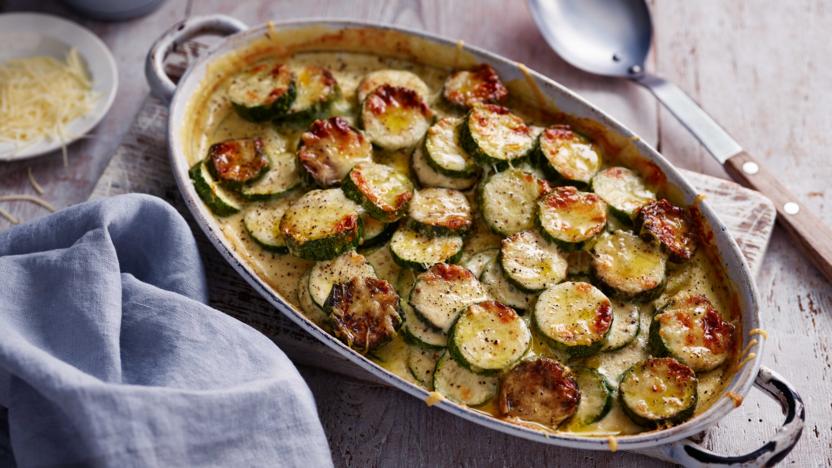 by The Hairy Bikers
This simple courgette gratin makes a great side dish as it's creamy and flavoursome without being too rich. Serve with a salad for a light supper.
Each serving provides 273 kcal, 10g protein, 5.5g carbohydrate (of which 4g sugars), 23g fat (of which 12g saturates), 2g fibre and 0.7g salt.
Light meals & snacks
Buyer's guide
The perfect courgette is no fatter than your middle finger, with a wide-open yellow flower still clinging to its stem. Look for small, firm, unblemished courgettes whose skin has a healthy glow.
Dark green courgettes are easily available in Britain. Larger, pale green courgettes streaked with cream, a common sight during the summer in Italy and southern France, are starting to appear in UK farmers' markets. Round courgettes, which are sometimes imported from France, can also be grown successfully in Britain. Spaghetti squash, a rather bland-tasting vegetable whose flesh comes away in long, skinny strands when roasted, can sometimes be found in supermarkets.
Storage
Courgettes will keep in the fridge for weeks, but taste best when used as quickly as possible after picking or buying.
Preparation
Courgettes can be poached, blanched, hollowed out and stuffed, baked, fried, steamed or stewed, and taste great combined with goats' cheese or garden herbs. They are quite watery vegetables so need to be cooked with care. If stuffing courgettes, pre-cook them for a few minutes in salted water before baking with their filling. Try courgettes preserved in vinegar, made into fritters or stirred into risotto. If you've grown your own, you can make good use of the delicate flowers too: remove their stamens, dip the flowers in tempura-style batter and deep-fry, or stuff with ricotta, parmesan and herbs and bake. They can also be sliced and added to salads, soups or risotto.
Typically made with courgette