Clams recipes
Clams refer to a number of small, edible bivalves. Varieties can be found all over the world, but are particularly popular in North America. Clams are easy to prepare and delicious in chowder, spaghetti or paella. Try one of our tasty clam recipes to unearth the flavours of this wonderful seafood.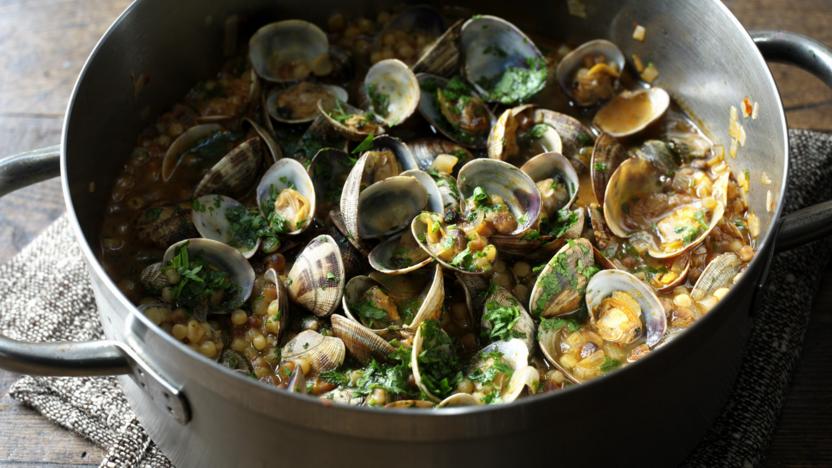 by Nigella Lawson
At the time of writing, I confess you will need to go to an Italian deli or specialist food outlet for fregola, the sun-dried and toasted Sardinian "couscous" specified for this recipe. I wouldn't substitute regular couscous for the fregola, which is rather more like dense pasta peas than semolina grains, and thus most comparable to the larger Midde-Eastern or Israeli couscous which could be used in its stead.
Main course
Buyer's guide
There are many types of clam found all over the world. Some suit steaming, others are opened and served raw (like oysters), others can be used in stews or chowders. Popular species of clam include:
American hard shell clams – large clams with a thick, heavy shell
Palourdes (also known as Manilla clams) – clams with a pretty, marbled shell that are excellent for steaming
Surf clams – clams with a shiny, taupe-coloured shell that also suit steaming
Amandes (also known as dog cockle) – good in chowders and stuffings
Atlantic jackknife clam (or razor clam) – these are elongated, tube-like clams with a striped shell that opens like a glasses case
Some major retailers sell live Cherrystone clams that can be steamed open, but in the main a specialist fishmonger will have the best clams on offer and will be able to advise you about which clams to pick.
Preparation
Clams require little preparation: they must be live when cooked. Check that the shells are still undamaged and tightly shut (or close tightly when tapped) just before cooking commences. A quick rinse under cold running water to remove any grit is also required. Many clams are best cooked simply in a small amount of flavoured liquid such as sherry, cider or stock to steam them open. Amandes clams work well in Clam chowder and palourdes or surf clams are used in Spaghetti alla vongole because they steam open quickly.