Chicken recipes
BBC Food has hundreds of delicious chicken recipes from classic roast chicken to the ultimate chicken soup. Try our quick chicken recipes for stir-fries, traybakes and pasta.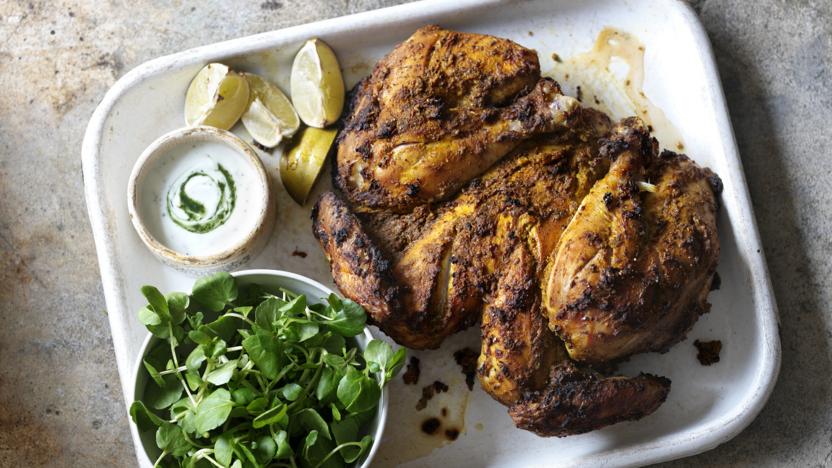 by The Hairy Bikers
Our masala chicken recipe is so good – dieting or not, this is one of our favourite recipes.
464 calories per portion.
Main course
Buyer's guide
The plight of the cheap chicken has been much publicised and as such the consumer now has more choice than ever. Value chickens for well under a fiver, free-range, organic, corn fed - there's a cornucopia of options. Budget, ethics and taste all come into the equation but what almost all chefs, cooks and food writers agree on is that a good-quality, free-range bird is vastly superior in flavour to a cheap factory-farmed bird.
Storage
A whole chicken can be frozen for up to 9 months if well-wrapped to stop any air getting in.
Preparation
A large chicken (around 1.5kg/3lbs 5oz) will feed a family of four with leftovers for a salad or pasta dish the next day. A stock can be made from the carcass and turned into a risotto or broth on the third night. It's often considerably cheaper to buy a whole chicken and joint it yourself, than to buy ready-prepared breasts and leg joints. Whole chickens tend to be sold trussed (tied with string) - remove this and pull the legs gently away from the body to ensure even cooking. Sprinkling the skin with sea salt before roasting will help to crisp it up. Leave it to rest for 10 minutes after cooking, and before carving, and you'll be rewarded with a pool of flavoursome pan juices that can be served as they are, or thickened with a little flour and stretched with a splash of wine or stock for gravy.
Typically made with chicken