Breadfruit recipes
Breadfruit is a large, creamy fleshed, mild tasting, starchy tropical fruit with a tough yellowish-green, hexangle-patterned rind. It can be seeded or unseeded. Its chestnut-like seeds are edible once cooked.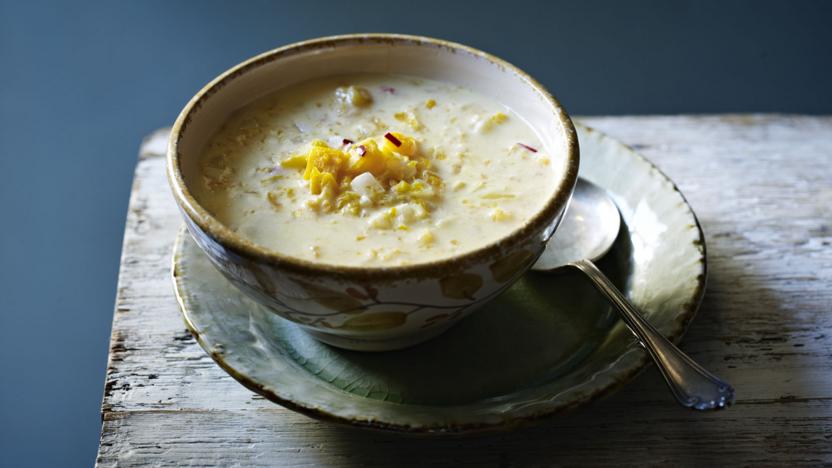 by Growing Together
A warming winter pumpkin soup; the kick of ginger and chilli is set off by soothing coconut milk. If you can't get hold of pumpkin, try butternut squash.
This meal, if served as six portions, provides 177kcal, 3g protein, 14g carbohydrate (of which 8g sugars), 11g fat (of which 10g saturates), 3.5g fibre and trace salt per portion.
Light meals & snacks
Buyer's guide
If you're unable to find fresh breadfruit, canned is a good substitute for ripe breadfruit.
Preparation
Breadfruit must be roasted, boiled or fried before eating. In the Caribbean it's always picked ripe and can be roasted in embers or peeled, sliced and boiled before further cooking. It has a very spongy, starchy texture so is used in place of potatoes or yams.
Once peeled and boiled until tender, breadfruit can beadded to salads, mixed into sauce-rich curries or sliced and fried as chips.
In Thailand, green breadfruit is added to curries. It must be peeled, seeded and cut into chunks before being soaked in acidulated, salted water. Boil before cooking the fruit in the curry.