Bramley apple recipes
Bramley's Seedling is the most popular cooking apple in Britain, and for good reason. Try these tart, fluffy apples in our best Bramley apple recipes - from pies and strudels to chutney and soups.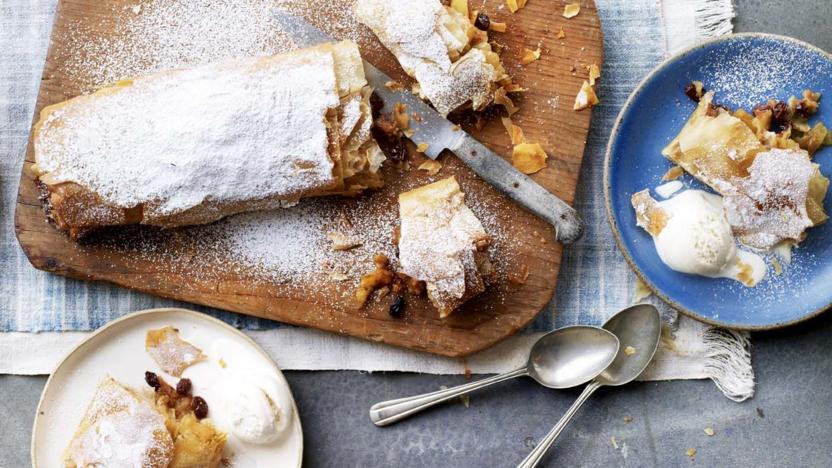 by Rick Stein
Sweet and spiced, this strudel is a winner. Be sure to melt the butter used to separate the layers of pastry, as this makes for a great flaky crust.
Cakes and baking
More Bramley apple recipes
Buyer's guide
Bramley's are sold throughout the year, but are harvested in mid-October. They become sweeter with storage.
Preparation
Bramley's contain a high level of pectin, so set easily and make excellent jellies, fruit cheeses, chutneys and mincemeat. Use when cooking with fruit that's lower in pectin such as in rowanberries or rosehips to help them set. Bramley's thick skins also mean they bake well. Core and stuff with dried fruit, spiced cinnamon butter or a frangipane mixture.
Once cooked, Bramley's quickly break down, so use them in puréed dishes such as apple sauce, apple Charlotte, ice cream and mousse. Bake with raspberries, blackberries, quince or pear, or flavour with cloves or cinnamon. Alternatively, use their acidity to cut through the sweetness of root vegetable soups made with beetroot, carrot or parsnip; or lighten a sausage meat stuffing for roast goose or turkey by mixing in their roughly grated flesh.