Banana recipes
Bananas are widely grown across the tropics and sub-tropics. They grow in hands (bunches) of five to 20 fingers (bananas). Depending on the variety, they can be small or long, thin- or thick- skinned, with yellow or red skins. They are picked when two-thirds ripe and slowly convert their starch to sugars as they're shipped.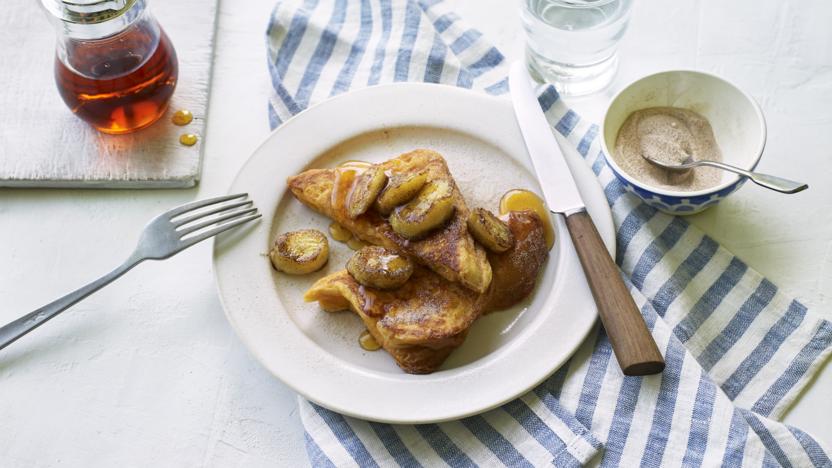 by Allegra McEvedy
French toast is an irresistible all-time favourite weekend breakfast with no health benefits whatsoever. Allegra walks you through the process. Gorgeous.
Brunch
Buyer's guide
Bananas are often sold still green but will ripen to yellow.
Storage
Avoid storing bananas near ripe fruit as they release a lot of ethylene, which will cause the other fruit to ripen further.
Preparation
Lemon or lime juice, natural yoghurt or soured cream all bring out the natural sweetness of ripe bananas, especially in fools, drinks, mousses and ice creams. Lemon juice or acidulated water help prevent sliced bananas from browning in trifles and pancakes.
Bananas are excellent cooked as fritters, flambéed, or simmered in coconut milk. Rum, orange, cardamon, toffee, vanilla, and chocolate are popular pairings. Mashed bananas give a moist, chewy texture to cakes and muffins. Over-ripe, chocolate-skinned bananas can be used in banana bread or ice cream, but add extra lemon to the latter before using.
Typically made with banana