Avocado recipes
Remember the days before the avocado ruled the world? Now no self-respecting salad or slice of toast would be without a creamy wedge of perfectly ripe avocado. Try our avocado recipes - from classic guacamole to easy grain bowl salads.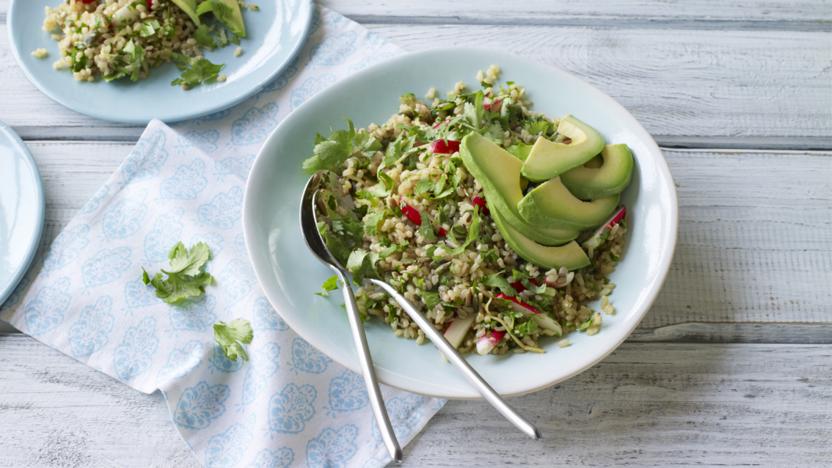 by Nigella Lawson
A rice bowl is a wondrous thing, but often – despite the simplicity of its title – a rather cluttered and complicated one. Here, I have pared it back, to make a gorgeously seasoned rice bowl, with nothing more than a few seeds, herbs and radishes stirred through it, and an avocado to top it. It's a simple take on an inspiringly expansive idea. So please use this as a starting point only. It's very much a non-recipe recipe, and every time I make it, I add something different, depending on what's to hand.
Main course
Buyer's guide
Two main avocado varieties are available: Hass and Fuerte. The Hass variety has a knobbly purple-black exterior and a creamy-textured, richly flavoured interior; the Fuerte variety has a smooth green skin. Avocados are very high in both protein and oil. Look for avocadoes that have unblemished skins with no soft spots, which suggest bruising. They are ready to eat when the flesh yields slightly when pressed with the thumb.
Extra virgin avocado oil is now widely available in UK supermarkets. Use it as you would olive oil, for roasting and drizzling over salads; or serve it as a dip with crusty bread.
Storage
Avocados must be allowed to ripen in a warm place before they're used; speed up the process by wrapping them in brown paper. To test ripeness, press the skin lightly with your thumb. If it feels slightly yielding, it's ready to eat.
Preparation
Cut lengthways down to the stone and twist to separate the two halves. Pierce the stone carefully with a knife to embed the knife's tip, then pull the stone out. The yellow-green flesh should come away from the skin easily, but it will go brown when exposed to air, so always prepare avocados just before serving or drench in lemon juice to prevent the browning. The trick is to combine avocado with ingredients that will enhance its nuttiness but cut back on its richness. Savour the pale flesh for breakfast or lunch by crushing it on toasted sourdough bread along with a squeeze of lime juice, sea salt and pepper. Or make it into a coarse salsa with tomatoes, onion, chilli, lime and coriander to accompany grilled meats. Alternatively, toss the creamy wedges gently in a salad with green leaves, crabmeat, spring onions and a little lemon.
Other considerations
The avocado has the highest protein and oil content of any fruit. In fact, this soft-fleshed fruit can contain up to 30 per cent fat. Don't let the high fat content put you off, though; avocados contain only monounsaturated fat, which may help to reduce the risk of cancer and heart disease.
Typically made with avocado