How to eat vegan on a budget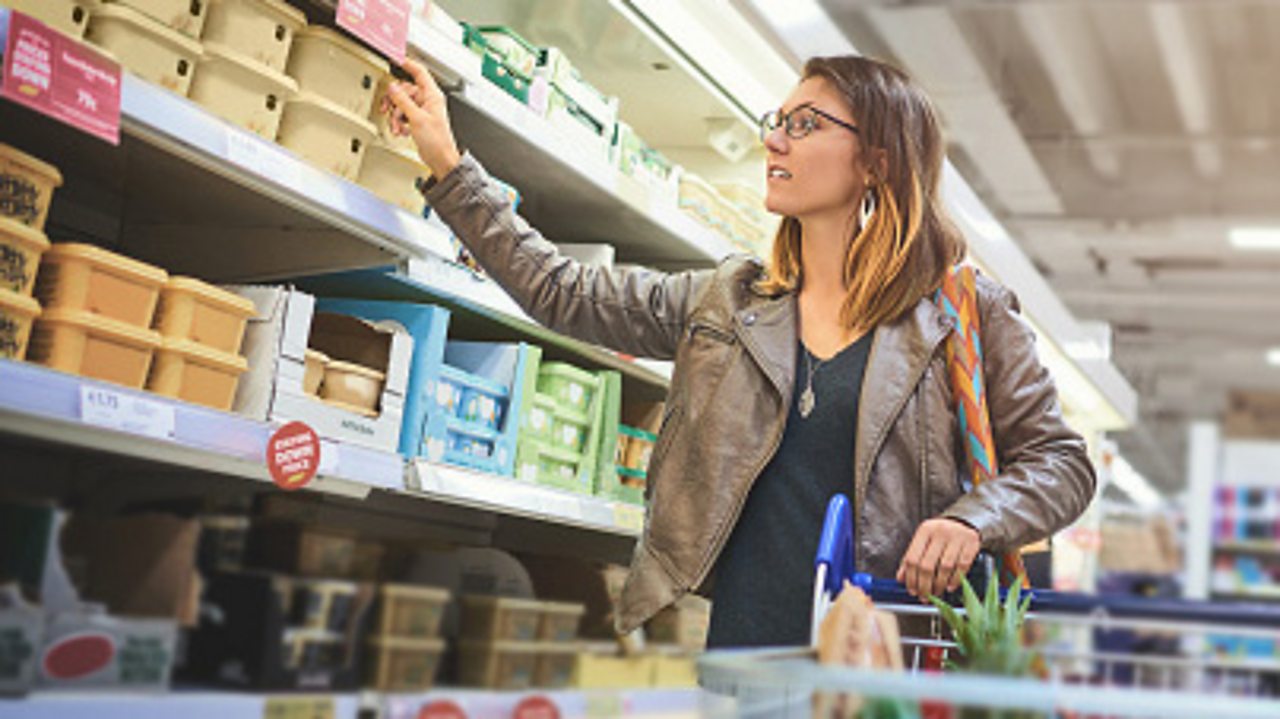 If you've recently switched to a vegan diet you may find yourself spending more money than you used to on your weekly shop. Specialist vegan products are sold at a premium and interesting, flavour-packed vegan recipes can require many more ingredients.
The good news is that the popularity of veganism has meant that shops are bringing cheaper own-brand vegan foods to market. Cooking from scratch is an exciting journey of discovery and a must for health – processed soups, sauces and meat substitutes can be high in salt and sugar.
We've researched where to stock up on different products and found some great healthy recipes for eating vegan on a budget.
Nuts and seeds
Shop around for own-brand 100% nut butters. There are some very cheap ones around as the popularity of this high-protein product grows. Don't be tempted to bulk buy nut butters as they are generally the same price per 100g and nut butters can go rancid.
Whole nuts in the ethnic aisle can be cheaper per 100g than in the baking aisle, but you may find yourself buying more than you need immediately. You can freeze nuts (especially those reduced after Christmas) to keep them fresh for longer. Don't be afraid to swap in a cheaper nut in many recipes. Almonds, peanuts and cashews are much cheaper than pecans, pistachios and pine nuts. Chopped mixed nuts are the cheapest.
Ground flaxseed makes a good egg replacer. But buying ground flaxseed is twice as expensive as grinding your own in an electric coffee grinder. Small amounts can be done in a pepper mill if you don't have a coffee grinder, but a cheap coffee grinder is about £12 and a pepper mill is £5. A coffee grinder will pay for itself quickly as it's also great for grinding spices.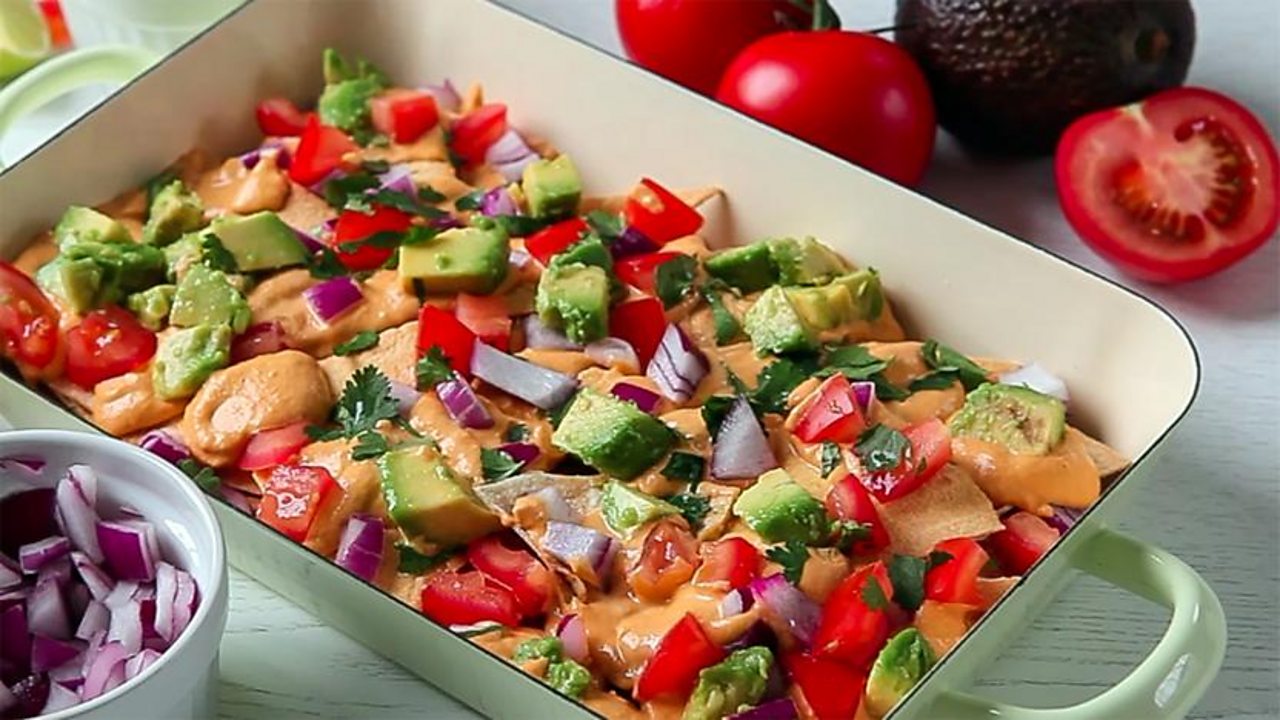 DIY products
Processed food, even if it's vegan, is still processed food. You'll find it bulked out with mystery ingredients or lots of salt and sugar. And while ready-made products may offer convenience, and individual sachets may promise initial savings, in the long run they are going to be more expensive than doing it yourself.
Full disclosure – you may need a bit of kit. A stick blender is a useful investment, especially one that has a small food processor, and should go on your Christmas list. Cheap ones have been as low as £15 but spending slightly more ensures you'll have the horsepower to grind anything.
Vegan mayonnaise can be made in 10 seconds with the miracle liquid that is aquafaba. Save the water from a tin of chickpeas (or the water from cooking them yourself) and mix a few tablespoons with oil, salt, vinegar and mustard. Aquafaba also makes amazing meringues and mousses, lightens cakes and binds cookies.
Alternatives to honey can be relatively expensive, so consider whether the job can't be done by a pinch of brown sugar. There's no evidence that any sugar is particularly better (or worse) for you than any other, so don't fork out for so-called "natural" sugar products.
DIY vegan basics
Store cupboard items
If you can visit an Asian or Continental shop, this is the perfect place to invest in your store cupboard to bail you out time and time again. Spend £5 a fortnight on spices, sauces and pastes and you'll rapidly be able to cook an unending variety of quick and easy vegan recipes. Miso, soy sauce, rice vinegar, tahini, dried mushrooms, seaweed, tamarind and an endless number of chilli sauces will spice up your life and are cheaper than in the supermarket. It's also worth blending your own spices ahead of time for convenience – saving you from packet sauce temptation.
You also get variety: different types of short and long-grain rice, grains, pulses, noodles and flours are available and aren't much more than the regular supermarket varieties. Potato starch, cornflour and tapioca starch used as egg replacers tend to be cheaper here.
You might find coconut oil cheaper here, too. Refined coconut oil will be cheaper (and less coconut-flavoured) than unrefined. But it's worth noting that while coconut oil is a useful baking ingredient when you need a solid fat, you should fry with cheaper blended olive or rapeseed oil.
This is also the place to stock up on interesting vegan products. A tin of jackfruit makes amazing wrap or jacket potato filling and is much healthier and cheaper than a ready-made packet. The variety of tofu you can find is mind-boggling (just check in marinated varieties for fish sauce). Buying plain tofu and marinading it yourself is easy if you're looking for the lowest price. Silken tofu is good for blending into mousses and even cakes, while firm tofu is better for stir-fries.
Roasted wheat gluten is another name for seitan that works well in noodles, stews, chilli and stir-fries and is packed with protein.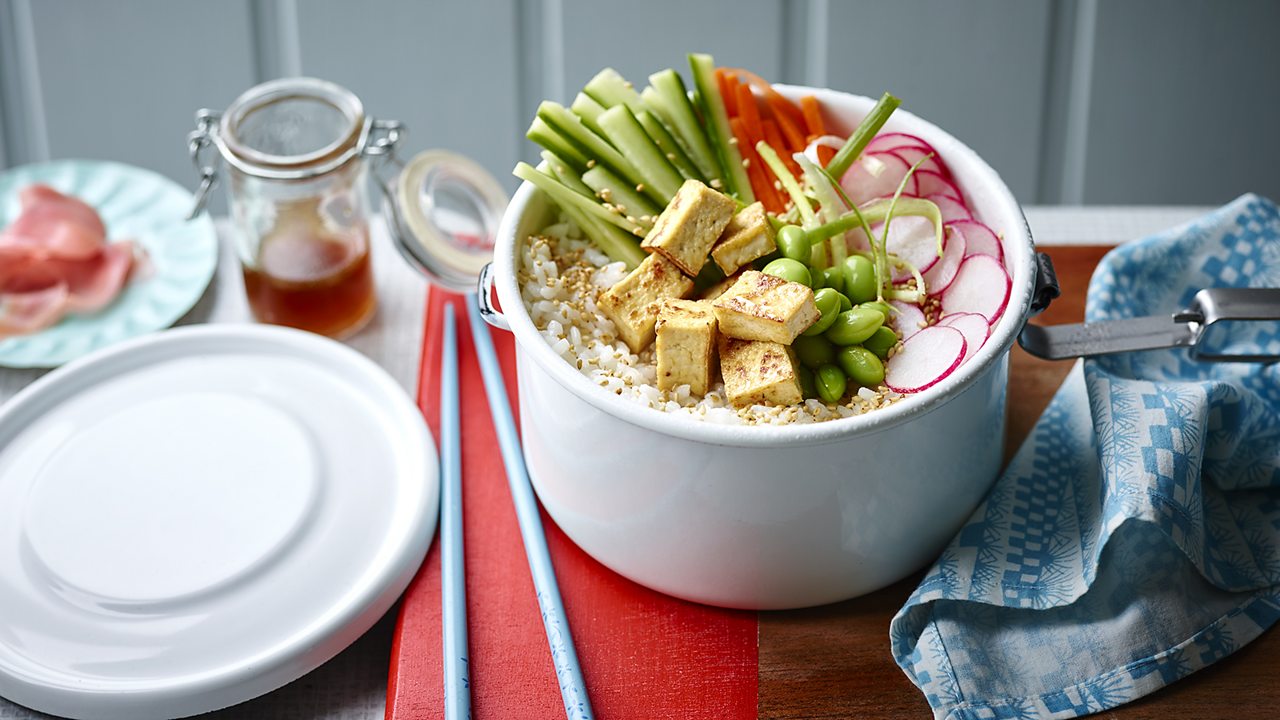 Dairy alternatives
One food it's worth investing in is non-dairy milk – finding one you like that works in your tea, coffee and breakfast cereal can be a challenge. Always buy a calcium-fortified substitute and watch out for the added sugar. (This is one instance where you shouldn't make it yourself, as homemade non-dairy milks aren't fortified.)
There are some eye-popping prices on non-dairy yoghurts. But the humble soy yoghurt is fairly reliably cheap in supermarkets. If you're not a fan of soy yoghurt, you could have a go making your own. Use your preferred non-dairy milk and some starter culture. After this initial outlay, you may be able to use your own live yoghurt to kick start each batch. But it's an investment of time and materials as it might take a while to tweak the recipe to your liking.
Coconut milk is variable in price and quality with some milks containing surprisingly little coconut. Price is not an indicator of quality either. Check the percentage of coconut in the ingredients before you buy. A block of creamed coconut can be used a little at a time, dissolved in hot water, as a coconut milk substitute in many recipes and helps to avoid waste. You can also freeze leftover coconut milk as it goes off in the fridge surprisingly quickly.
More new vegan cheeses are available every day. But if you want to have a savoury, cheesy flavour on hand in the store cupboard, invest in a pot of nutritional yeast. "Nootch" is a deliciously savoury powder that can be mixed with breadcrumbs for crunchy, cheesy toppings or stirred into sauces, vegetables, and soups. The flavour is highly addictive and can be fortified with vitamin B12.
Vegan non-dairy breakfasts
Beans and lentils
Beans and lentils are a vegan's best friend for providing cheap and filling protein. Dried pulses and beans are all within pennies of each other at the big supermarkets. Not only is it easier to carry home, but a pack of dried beans or chickpeas will yield roughly double its weight when cooked, so a 500g pack will give you the equivalent of four drained tins. That's half as cheap as the cheapest tins. If you like the convenience of cooked beans immediately, you can batch cook and freeze cooked beans. They'll cook from frozen very quickly.
Tins are far more variable in price, with the ethnic aisle providing the best value – chickpeas and kidney beans are up to half the cost of the most expensive tins. Bulk buying tins (tomatoes, vegetables, pulses) when they're on offer is the best way to save as they will keep for ages and always come in handy.
Recipes that are on the pulse
Fruit and veg
Plenty of fresh fruit and veg should be part of your everyday diet. Big supermarkets are hard to beat on price for many things, but some items are best sourced from a market or greengrocer. Herbs, avocados, citrus fruits, and seasonal fruits are usually cheaper at the market.
Cutting down on waste is the best way to maximise your fresh food spend. Freeze ginger, herbs, pesto, chillies, so that you can use it when you need it. Cooking a big batch of soup to use up odds and ends, then freezing the soup is a way of dealing with veg that doesn't freeze well on its own. If you don't have a big freezer, you may have to shop little and often.