How to make fun party cakes
Birthday parties are back on the menu. Forget Colin (or Cuthbert) the Caterpillar – we've teamed up with Chris Murphy, baker to the stars, to help you make your own showstopping (and secretly quite easy) birthday cakes for the gang.
To make magical unicorn cupcakes
These unicorn cupcakes will brighten up any party. Follow the recipe using really brightly coloured sprinkles so they'll show up in the cake.
Cupcakes often cook at slightly different times depending on your oven, so don't be afraid to remove some early if they have baked before others. For the best results, make sure all your cupcakes are the same size before baking.
Most importantly, don't leave baked cupcakes in the muffin tin once they've baked! This steams the bottom, which can make the cases fall off.
To decorate the cupcakes
You don't want droopy unicorn horns, so it's best to make your decorations a day ahead to give them time to dry out (if you're in a rush, you can dry them in a 60C oven for half an hour).
You'll need 750g white fondant icing for 12 cupcakes. Half of this is for the decorations, and half is for icing the tops of the cupcakes. Take 375g fondant icing for the decorations, and split it in half again. Mix one half with pink food colouring.
Always keep your work surface well dusted with cornflour and icing sugar when working with fondant or it will stick.
Follow the slide show below to find out how to decorate your cakes.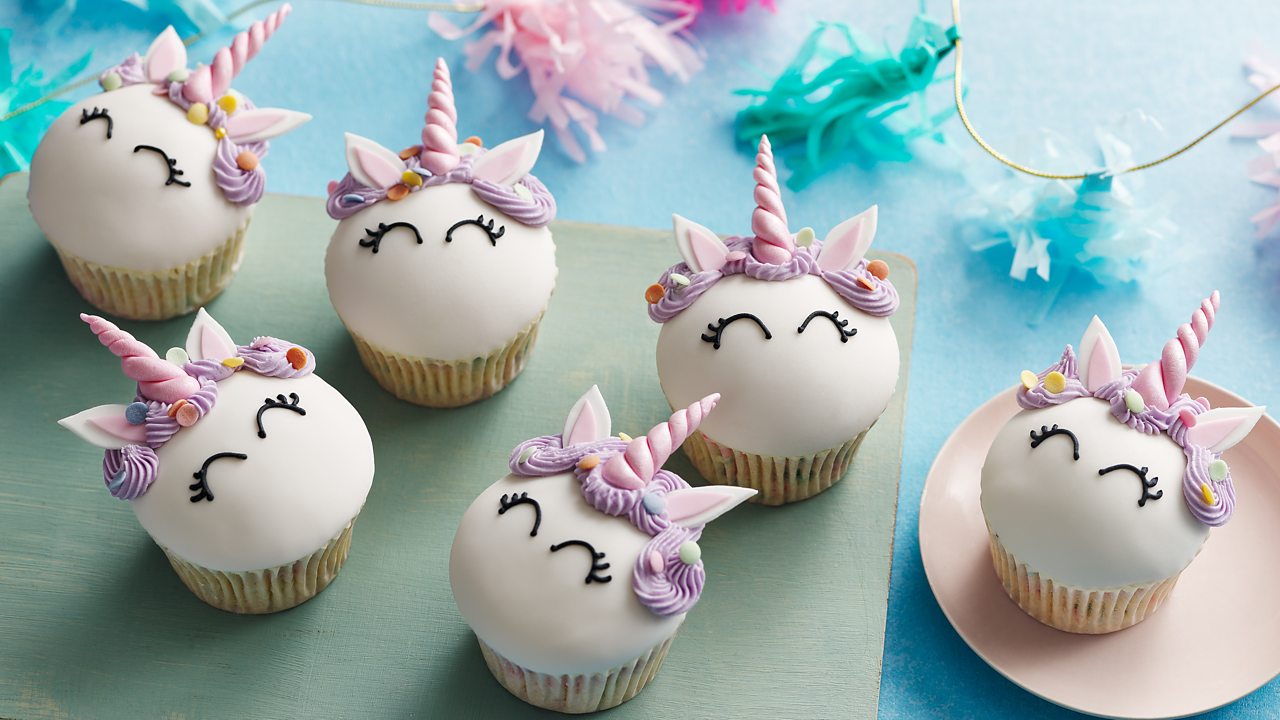 To finish decorating the cupcakes, mix buttercream with a dash of purple food colouring. Fit a piping bag with a small star nozzle, fill with the purple buttercream and pipe little swirls on the 'forehead' of each cupcake. Press the horn and ear decorations into the buttercream and scatter over some sprinkles. Decorate one cupcake at a time, or the buttercream will dry and the decorations won't stick properly.
Use writing icing to draw on the eyes. Store the finished cupcakes in containers where the air can circulate, such as cardboard pastry boxes, rather than tupperware.
To make a fabulous funfetti cake
The funfetti cake uses the same colourful cake batter as the unicorn cupcakes, but in a four-tier party cake!
Once you've made your buttercreams and chilled your sponge cake layers, trim off the domes of the cakes with a serrated knife to make them flat, then follow the steps below to assemble the cake!
To assemble the cake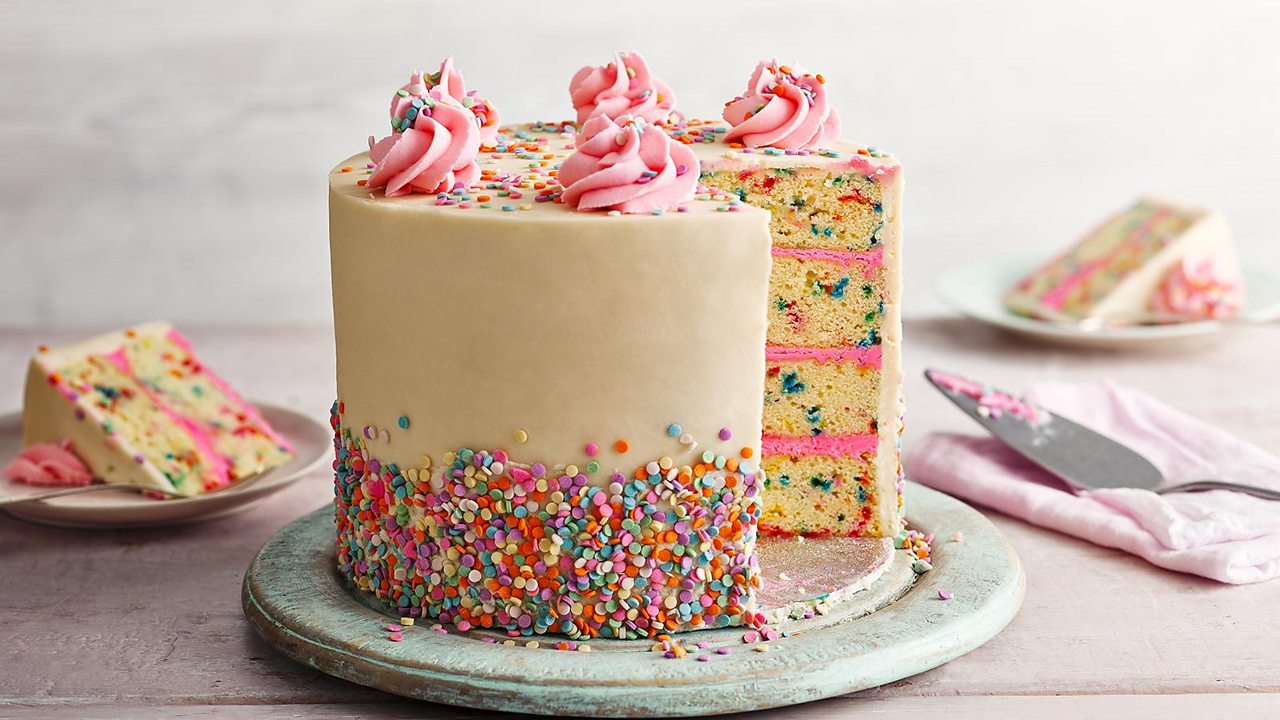 When you're icing the cake with buttercream, it helps to dip the palette knife in boiling water from time to time – this will give a smoother finish. If you see any gaps, just add a little buttercream and gently smooth over with the hot palette knife. Watch our video for more tips on covering a cake with buttercream.
The key to getting a really slick finish is smooth, steady movements. Keep cleaning any excess buttercream off your palette knife and side scraper, and put the cake back in the fridge for 10 minutes if you need it to firm up a bit.
To make a roarsome dinosaur volcano cake
This amazing volcano chocolate cake, with its fondant dinosaur, is the biggest challenge of the three, but it's still very achieveable if you give yourself plenty of time.
To make the volcano cake and decorations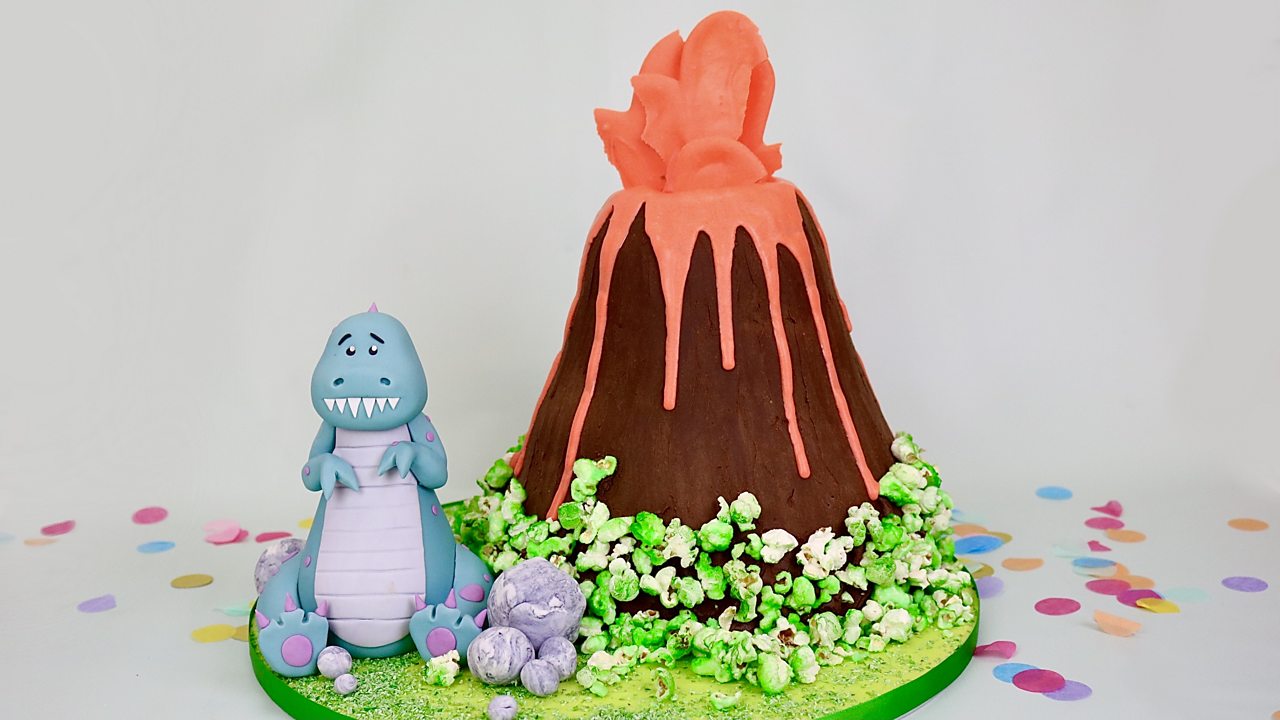 To make the fondant dinosaur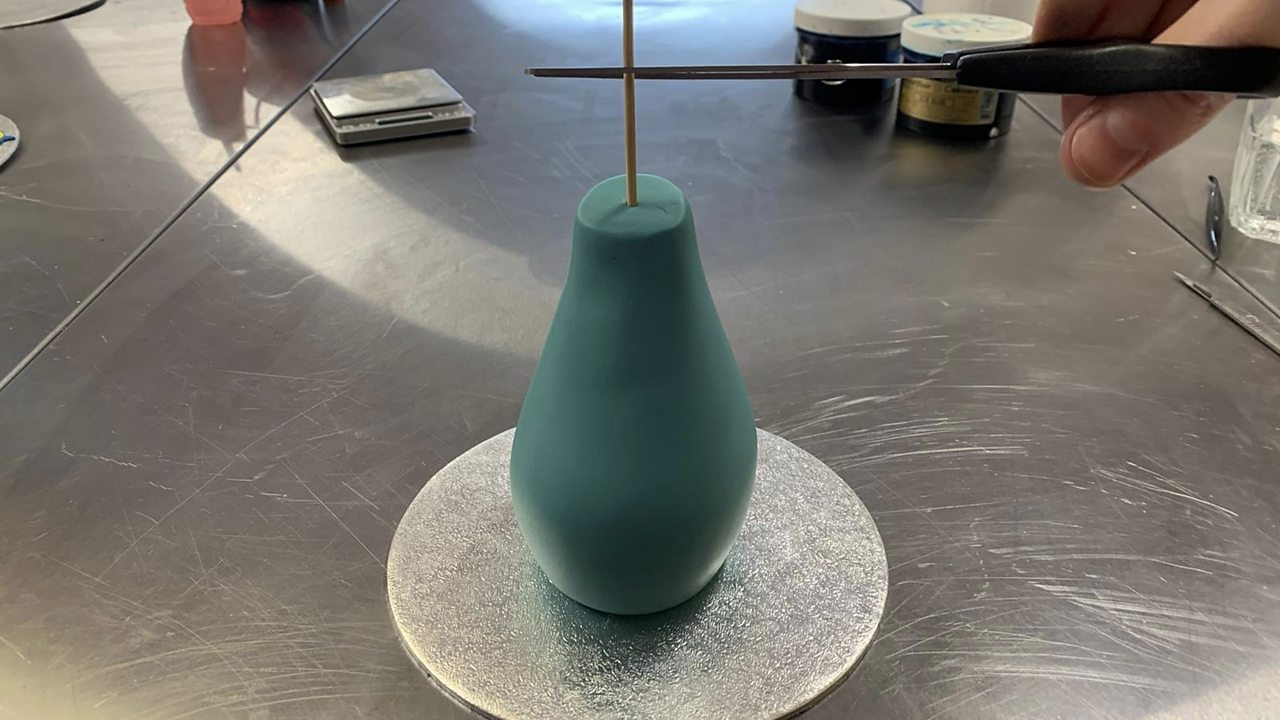 Top tips for easier bakes
Before you start, here are some simple tips that'll help you take your baking to the next level.
Get everything ready before you start! Read the recipe in full, weigh all your ingredients, line any tins that you're going to use and preheat your oven. Once all your equipment and ingredients are prepared, the rest is a doddle.

Take your butter and eggs out of the fridge in advance. These ingredients don't like being different temperatures (if you add cold eggs to warm butter, they'll curdle). Also, butter needs to be soft to beat air into it – if the butter is cold, it'll be much harder to get your cake light and fluffy.

Don't worry about overbeating your eggs and butter – whipping lots of air into the mixture will give you a lighter cake. After each addition of egg, turn the speed up on your mixer and give the mixture a good beating.

Either fold in your flour or mix in using a low speed on your electric mixer. Don't overmix as this can make your cake dense. Once you've added self-raising flour to the cake batter, get the cake in the oven as quickly as possible. Self-raising flour is activated by water, so as soon as you mix it into your wet ingredients, it will start to release the CO2 that makes the cake rise.

When the cake is baking, don't open the oven door for at least 15 minutes. The first blast of heat is important to start the rise – letting heat out of the oven too early can leave you with an underbaked cake.

It's always helpful to give your cake a turn midway through baking. Most ovens have hotspots, so turning the cake around will help it bake more evenly and avoid any burnt edges.

Once the cakes are baked, let them cool to room temperature and then pop them in the fridge until you're ready to start decorating. Chilled sponges are much easier to work with and you can even freeze sponge cakes for up to 3 months – just make sure you freeze them individually wrapped tightly in cling film and defrost them at room temperature.