How to eat for less than £2.35 a day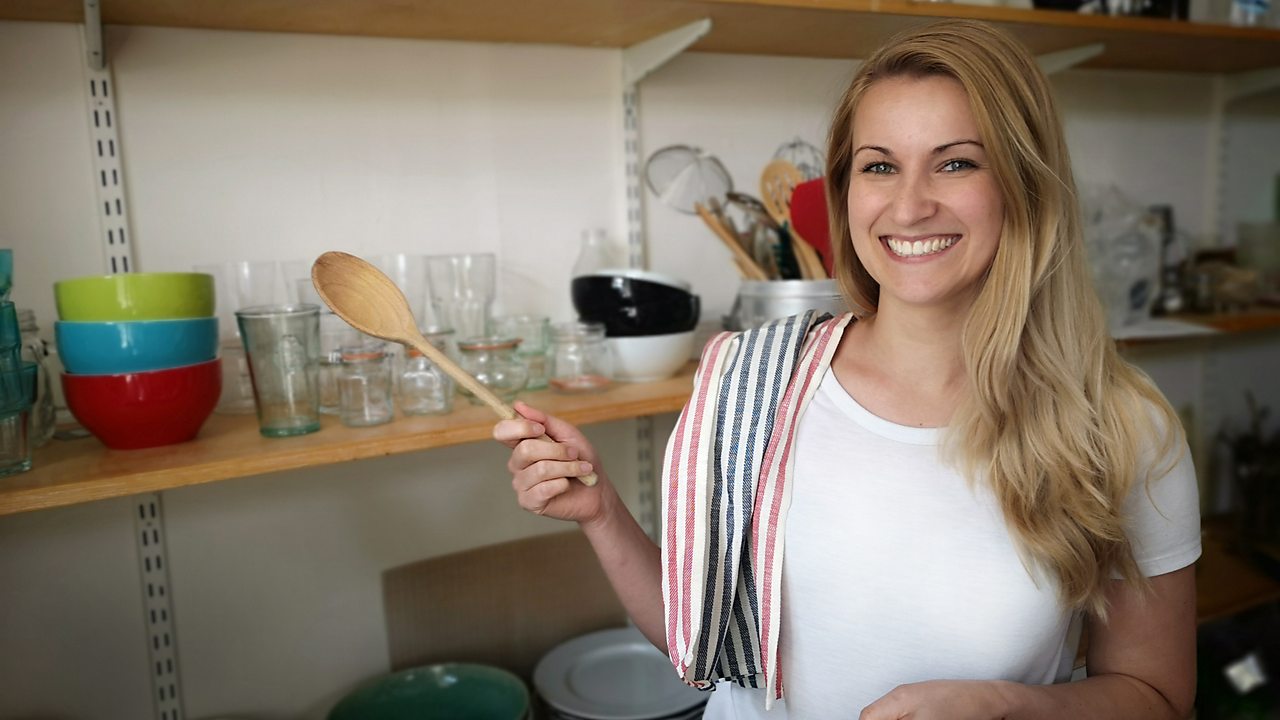 Saving money on food can be tricky. You might be able to resist the temptation to shop for clothes, tech and entertainment, but you need food to survive. So how can you save cash without compromising on taste, health and portion size?
I think I'm a thrifty foodie and I've written about shopping on a budget many times, but could I be smarter with my savings by being even more disciplined about what I eat? I'm following my own advice, without slip-ups, for 7 days, to find out if I could save more money (and time).
How will I do it? I've decided to eat the same thing for breakfast every day, in order to save cash by buying in bulk. I'm having porridge with frozen blueberries (44p per portion per day), but if you can afford to stash frozen berries you can mix and match your toppings.
For my snack, I'm having a banana every day, because at about 14p each they're nutritious and a cheap way to fill up. But lots of supermarkets have weekly offers on fruit, so you can try other options. I'll also splash out on some tea bags, because I'm not sure I can do this without a cuppa.

Day 1: £1.81
I cook for 2 (my partner cleans!), so navigating our individual tastes and sticking to the list can be a challenge. We make it out of the shops on budget – £32.78 for the week.
Lunch: Baked potato with a small tin of baked beans (56p per portion).
Dinner: Tomato baked eggs with garlic bread (67p per portion).
Budget tips: Tins are so cheap, especially if you make the most of offers, so keep a good stock of chopped tomatoes for easy dishes. Lots of supermarkets reduce the price of fresh bread at the end of the day, so bag yourself a low-cost loaf, slice it and bake with garlic butter to mop up sauce.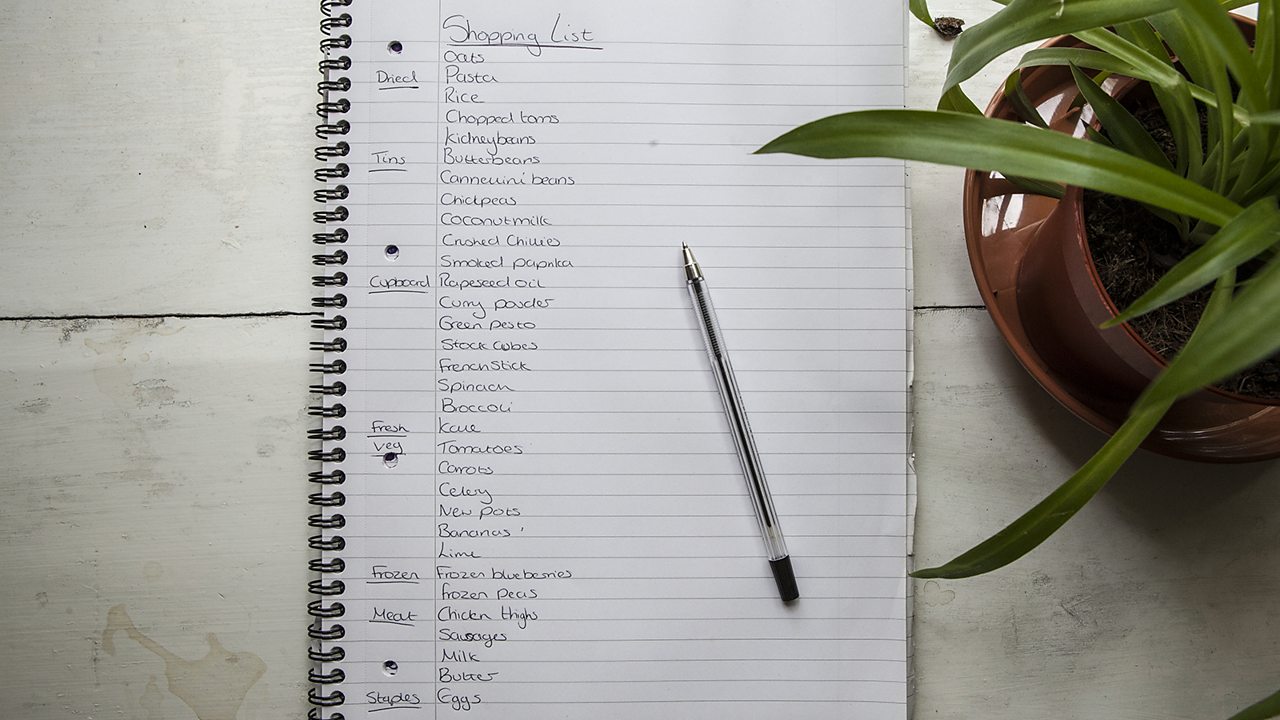 Day 2: £1.76
To my surprise, I'm fine with having the same breakfast I had yesterday – it makes mornings easy! I microwave last night's dinner for lunch, and even though the egg is pretty over-cooked by this point, it still tastes nice. Luckily we both have access to a microwave at work; if you don't, you'll have to choose meals that are safe to eat cold, such as pasta and rice salads. But the evening is a test of self-restraint. My friends order a delicious Indian takeaway. They have poppadums… and naans… AND DIPS! Any other day, my pasta with pesto from a jar (shock horror) and budget-friendly frozen peas, kale and cherry tomatoes might hit the spot, but in hindsight I should have made a curry instead. If you can't take it (away), make it.
Dinner: Pesto pasta with greens (51p per portion).
Budget tips: Ah, economical spaghetti, how we love you... quick to cook and easy to make interesting!
Day 3: £1.86
Not acting on cravings is tough. Most of the time my job requires me to think about food, so it's hard not to be swayed off course. I start to crave rice pudding (this one)! For dinner, I raid the cupboard again for my trusty chopped tomatoes, as well as tinned kidney beans and butter beans, and make a sausage and bean stew.
Dinner: Sausage and bean stew (77p per portion).
Budget tips: Paprika and crushed chillies are great ways to give a sauce a kick, and they don't cost much. British potatoes and sausages can be cheap and filling, so you can't go wrong. Veggie sausages would work just as well in this stew.
Day 4: £2.01
Last night's stew microwaves like a dream for lunch and keeps me full until dinner. That's when the trouble starts. I've come to realise how much time I spend deciding what to eat for every meal... and I really miss it! It's been a rainy week, and instead of planning my choice of dinner I'm watching TV with the cat.
Dinner: Minestrone soup (66p per portion).
Budget tips: Soups are a bargain and a fantastic way to use pretty much any vegetable. Adding broken up spaghetti and tinned beans is a cheap way to bulk it out.
Day 5: £1.79
Sugar cravings are kicking in. I'm not sure if it's the salty stock or spicy curry powder in my dinner (or my imminent cold), but I really want dessert! I avoid stepping into a supermarket by eating my day six blueberries as a dessert, thereby forfeiting my breakfast topping.
Dinner: Curry-spiced rice (55p per portion).
Budget tips: Rice is a super-saver's dream. It's cheap and a little goes a long way. Pair it up with eggs and inexpensive veg, such as carrots and broccoli, for a delicious and filling meal. There are so many ways to flavour rice: soy sauce, chillies, garlic and ginger, for instance. I went for a simple tablespoon of curry powder – no fuss nor frills, but delicious.
Day 6: £2.03
The lack of blueberries in my porridge is evident and I have to restrain myself from topping my porridge with peanut butter (which I can't afford to add to my food bill). I take yesterday's curried rice from the fridge to eat it cold on my cycling trip, and it is pleasant enough, but I miss all the little extras and toppings that make a curry great.
Dinner: Chickpea and coconut curry with rice (88p per portion).
Budget tips: Tinned chickpeas are a cheap, easy and delicious source of protein. You can buy them dried for an even bigger saving, but you will need to soak them overnight before cooking.
Day 7: £2.58
I wake up SO excited because it's Sunday and I've allowed myself an epic breakfast: 2 fried eggs with wilted spinach in a toasted sandwich. The only thing that would make it better is Sriracha, but I don't mind much. It's banging and I'm stuffed. I eat dinner ridiculously early, something I come to regret when I desperately want a snack and I've already eaten my daily banana. I eat another piece of chicken, betraying my future self.
Breakfast: Spinach and egg sandwich (64p per portion).
Dinner: Chicken, veg and potato traybake (92p per portion)
Budget tips: An egg is one of the cheapest (and most delicious) ways to fill up on protein, and if you're more restrained than me you can stick to just 1 per meal!
How did I do it?
I planned meals like a pro, made a shopping list and stuck to it ruthlessly. I ate leftovers for lunch by doubling the amount I cooked for dinner (a couple spending £5 each on ready-made lunches every day splash out more than £2,000 a year!). I bought frozen, dried and tinned foods – the golden children of super-savers.
Each of the dinners cost less than £1 per portion. Despite eating the same breakfast every day, my diet was varied because my evening meals mostly used different ingredients. But planning your cooking like this takes real motivation – as does sticking to the plan. If I'd given into my cravings (the rice pudding, peanut butter and some chocolate biscuits I neglected to mention) I'd have spent about £4 more, which doesn't sound like much, but would add up to more than £200 a year.
I avoided using the spices, herbs, pasta shapes, types of rice and sauces in my cupboard, but if you plan your shopping budget over a longer period than a week, you can vary your cooking more.
My meal cost only added up to £26.72, because the ingredients I had left over at the end of the week cost £6.06, so I actually averaged under £2 per person per day. My top tip is to never deviate from your plan, no matter how much you want to.
I purchased all the food from a budget supermarket in April 2019. I didn't use any promotional offers or reductions. It's important to remember that prices in supermarkets vary dramatically and even the same supermarket will change prices.