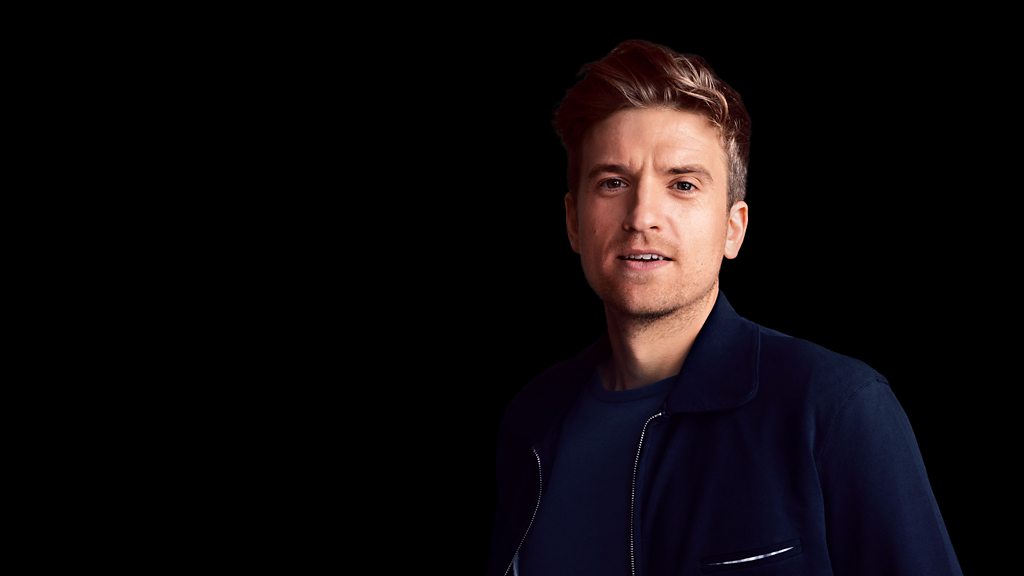 Greg James is out of Radio 1's Escape Room!
Summary
Greg James has finally left Radio 1's Escape Room after 30 hours!
Star listener Claudia helped Greg identify the escape code: 412182
Hundreds of thousands of listeners around the UK helped Greg discover his way out
Third party tweets and videos may contain adverts
Image caption: Greg James in the Escape Room

Here are all the best moments from Greg's intense 30-hour stint in an Escape Room.

Back to life, back to reality

We've been engrossed for the last day and a half, and now it's time to stop thinking about Postman Pat, Ainsley Harriott and Ricky Hatton.

Greg's off back home to have a bath.

What a journey we've been on.

Star listener Claudia, holding the code-cracking cookbook

Shout out James for delivering the package

The moment Greg finally escaped

Greg has cracked the code!

412182.

Update: CLAUDIA HAS A PARCEL

And four pieces of bread just came through Greg's letterbox.

Claudia has opened page 104 of the cookbook, and she's read out the recipe:

4 slices of bread
1 tub of fresh cheese sauce

2 teaspoons of Dijon mustard

1 tablespoon of snipped fresh chives

2 tablespoons of freshly grated parmesan

412182. Will it work?!

Greg has been locked out of the keypad

And told to guess again in 10 minutes.

Surely it's only a matter of time before he gets his freedom.

Image caption: The keypad is getting tetchy

Scott Mills has the cookbook open on page 104

So let's try some numbers based on random ingredients...

450500 - Fail

135012 - Fail

But maybe we're close. A new message has just been delivered, saying this:

Hang on, why does star listener Claudia's Twitter handle have 104 in it?

So many weird coincidences.

Don't worry, Greg had a bunch of meetings scheduled for today that he's ended up missing

Radio 1's Chris Stark was on his way to the nearest book shop

But he's been told to turn back, because Scott has some new intel.

A couple of listeners may have beaten Chris to it.

Is that it? Smoked haddock rarebits? Chicken cordon bleu with lemon sage butter sauce?

The only thing that's certain: Ainsley's book sales are on the up today.

A new caller has some big information

Nick works for the BBC's courier service, and he has some info.

"I can tell you that your package was dispatched at 1pm and it's going to be delivered between 2 and 3."

But he can't say what the package is.

"Unfortunately I can't disclose any further information."

Nobody is at Claudia's door

Back to square one. Or square 104.

It's 1.04...

Will someone ring her doorbell?

What exactly is page 104 in Ainsley's cookbook?

Handily, Ainsley's Feel-Good Cookbook might be one of the first books on Earth not to have page numbers.

So there's a lot of discussion about where exactly page 104 is...

Various listeners have either bought an e-book copy of the cookbook, or they've looked it up online.

Does page 104 point to a recipe for the perfect grilled steak and mushroom sandwich?

Or is it a tasty quiche?

Or is it just some hummus paired with vegetables?

Whatever this all means, we've learnt a few cooking tips today. Cheers Ainsley.

Just to recap, we're led to believe that listener Claudia is expecting a delivery at 1.04pm. She's on her way home from work.

And Greg's just received a new note:

"DELIVERANCE CAN'T BE FAR AWAY"

We've got listeners going the extra mile in finding this cookbook.

Some are rushing to their nearest book shop:

Worst case scenario, Greg just has to stay in there until the weekend.

Everyone is way too emotionally involved to stop listening

We've been on a long, incredible journey with Greg – 28 hours, so far.

And now we're desperate to see him find a way out of the Escape Room.

Do YOU have Ainsley's Feel-Good Cookbook?

If so, turn to page 104 right now.

Greg has another theory about Claudia and the book

Greg James

Sleep-deprived Breakfast host, BBC Radio 1

"We gave an Ainsley cookbook away [on Radio 1 Breakfast] a couple of weeks ago. I remember, the book was old, and there was something weird about that book. It was odd, and it smelt like someone's house.

I remember saying on air: 'This is weird, it's from 2006.' There's something not right about that.

And I think someone from my team planted that book, in order for this moment right now to make sense. Or not make sense. The seeds were being sewn a few weeks ago."

We actually have a clip of that exact moment, on February 11 2019.

How long has this all been planned for?!