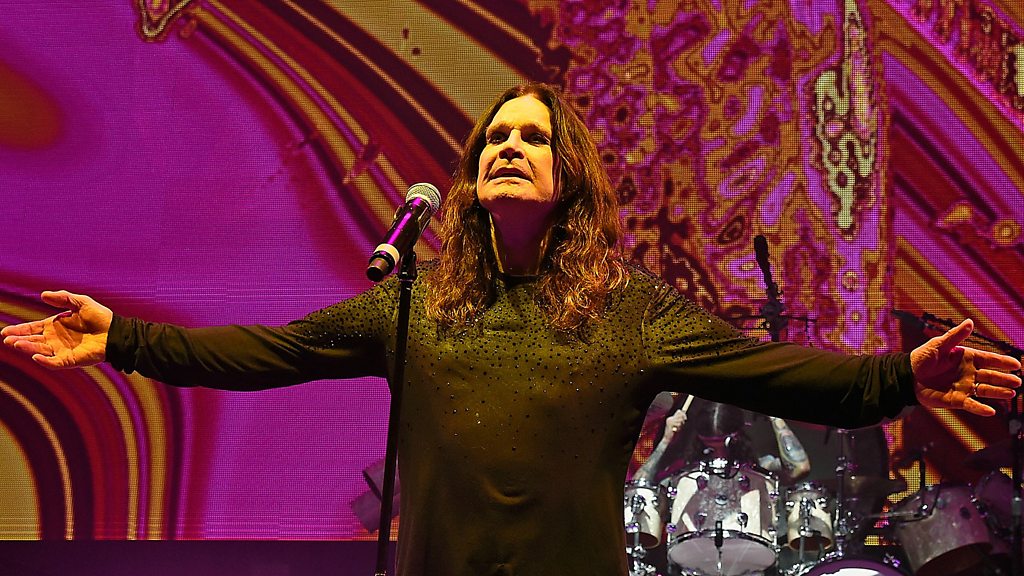 Ozzy Osbourne in hospital with 'flu complications'
Summary
News updates for 7 February
Ozzy Osbourne in hospital with 'complications' from the flu
Pink to get outstanding achievement at the Brits
Warning: Third party content may contain ads
Brevity is good.

Christine says so. And we agree.

Scroll down for music videos and some words

We rule.

Bye.

Time for #Susanalbumparty part 2?

That's right folks, Susan Boyle has announced a new album celebrating a decade in the music industry.

TEN is going to being released after SuBo shot back into the limelight while appearing on America's Got Talent: The Champions.

It will feature her favourite recordings as well as four new tracks.

She said: "I'm a lady who likes to surprise, which is why I want to keep the four new songs a secret for now... We live in a time where there are very few surprises anymore. I promise you won't be disappointed."

Will we get a hashtag as timeless as the one in the headline? (which was real by the way)

'Lost' Marvin Gaye album to be released after 47 years

The late singer's You're the Man, album, recorded in 1972 and intended as a follow up to his iconic What's Going On? album is to be released in March.

He recorded the tracks in Detroit and Los Angeles but none of them were released at the time.

Marvin, who was shot dead by his father in 1984, a day before his 45th birthday, would have turned 80 on 2 April.

Recently his estate has been involved in some high profile copyright battles.

Circa Waves Share Video For "Me, Myself & Hollywood"

The vid comes ahead of the release of Circa's third album, What's It Like Over There?

The record is said to be a "character based" album. This new track is based on characters lead singer Kieran saw during their US tour, who he felt belonged in songs.

The vid is self-directed by Kieran and Joe, who shot the video in and around LA, "showing all the glitz, glamour and true grit of Hollywood life".

Copyright: Hollie Fernando

The band tour the UK in April.

#Throwback Thursday: Pink's crowing glory

With the announcement earlier that Pink is to get an outstanding achievement award at next month's Brit awards, we are taking a trip back to the year 2000 for one of her earlier hits, There You Go.

Been a while since someone matched a pink rinse with a lime green knitted roll neck sweater.

And check out her phone. Might as well have been using smoke signals.

Still. Tune though...

Our music reporter Mark Savage has also listed some of the reasons why she is being honoured by the Brits and its hard to argue with any of them.

Irish rock band Fontaines DC share new video

They're being tipped for a big 2019 and have even featured here on MNL in a Newbie Tuesday slot.

Now Fontaines DC have shared the new video for their track, Big.

Clocking in at under two minutes, it's a ferocious blast of Irish punk.

Dublin in the rain is mine / A pregnant city with a Catholic mind

The Dublin band have also announced details of their debut album Dogrel which is due out on 12 April.

Davina is left soaking after a Muse gaffe

It's lunchtime which means time for a bit of a giggle.

Radio 1 DJ Scott Mills and his Innuendo Bingo game is back and Davina McCall is the one getting a face full of fluid when fellow Radio 1 presenter Maya Jama mispronounces a Muse classic.

Watch above

For fans of the Devonshire space-rock trio here is that very song.

Submissive Back Hole.

How Stephen Fry helps Ward Thomas get ready to perform

Neil Smith

Entertainment reporter

Copyright: WTW Music/Sony Music

Some acts exercise, some meditate, while others might say a prayer.

When it's time for country duo Ward Thomas to go on stage, though, it takes the dulcet tones of Stephen Fry to get them in the mood.

"We like to sit and listen to the Harry Potter audio books," reveal twin sisters Lizzy and Catherine when asked about their pre-performance routine.

"We love them all, they're so good, and they really calm us down."

There'll be a lot more Hogwarts in store for the girls as they prepare to go on tour in support of their latest album.

A follow-up to their 2016 chart-topper Cartwheels, Restless Minds - out on Friday - sees them address such hot-button topics as social media and mental health.

"The theme of the album is growing up and adjusting to adulthood," says Catharine.

"We were going through some big transitions while writing the record and we channelled that into it."

"We always like to progress and develop in every album we do and I think we've experimented a lot with different genres," says Lizzy.

"And we couldn't help but address social media and the subconscious competition it creates."

A busy week of promotion that included a visit to Ken Bruce's Radio 2 Piano Room will be followed this spring by a string of UK headline dates.

They'll then be supporting Jack Savoretti on his European tour in May.

"We've grown up and are writing in a different way now," says Lizzy.

"We're twins and we live together, but we're also learning to be individuals."

Restless Minds, which includes the singles Lie Like Me and No Filter (see above), is out on Friday.

Aerosmith to be honored with a star on the Hollywood Walk of Fame

They'll receive the honour on Valentine's Day, in front of the Musicians Institute, at 6752 Hollywood Blvd.

Aerosmith are the 2657th addition to the Walk of Fame, directly following Pink, who got her star on Tuesday.

The funny thing is 2657 is what the five band members collective ages add up to.*

"We have been waiting a long time to honour Aerosmith with their star on the Hollywood Walk of Fame," said Ana Martinez, producer of the Hollywood Walk of Fame.

"Aerosmith is one the greatest rock bands in the world and we expect many fans will be "Crazy" excited to see them honoured."

The band begin their Las Vegas Residency in April.

*kidding.

Grammys to salute Motown with star-studded tribute

Stevie Wonder, Diana Ross and John Legend are among the stellar line up of names confirmed to salute Motown's 60th anniversary at the Grammys on Tuesday.

Last year's Grammy salute paid homage to Elton John.

Alessia Cara and Alec Benjamin collab on new vid

The new video (watch above) comes a few weeks after rising singer-songwriter Alec Benjamin released a remix of his breakout hit, Let Me Down Slowly, featuring Grammy-winner Alessia Cara.

"We really wanted to keep the overall vision simple but also capture the themes of the song through various relationships," Benjamin told Complex of the video.

"Alessia is an incredible artist and person. It was freezing and rainy on set but we had a great time shooting the video and hope everyone likes it!"

Smashing Pumpkin's Billy Corgan reunites with long lost stolen guitar

His beloved Fender Stratocaster guitar was stolen after a show at Detroit's Saint Andrew's Hall in 1992.

The frontman had bought it from his bandmate Jimmy Chamberlain a couple of years prior.

After decades of waiting for it to resurface, Rolling Stone reports that he was reunited with it in Flushing, Michigan on Tuesday.

Image caption: Cogan performing with the long lost Strat prior to the theft

They explain how a woman called Beth James bought the Strat about a decade ago at a yard sale for $200 and kept it in her basement.

One of her friends recognised it as Corgan's guitar, and this week, the big reunion took place.

"I always felt the guitar would come back when it was time," he told the music magazine.

Alicia Keys and James Corden duet on Shallows parody

Are you watching Bradley?

If A Star Is Born: 2 is on the cards, then upcoming Grammy Awards host Alicia Keys has to be a shoe in?

Alicia and James Corden performed a rendition of the movie's hit song, Shallow, on the Late Late Show last night, with the lyrics tweaked for the upcoming occasion.

James has, of course hosted, the Grammys twice himself, and sang the lyrics, "Tell me something, Keys, I hear you're set to host this year's Grammys." Alicia responds, "Didn't you host it twice? Maybe you could give me some advice.".

The Grammys take place on 10 February.

Mumford & Sons play intimate London pub gig

It was their first show in London since playing at The O2 in November.

The intimate gig, played to just 150 fans at the World's End Park in Finsbury Park (streamed above), was a last minute surprise.

Fan shot footage shows they performed an acoustic seven-song set, sitting in amongst fans who were understandably pretty excited about the whole thing...

PledgeMusic stops accepting contributions

The crowdfunding music website has suspended contributions amid problems paying artists over the past year, according to Billboard.

In an email sent to artists, the direct-to-fan service said the action was "appropriate" in light of a statement last week asking for "patience" and "breathing space".

According to Billboard', US acts are owed anything from $50-$100,000 earned from fans' contributions to campaigns.

Last week, the BBC spoke to British band Jesus Jones who have used the site to fund a new album.

"I spoke to Pledge and was told payment was pending, which turns out not to be entirely true," Iain Baker, the band's keyboard player, said.

Beck collaborates with Robyn on new Lego Movie sequel track

The singer-songwriter and Swedish pop queen have teamed up with Andy Samberg's comedy band The Lonely Island for Super Cool from The Lego Movie 2: The Second Part.

Its an uptempo electro-pop delight with super-positive lyrics.

Unbelievable, super cool, outrageous and amazing/Phenomenal, fantastic so incredible/ Woohoo

Samberg and his pals add a Beastie Boys-style rap about how awesome film credits are.

What's not to love?

The movie is out on Friday.

Foals to mark return with headline festival performance

They've been announced as headliners at this summer's Y Not Festival in Derbyshire, alongside Elbow and Two Door Cinema Club.

Foals have announced their new album is coming in two parts later this year.

Mercury Prize-winners Wolf Alice and You Me At Six are also on the lineup for the event in July.

It's being held at a new venue two years after the event was cancelled in horrific weather conditions.

21 Savage arrest and detainment is 'a travesty' says Jay Z

The Atlanta-based rapper should be released "immediately", according to a statement on Jay's Facebook page.

"His U visa petition has been pending for 4 years," said Beyonce's husband. (A U visa is a specific kind of visa for victims of crime, 21 having survived a shooting in 2013.)

"In addition to being a successful recording artist, 21 deserves to be reunited with his children immediately, #Free21Savage."

Savage - whose real name is Sha Yaa Bin Abraham-Joseph - was arrested on Sunday by US Immigration And Customs Enforcement (ICE) for allegedly overstaying his visa.

His legal team has admitted he was born in the UK and moved to the US as a child and insist he is being wrongly held.

They suggested a recent song in which he criticised US immigration policy could have triggered his arrest.

According to TMZ, Jay's company, Roc Nation, has also hired a New York-based immigration lawyer to assist with the case.

Alex Spiro told the US showbiz website the legal team will "not stop" until 21 Savage is released.

21 Savage has been nominated for two Grammy Awards at this weekend's ceremony, including record of the year for Rockstar with fellow rapper Post Malone.

Ozzy Osbourne admitted to hospital with flu complications

His wife Sharon tweeted the news late last night.

Ozzy's had a rough time of it of late, having been forced to postpone the UK and European legs of his No More Tours 2 tour, following doctor's orders.

A statement posted on his website said:

Quote Message: After seeing his physician again, Osbourne has been diagnosed with a severe upper-respiratory infection which the doctor feels could develop into pneumonia given the physicality of the live performances and an extensive travel schedule throughout Europe in harsh winter conditions.

Poor Ozzy is understandably miserable about the whole ordeal, saying in a typically forthright statement: "It just seems that since October everything I touch has turned to [expletive].

"First the staph infection in my thumb and now coming down with the flu and bronchitis. I want to apologise to all of my fans who have been so loyal over the years, my band, my crew and to [support band] Judas Priest for letting you all down.

"However, I promise the tour with Judas Priest will be completed. It's being rescheduled right now to start in September. Again, I apologise to everyone. God Bless. Love you all, Ozzy."

We wish Ozzy a very speedy recovery!

Pink to receive Brit award for outstanding contribution

It was only this week that she received a star of the Hollywood Walk of Fame and now the artist formerly known as Alecia Moore will follows the likes of Elton John, the Spice Girls and Blur in receiving the Brits' highest honour.

It also makes her the second international artist to receive the award after U2.

She'll pick up the gong at the ceremony at London's O2 on 20 February and will also be closing the show.

In a statement, the pop icon said:

Quote Message: "I am so honored to be recognized with the Outstanding Contribution To Music Award at the 2019 BRITs! Since the beginning of my career the British fans have been some of the most fierce and loyal in the world. I am humbled to receive this honor and be in the company of an illustrious group of British icons!"

Anne-Marie, Dua Lipa and Jess Glynne are among some of the nominees for this year's awards.