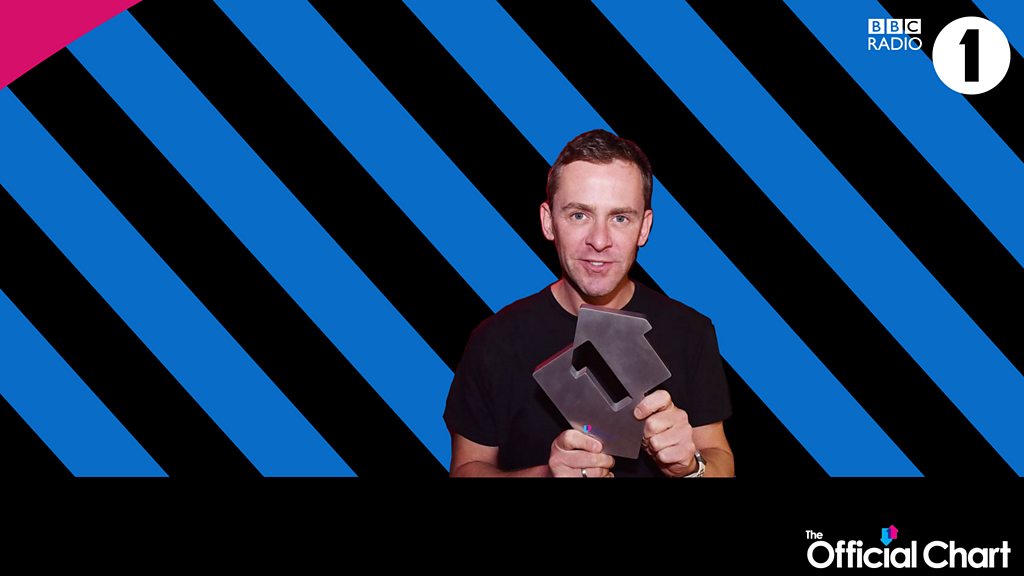 Christmas Number 1 Countdown
Watch LadBaby's reaction to getting Christmas Number 1

Next week: The Official Chart of the Year

After Christmas Number 1, there's one more chart battle to fit into 2018.

Next Friday from 1pm (28 December), Dev and Scott Mills will be counting down the top 100 songs of 2018. Which big-sellers will feature?

Expect a couple of Drake tracks, Jess Glynne, Calvin Harris, Dua Lipa and plenty more big names.

I'm having the strangest year. I don't know what's going on. It's unbelievable. I honestly can't thank people enough. Thank you so much for sharing it and spreading the word, and raising so much money for the amazing charity. Only a sausage roll could take down Ariana Grande. It's British at its best. So I'll get planning next year. What do we reckon, pork pies? Chips?

2018's Christmas Number 1 is... LadBaby – We Built This City

At Number 2... Ava Max – Sweet But Pyscho

Which can only mean one thing: 2018 has been a vintage year for baked goods.

The most-covered artist of 2018?

She didn't score a Christmas Number 1 today, but Ariana Grande does have one unofficial accolade to her name:

No artist has been covered more times in Radio 1's Live Lounge this year. The 1975, Mumford & Sons and more recently Miley Cyrus + Mark Ronson have all taken on Ariana songs in the last two months.

At Number 3... Ariana Grande – thank u, next

Copyright: BBC / Ariana Grande

Wow. After seven weeks at the top, Ariana has been knocked off the No.1 spot. Who saw that coming?!

Scott's going to reveal the winner at 5.45pm.

At Number 4... Mariah Carey – All I Want For Christmas Is You

Copyright: BBC / Mariah Carey

Which means it's Ariana, Ava or LadBaby. Three hit singles that could barely have less in common.

Most of us hadn't heard of LadBaby or Ava Max until recently, but 2017's Christmas Number 1 was recorded by a familiar face.

Copyright: BBC / Sarah Jeynes

Ed Sheeran scored his first Christmas chart-topper with Perfect, pipping rapper Eminem and Wham's classic Last Christmas to the top spot. He called it a "dream come true".

He recorded three versions of the single, and it was his duet with Beyoncé that wooed the Christmas streamers.

At Number 5... Halsey – Without Me

A chart mainstay for the last few weeks, Without Me drops two places to 5.

At Number 6... Mark Ronson feat. Miley Cyrus – Nothing Breaks Like a Heart

Copyright: BBC / Mark Ronson

One of the big-hitters falls just short of the top five. It's heating up now...

Ava Max on if she scored a Christmas Number 1

Speaking to Scott Mills on Radio 1

That would be ridiculous. I would probably start jumping everywhere. I would freak out.

At Number 7... Wham! – Last Christmas

Many people took to Whamageddon this year, in an attempt to avoid hearing this classic before Christmas Day.

Well, if you signed up to that scheme and you were listening to the chart show just now, you made it 21 days. Congratulations.

At Number 8... Ariana Grande – Imagine

Copyright: BBC / Ariana Grande

But more importantly: where will thank u, next chart? Keep listening to The Official Chart with Scott Mills to find out.

What's the secret to getting a Christmas Number 1?

Did you know that only 10 Christmas-themed songs have actually taken the top spot?

So what's the magic formula for getting a Christmas Number 1? Turns out, it helps if it's performed in the key of A major, and it's also important to know when to release the track.

At Number 9... Jess Glynne – Thursday

Copyright: BBC / Jess Glynne

She doesn't wear make-up on Thursdays, and she celebrates scoring a Christmas hit on Fridays. That's just how Jess Glynne rolls.

At Number 10... Post Malone ft. Swae Lee – Sunflower

Copyright: BBC / Post Malone

Taken from the soundtrack for Spider-Man: Into the Spider-Verse (one of Radio 1 film critic Ali Plumb's top movies of the year), Postie and Swae's collaboration is at 10.

We're about to discover the top 10…

Just missing out is James Arthur & Anne-Marie's Rewrite the Stars at 12, from The Greatest Showman soundtrack.

King of the season to be jolly, Michael Buble, is at 16 with It's Beginning to Look a Lot Like Christmas.

And poor Chris Rea is still stuck somewhere on the M4, Driving Home For Christmas, which charts at 22.