From millennial 'peak-stuff' to the end of real fur and hi-tech innovation, it's been quite a decade. Bel Jacobs looks back at fashion's key trends of the past 10 years.
T
The 2010s have seen significant changes in the fashion world, not least the growing awareness of the damage inflicted by fast fashion on the climate. Alongside this has been a sense that we've reached 'peak stuff', and an increasing influence of millennials and Gen Z. And there is a feeling that, finally, diversity in fashion is going mainstream. Here are seven of the biggest changes we've seen this decade. 
Millennial influence
Fickle, passionate, tuned in, zoned out: people born between 1981 and 1996 are keeping fashion brands on their toes. Where once fashionistas waited patiently for new seasons, millennials – who currently make up around 30% of the world's population (due to be overtaken shortly by Gen Z) – want everything now, now, now, whether these are instant sartorial responses to cultural events or collaborations with icons. The industry has tried to keep up; average lead times in clothing production have dropped from 120 days to 60 days. Is this making millennials happy? Nope. Rising awareness of sustainability issues and a backlash against the sheer amount of products being shoved in their faces from all angles have contributed to an emerging movement against excess. In fact, signs are that millennials have reached peak 'stuff': 74% of Americans now would rather spend money on 'experiences' – restaurants, travel and spas – rather than things. What's a brand to do?
More like this:
 - Music that defined the decade
- The trans model breaking boundaries
- The fairytale world of Tim Walker
Diversity on the catwalk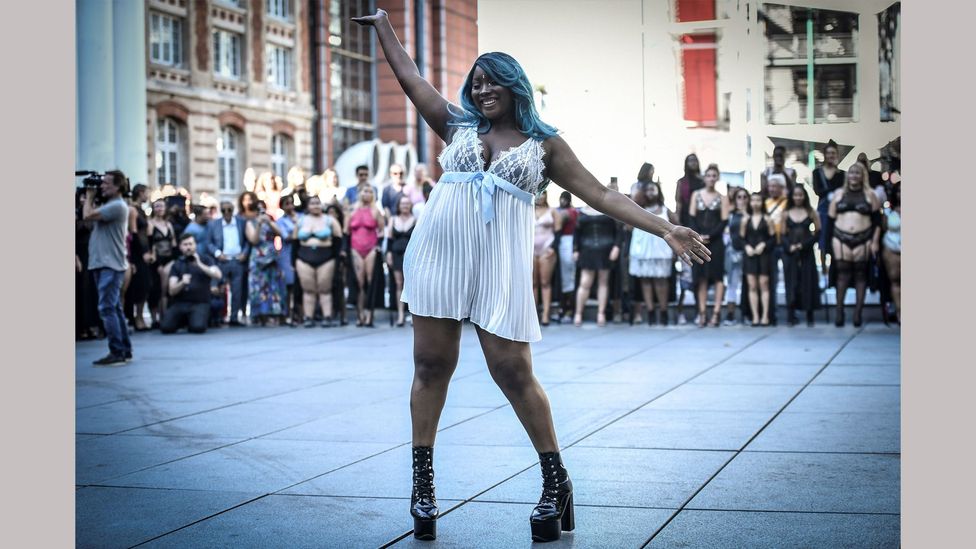 Diversity has improved in fashion in the past decade, as seen at the All Sizes Catwalk event in Paris in September 2019 (Credit: Getty Images)
Back in 2008, supermodel Naomi Campbell said black models had been 'sidelined' by modelling agencies because of their colour. For too long, the industry has celebrated one standard of beauty. Progress has been made. In 2015, Denise Bidot was the first plus-size model to open a straight-size show at New York Fashion Week; Halima Aden became the first hijab-wearing model on an international catwalk in 2017. Last October, Krow Kian was the first transgender man to close the women's ready-to-wear season. Job done? Not quite. Fashion is known for leaping on bandwagons to stay relevant. Plus, Bidot, Aden and Kian are all stunning. For an example of diversity, look to The Real Catwalk, by America's Next Top Model veteran Khrystyana Kazakova, when literally anyone who applied got to walk.
The end of real fur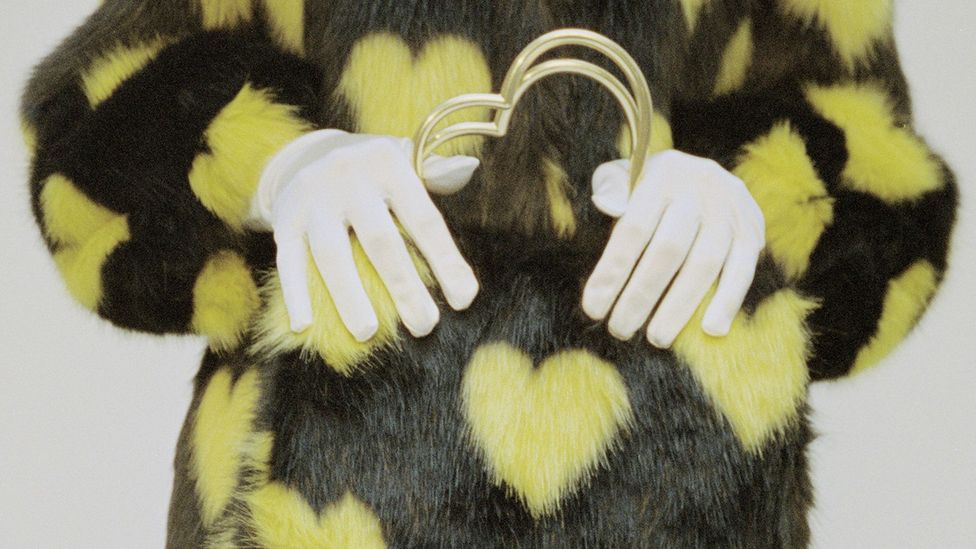 Real fur is now no longer acceptable to most people, and faux-fur brands such as Shrimps have flourished (Credit: Shrimps)
Decades of relentless campaigning have finally started to pay off as one luxury brand after the other drops fur from its offer. From live trapping to fur farming, a huge number of animals still lose their lives to make garments for which there are dozens of animal-and-planet-kind alternatives. The adherence to real fur has been a tough one to budge; old associations with luxury have proved – and, in countries like Russia and China, the world's greatest consumers of fur, still prove – too tempting. Why the backlash? Campaigns by animal rights groups, boosted by the reach of social media, has meant that the footage of undercover investigators has criss-crossed the world, causing outrage that sentient creatures are being brutally slaughtered for such frivolous pieces of wardrobe kit. Gucci CEO Marco Bizzarri really stuck it in the neck of the fur industry when he said, in 2018, "Fur? It's not modern." Next on the agenda? Leather, which kills many more animals than the fur industry and whose processes are famously toxic. 
New modes of ownership
In the past 10 years, second-hand luxury items through platforms like Vestiaire Collective have become more sought after (Credit: Vestiaire Collective)
Faced with growing concerns about the planet together with the human urge for newness, alternative modes of ownership are coming into play. Second-hand, in particular, has stepped up to the mark, with fashion resale growing 21 times faster than its industrialised counterpart. Platforms such as The RealReal and Vestiaire Collective shift second-hand luxury that, along with peer-to-peer marketplace Depop are cultural phenomena in their own right. Meanwhile, rental services such as Rent the Runway are gaining traction. "Viewing fashion as a service, as something we access instead of own, is going to be an important part of solving the environmental crisis that is fashion," says Elizabeth L Cline, author of the The Conscious Closet. Finally, refurbishment is back in fashion. Patagonia's in-house repair-and-resale model buys back its own products and sells them at a discount; Nudie Jeans offers free repairs for life; Eileen Fisher refurbishes lightly-worn products.
The new casual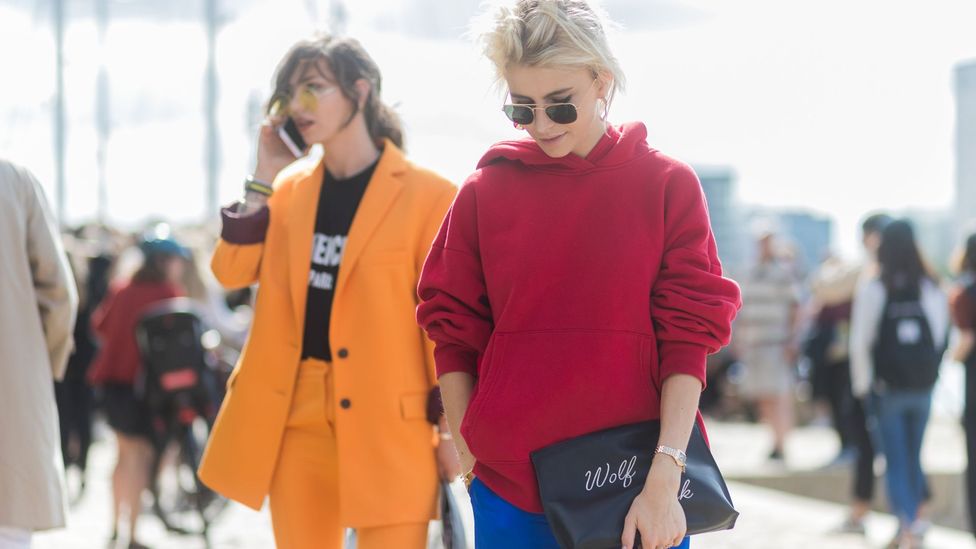 Activewear, streetwear and loose tailoring are more current looking than figure-hugging dresses (Credit: Getty Images)
Sex will always sell – hello, the Kardashians – but the days when a woman has to be trussed up in one of Herve Leger's bandage dresses in order to be considered attractive are fading for those whose looks aren't their currency. Activewear, trainers and, of course, streetwear, are now everyday staples; loungewear alone is estimated to generate $37.7 bn (£28.67 bn) in retail sales by 2021, up from $24.8bn (£18.86 bn) in 2012. But it's not just about wrapping oneself up in snuggly trackpants or the cocoon of a hoodie – although that helps. The new casual is an expression of burgeoning social ideas that include inclusivity, gender neutrality and aesthetic ideals that aren't based largely on pulling your next mate. "These are all things that are here to stay," says Lazaro Hernandez, co-designer of Proenza Schouler, whose PSWL line is created for the generation interested in cultivating a casual-cool aesthetic. Now we can all breathe out again.
Loungewear has been hugely popular in recent years – Gucci is among the brands to champion the aesthetic (Credit: Getty Images)
Sustainability: backlash against fast fashion
No round-up of themes in fashion is going to be able to sidestep sustainability. The flood of reports over the past decade make it clear that we are driving the planet over a precipice and fashion is partly to blame. Who's sounding the alarm? Those pesky youngsters again. According to one survey, "Gen Z are placing greater importance on the social and environmental impact of their purchases than previous generations. Over 70% try to shop ethically; of those, 57% say that environmental impact is their primary concern." Fashion is scrambling to keep up; the latest initiative, The Fashion Pact, saw 32 fashion leaders meet in Biarritz, alongside the G7. Whether they turn the ship in time is another matter. But it's not all doom and gloom, says fashion futurist Geraldine Wharry: "Provided it is prepared to redline value exchange and growth, the fashion industry can be a game changer within these challenging times."
Technology in fashion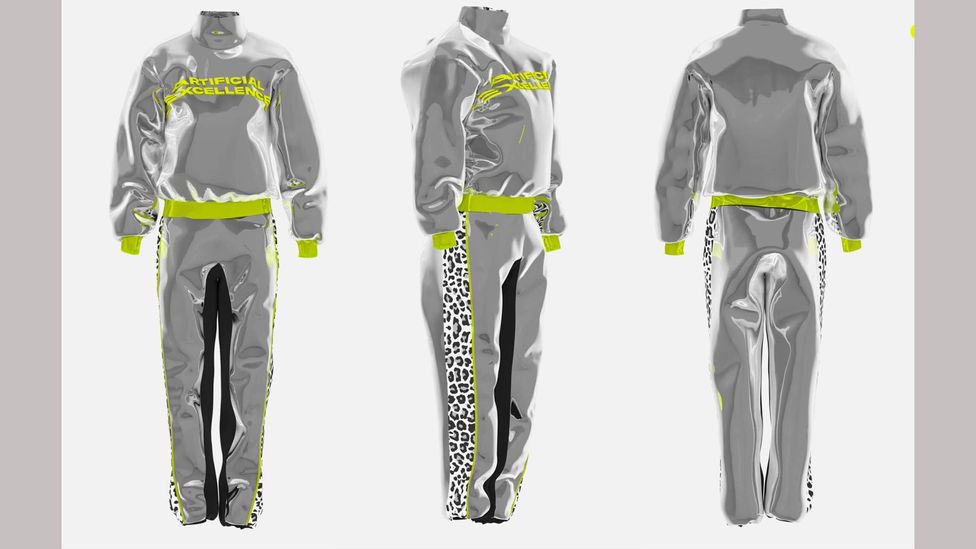 At London pop-up A Hot Second visitors swapped physical garments for a digital 'fashion experience' through brands including Carlings (Credit: Carlings)
Last month, London pop-up A Hot Second invited visitors to swap physical garments for a digital fashion experience through 'mixed reality magic mirrors'. "The aim is to divert 500 garments from landfill, and to bring about a wealth of insight and data into digital fashion, sustainability and attitudes to the fashion experience," says organiser Karinna Nobbs. While it may seem counter-intuitive (surely the joy of new clothes is putting them on), digital clothing is just one option to fashion's clunky planetary footprint. Tech in general has a big part to play. From bio-materials such as Algiknit, textile made from kelp, to fruit-based fibres; from innovations in water-free and process-chemical free-dyeing to – currently in production – a microfibre filter that can be integrated into washing machines, climate science may be freaking us out but fashion tech is coming up with the goods.
If you would like to comment on this story or anything else you have seen on BBC Culture, head over to our Facebook page or message us on Twitter.
And if you liked this story, sign up for the weekly bbc.com features newsletter, called The Essential List. A handpicked selection of stories from BBC Future, Culture, Worklife and Travel, delivered to your inbox every Friday.