From a controversial World War Two project to a new 'polercoaster', Jonathan Glancey picks the most exciting architectural projects planned for next year.
T
The new architectural year begins with the opening of Hamburg's long-awaited and dauntingly ambitious €798 million (£669 million) Elbphilharmonie, an operatic concert hall complex designed by the Swiss studio Herzog & de Meuron.
Here in the city's old docks, now transformed into a new quarter of Hamburg – all smart restaurants, hotels and apartment blocks – the eye-catching Elbphilharmonie appears to ride on the crest of a solid brick bunker like some vast and diaphanous glass wave breaking over bedrock.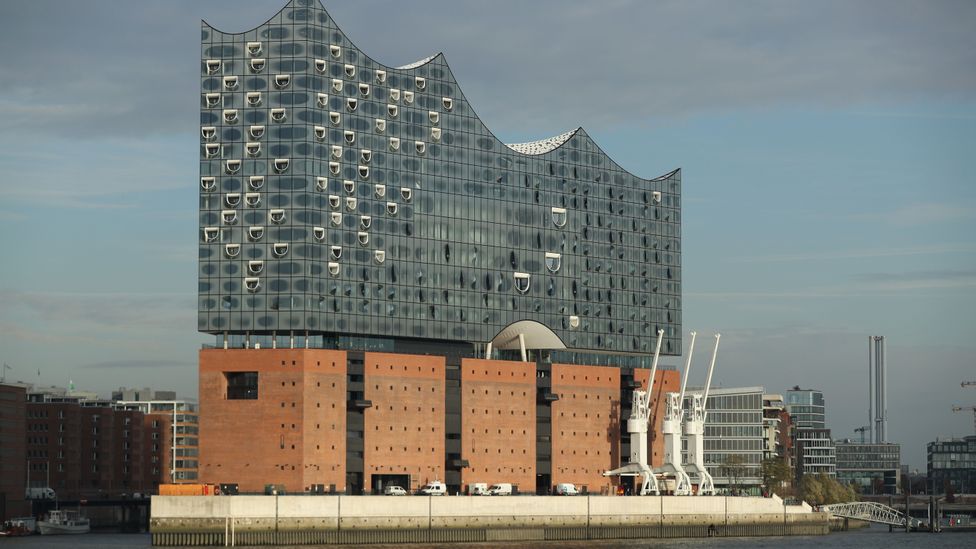 The Elbphilharmonie is an operatic concert hall situated in Hamburg's old docks area (Credit: Getty Images)
The bunker is in fact a muscular 1960s warehouse designed by the distinguished post-war architect Werner Kallmorgen. Built to store tea, coffee and cocoa, as did its pre-war predecessors dating back centuries, it now serves as a car park and ancillary spaces for the glass-faced concert hall.
The Elbphilharmonie is an inspired meeting between Hamburg's past, present and future
A long and curving escalator glides up from Kallmorgen's warehouse to a stirring framed view of the city centre. A second, shorter escalator takes concertgoers up into the imaginative embrace of swirling foyers and dramatic concert halls and to a viewing gallery wrapped around this landmark building.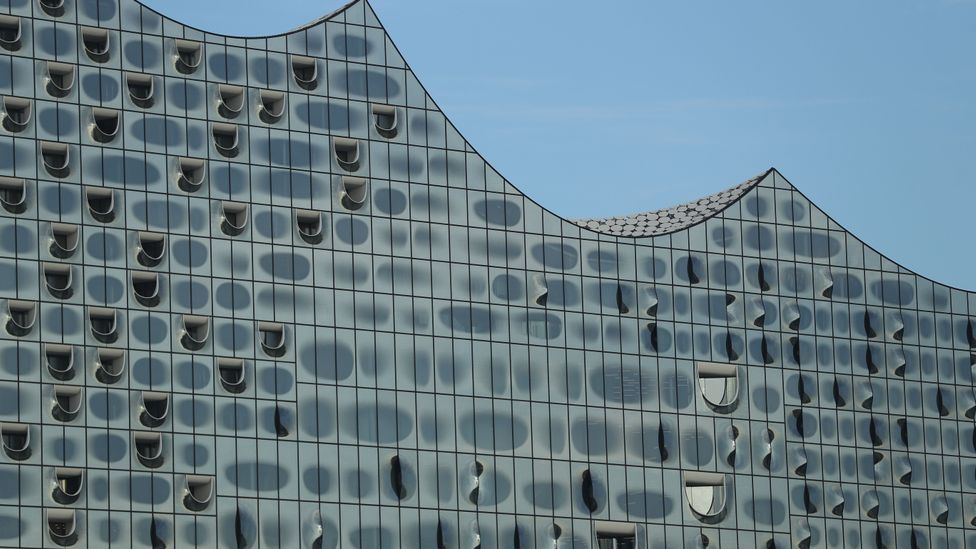 Inside there are swirling foyers, dramatic concert halls and a viewing gallery wrapped around the building (Credit: Getty Images)
A tour-de-force, the Elbphilharmonie is also an inspired meeting between Hamburg's past, present and future. For all the brio of its design, this is architecture as diplomacy. In the course of 2017, as the very future of Europe is debated, architecture will be under scrutiny in increasingly political terms.
Reconstructing history
In Gdańsk, Poland, a striking museum of World War Two due to open in January is the subject of bitter political controversy. Commissioned in 2008, from Studio Architektoniczne Kwadrat, the museum is meant to tell the story of the impact of the 1939-45 war on ordinary people, both civilians and soldiers, and whether Polish or not.
With Professor Norman Davies, an expert in Polish history, as chairman of the advisory board, the museum's remit has been explored assiduously and its collections garnered from across Europe and the United States. Now, though, says Poland's right-wing Law and Justice government, its programme is wrong. It should focus exclusively on Poland's role in the war and it may be necessary to join it to a second, and yet to be commissioned, new museum devoted to the Battle of Westerplatte, when, in September 1939, Germany invaded Poland through Gdańsk.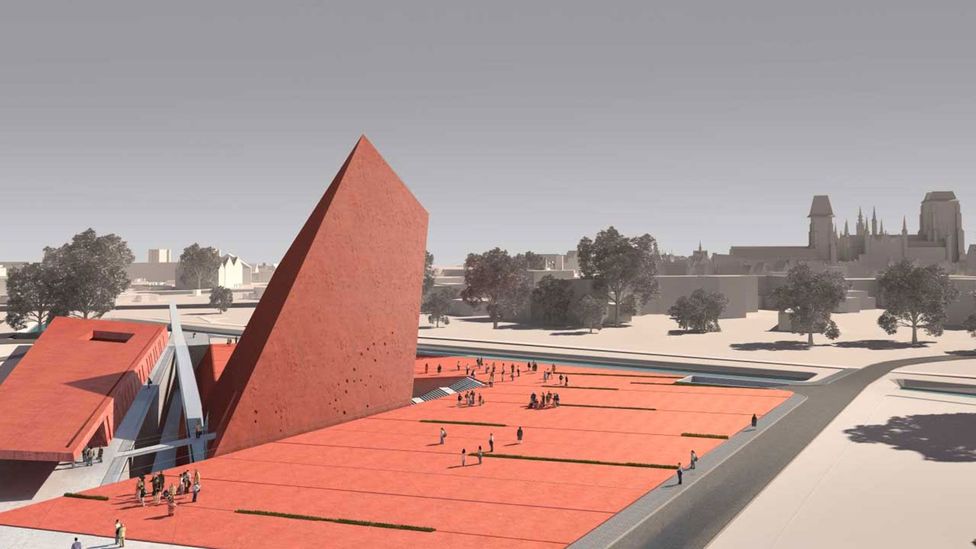 The WWII museum in Gdańsk is supposed to tell the story of the impact of the conflict on ordinary people (Credit: Design Engine Architects)
So, here, nationalism may yet triumph over the spirit of internationalism that defeated Hitler. Rather heartbreakingly, the deconstructed forms of the museum's architecture with its tilting central tower might now be seen as a representation of the fragmentation of Europe not so much in the 1930s, but in the 21st Century.
A plan to rebuild the tower of the Garrison church has been condemned by those who believe the spirit of Adolf Hitler still haunts this once sacred site
Meanwhile, political controversy rages in Potsdam, too. Here, a seemingly innocent plan to rebuild the 290-ft (88m) Baroque tower of the 1730s Garrison church – commissioned by Friedrich Wilhelm I of Prussia from his court architect Phillip Gerlach – to mark the 500th anniversary of the birth of Protestantism in October 2017, has been condemned by those who believe the spirit of Adolf Hitler still haunts this once sacred site.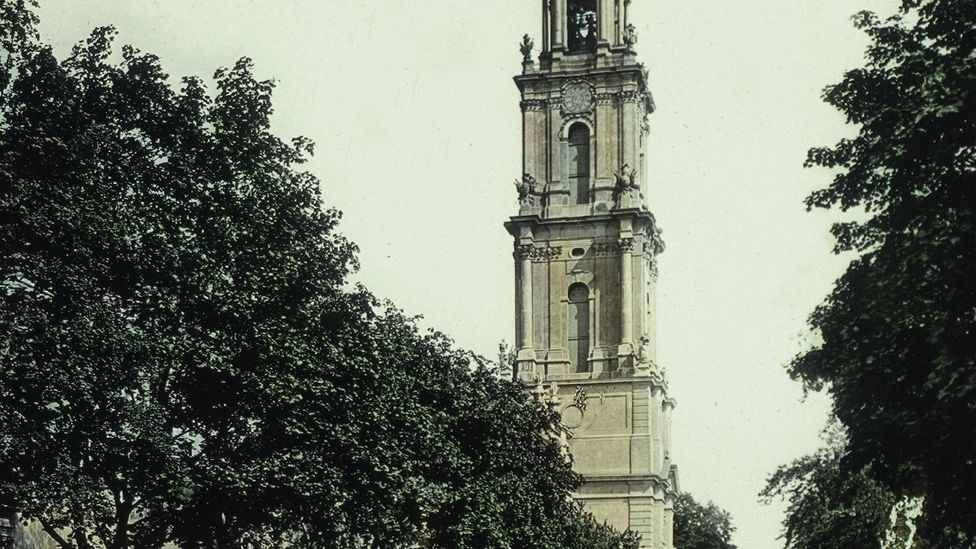 None of next year's architectural projects are as controversial as the Potsdam church (Credit: Getty Images)
While a sizable number of historic buildings damaged or destroyed during WWII have been recreated in Germany in recent years, none has been as controversial as this Potsdam church ravaged by fire in the aftermath of an RAF bombing raid in April 1945. For, this is where Hitler – born a Catholic, but no friend of Christianity – was sworn in as Chancellor by the 85-year old German president, Field Marshall Paul von Hindenburg, a Prussian aristocrat dressed that day in full military regalia.
Inside and outside Potsdam's Garrison church, then, was that fateful union between Nazism and the spirit of Prussian militarism. Three days later, the Reichstag passed Hitler's Enabling Act and, with it, sealed the newly dictatorial state's savage fate. The church itself survived as a ruin until demolished by order of the German Democratic Republic in 1968 after which a bland computing centre was built in its place.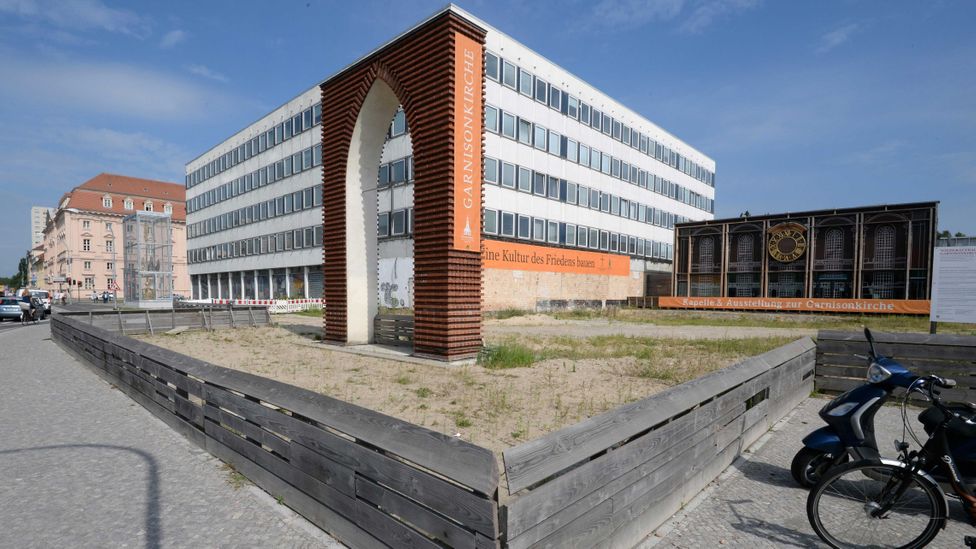 The reconstruction project has omitted overtly military symbols – but still faces intense antipathy (Credit: Alamy)
Antipathy to the reconstruction project is, perhaps, understandable even though overtly military symbols – carved stone swords, drums and pistols – have been omitted from the new work and a promise has been made that if the nave of the church is rebuilt the result will be a wholly modern design.
Reach for the stars
In Santander, north-west Spain, the Genoese architect Renzo Piano – an Italian senator and natural diplomat – has faced controversy of a different sort over the design of the Botín Centre, a cultural complex funded by the foundation established by the owners of Banco Santander, due to open next year.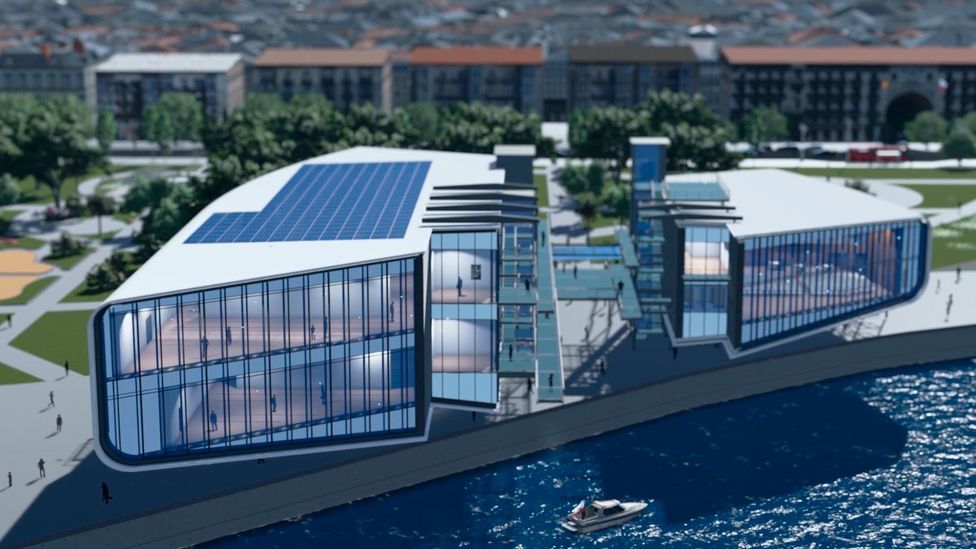 The Botín Centre in north-west Spain is a cultural complex funded by the owners of Banco Santander (Credit: Renzo Piano Building Workshop)
Designed in the guise of a pair of stylised, ultra-modern and milky-white glazed hulls raised on stilts, the Bótin Centre has aimed to bypass political and cultural controversy by landing as lightly as possible on the site of a former car park facing the city's sweeping bay.
Piano has done pretty much everything he can to preserve and frame views of the sea from the city, to keep the building no higher than the trees of the Jardines de Pereda and to diffuse its lightweight structure and gently curving forms with light refracted from a skin comprising 360,000 off-white circular ceramic tiles.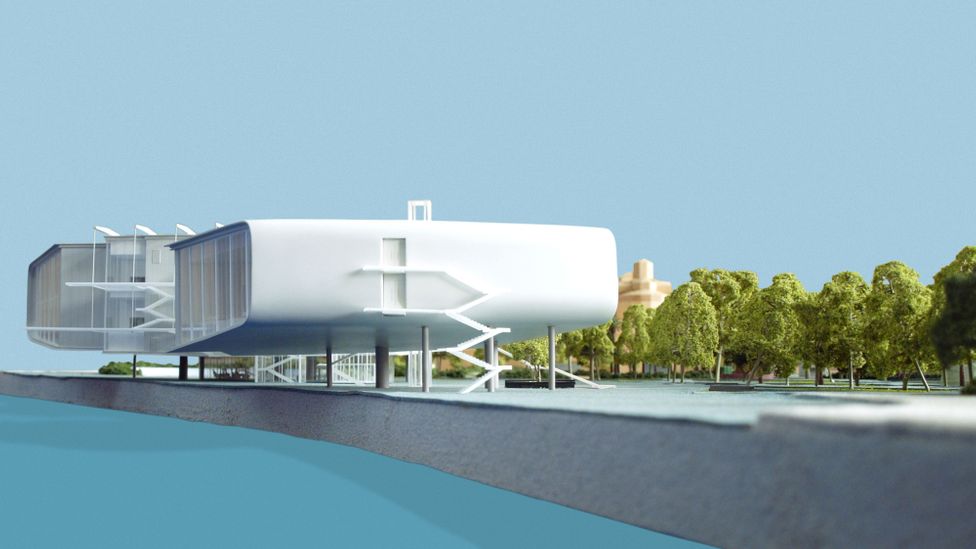 Ultra-modern and white-glazed hulls raised on stilts stand on the site of a former car park facing the city's bay (Credit: Renzo Piano Building Workshop)
And, yet, as Antonio Gonzalez-Capitel, a professor in the architecture department of Madrid's Polytechnic University, has told the press, "You shouldn't build out over the Cantabrian Sea – that's been architectural common sense for the last 3,000 years. Santander is a beautiful provincial city and this man [Emilio Botín] who made his bank the biggest in the country is now planting his steel boot in the place where he was born."
Even the 2017 Expo – latest successor to the 1851 Great Exhibition held in London – lacks the innocence of its predecessors and their innovative architecture. The 2017 event is to be held in Astana, capital of Kazakhstan, the economically successful former Soviet socialist republic dominated since independence in 1991 by the authoritarian former Communist Party leader Nursultan Nazarbayev.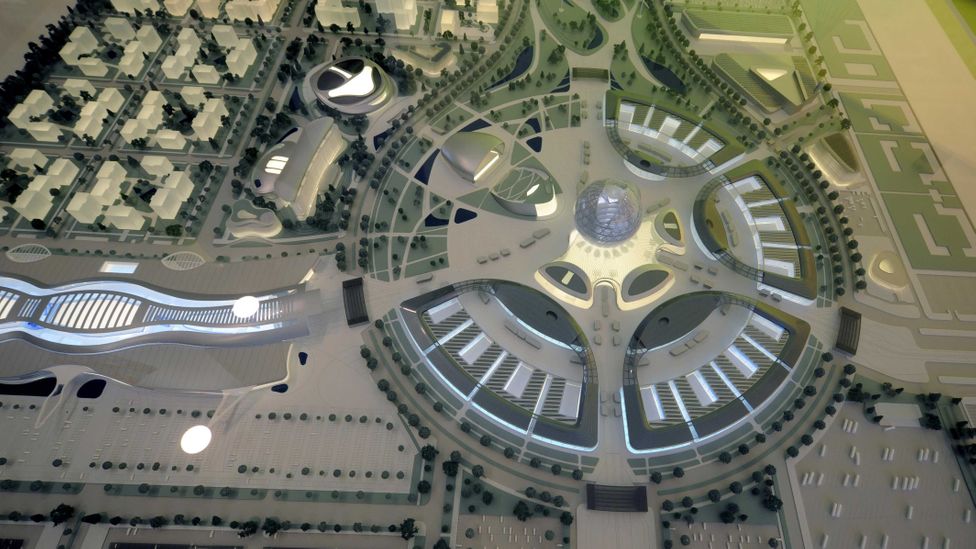 The 2017 Expo is to be held in Astana, Kazakhstan, along the theme of 'Future Energy' (Credit: Alamy)
How many foreigners will make the trip to Astana between June and September next year? It is hard to say, yet there will be those curious to see the 30 swirling futuristic buildings designed here, along the theme 'Future Energy', by the Chicago architects Adrian Smith and Gordon Gill. Smith was the architect of the Burj Khalifa, Dubai, currently the world's tallest building, while he and Gill are working on the much taller, one-kilometre high Jeddah Tower in Saudi Arabia, due for completion in 2020.
Each new year heralds the latest rash of tall buildings, each vying to be higher, more attention grabbing and more clown-like than its rivals. And this is why a very particular skyscraper to be opened in Orlando, Florida will, perhaps, set a different and less controversial architectural tone for 2017. The 'polercoaster' skyscraper, designed by Bill Kitchen's US Thrill Rides, is a glistering observation tower down the outside of which whooping and screaming theme-park goers will loop, dive and spiral down to the ground.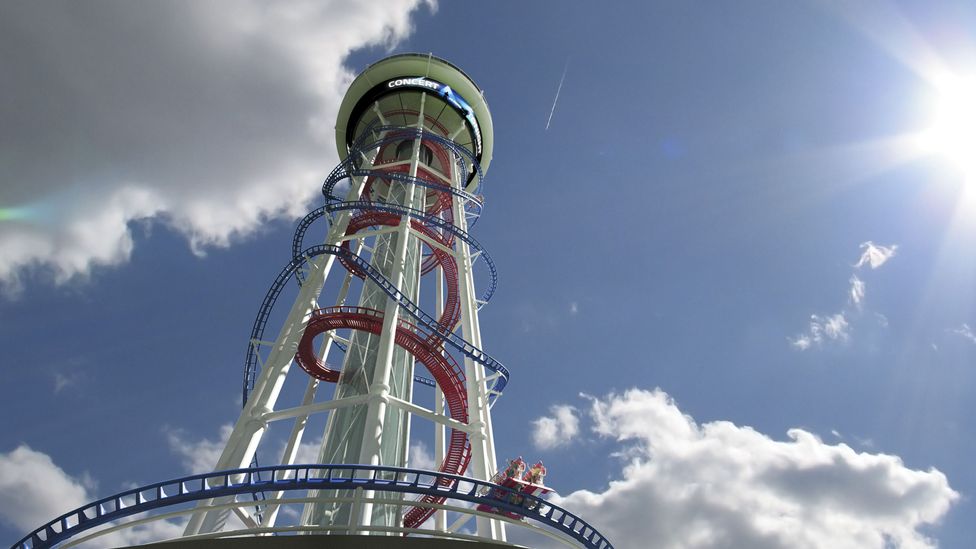 A 'polercoaster' is due to open in Orlando, Florida, designed by Bill Kitchen's US Thrill Rides (Credit: ThrillCorp)
The skyscraper promises "high thrills developed in a small diameter footprint", and so might be considered an ideal prototype for developers, clients and cities looking to build the wackiest skyscrapers in pricey city plots.
If you would like to comment on this story or anything else you have seen on BBC Culture, head over to our Facebook page or message us on Twitter.
And if you liked this story, sign up for the weekly bbc.com features newsletter, called "If You Only Read 6 Things This Week". A handpicked selection of stories from BBC Future, Earth, Culture, Capital, Travel and Autos, delivered to your inbox every Friday.