She's delighted teens with candid stories about sex, puberty and friendship. Judy Blume talks to Hephzibah Anderson about her life and her new novel for adults.
J
Judy Blume's new novel – her first in more than 15 years and only her fourth ever for adults – is set in 1950s New Jersey. First-hand experience of Elizabeth Taylor hairdos, smooching to Nat King Cole hits and gossiping about mobsters is not required to make reading it a sublimely nostalgic experience, however. While those details position it precisely in a time and a place, its emotional landscape is one that anyone who was led through their awkward years by books like Are You There God? It's Me, Margaret, Blubber and Forever will recognise instantly. This is Judy-land, a world of thrilling secrets and embarrassing parents, where best friends matter just as much as boyfriends and making out still carries a delicious frisson of naughtiness.
And yet, In the Unlikely Event is anchored in a backstory that's entirely different to anything you'll have read by her, one so bizarre that it would seem incredible were it not also true. At the start of 1952, three passenger jets crashed within eight weeks of each other over Elizabeth, a town close to Newark Airport. More than 100 people were killed, leaving locals in a state of twitchy dread. Blume herself grew up in Elizabeth and though she was only 14 at the time, her memories of that traumatic winter electrify the novel, a tale of love, friendship and loss and of carrying on regardless.
Her last book for grown-up readers, Summer Sisters, left her determined not to write another. "It was torture", she recalls, adding of this latest: "I wasn't looking for another idea for a long complicated novel for adult readers, it just came." And almost fully formed at that, complete with structure and characters, among them 15-year-old Miri Ammerman, her beautiful single mum Rusty and plucky grandmother Irene. There's also Miri's best friend Natalie Osner, an aspiring dancer with a seemingly perfect family and an endless supply of cashmere sweater sets.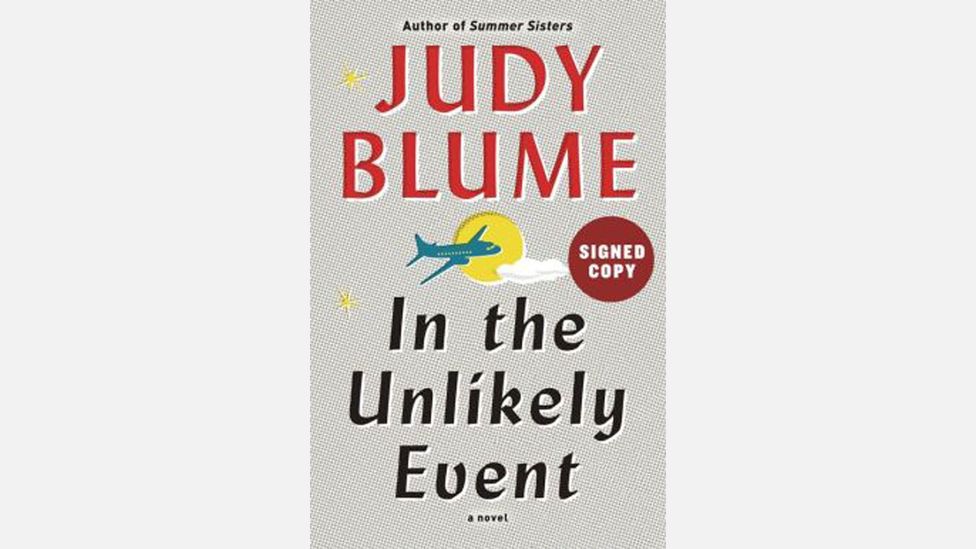 Blume's latest book, An Unlikely Event is her first adult novel in 17 years. (Credit: Picador)
The trigger was a literary event in 2009. She was sitting listening to Rachel Kushner discuss her own novel, Telex from Cuba, when Kushner mentioned that it was inspired by her mother's memories of the 1950s. Suddenly it came to Blume that she, too, had a story about that period. What baffles her is why it had never occurred to her to write about it before. "I never even told anybody. My daughter became a pilot – I never told her this story. I don't know why," she muses. "Did I bury it? I just don't know."
'Determined steeliness'
She's talking to me from New York City, where she and her third husband, George (they married in 1987), live when they're not in Key West, Florida, and the fact that it's by telephone feels somehow apt. If only it were an old rotary phone rather than a mobile, like all those conversations her characters have while munching after-school snacks of PB and J sandwiches. Indeed, Blume is spry at 77, quick to laugh and peppering her chat with turns of phrase that can only be described as girlish – "likes" and "kind ofs" and "never-evers". She's even maintained the best friend she met when she was 12 – they live around the corner from each other in New York. But beneath this chatty charm is a determined steeliness.
"Anyone who thinks my life is cupcakes is all wrong", she once told People magazine. She was referring specifically to her disastrous second marriage, which ended after just two years and came directly on the heels of her first. That had lasted more than 15 years, beginning when she was still a college freshman and resulting in two children by the time she was 25. "Suffocating" is how she's described it. As she tells me now, "We all married young, had our kids young, then I don't know what you're supposed to do... It's why my generation is the generation of divorce – we were too young".
In the new novel, Miri is on the high school newspaper, but for Blume, it was only when her daughter and son started pre-school that she began to write. "It came slowly. I was a reader – that's why you write, because you like to read. And also because I had imagination. I always had stories inside my head, always. Writing them down is a hard way to share them with the world, but I guess I couldn't think of any other way to do it".
'I represent your childhood'
That humility is genuine, and despite a celebrated career stretching back over 40 years, she remains endearingly baffled by the role in which her back catalogue casts her. In a way that none who came before quite managed, her books chart the moment when girls start to grow into their changing bodies and understand their own potential. She wrote about menstruation and masturbation and teen sex, about bullying and divorce and racism, along the way becoming the target of censorship and spurring discussions about what constituted age-appropriate reading. Ask her whether she felt like a pioneer, however, and you'll be set straight in no time: "No. No, no, no".
Still, people expect her to be able to answer all kinds of questions about gender and sexuality and the plight of young women in contemporary society. Though quick to say she just doesn't know, she also doesn't believe much has changed since her own girlhood in the '50s. Fear of pregnancy is what kept so many of her contemporaries virgins, she says, and there were always plenty of cautionary tales like that of Miri's mum Rusty, who'd won a place at Rutgers when she found out she was expecting. "We were very sexual, we just learned to be satisfied without having intercourse. There are maybe cultural changes – the drinking culture is causing all kinds of big-time problems – but it's the times that were different, we were not different".
Based on a highly unscientific poll of girlfriends aged 30 to 45, I'd say there are few authors that readers have quite such a nostalgic relationship with. How does it feel to meet such fans? 
"It's very sweet. I tell them I represent your childhood in some way – like the blankie, I take you back to childhood. It's not what I ever intended to do, but I accept that. I have the most loyal readers in the world".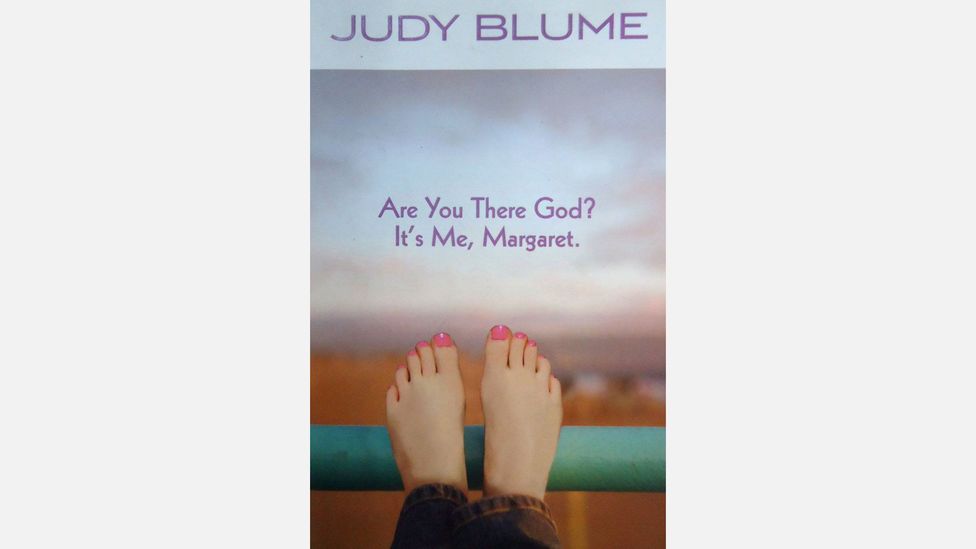 Are you there God? It's me, Margaret is one of Blume's most popular teen novels. Her books chart the moment when girls start to grow into their changing bodies (Credit: Amazon)
She's less indulgent when asked if she ever wonders what characters like Margaret, say, are up to now. "She's 12 years old, she will always be 12 years. All these women write to me saying please write about Margaret in menopause and I say to them, Margaret's never going through menopause because Margaret will never be any older than she is in that book. That's where she exists and that's it". Though those readers might like to know that Blume hasn't abandoned them – in In the Unlikely Event, another character does indeed have hot flushes.
As for younger women that she admires in turn, she singles out Amy Poehler, Tina Fey and – "Who's the young singer? She's very young and she's blonde" – Taylor Swift. There seems a good chance that at least two of them grew up with Blume's novels.
As she approaches 80, she has a lot of creative energy left, but notes that writing isn't her only outlet. "I have my little fantasies," she says coyly. "It's good to have fantasies and creative fantasies especially". She has a theatrical fantasy, for instance, and she's always wanted to try her hand at collage. She also likes to renovate houses, and is currently getting itchy after 10 years in her Key West home. "I always say between books is a dangerous time", she laughs.
When she finished Summer Sisters she swore she'd never write another long novel and she's saying the same today. "Then I was 60 and now I'm 77, so I can mean it more". But fans need not despair. "I'm sure I'll want to write something", she adds. "Maybe it will be Judy: The First 12 Years". Here's hoping.
If you would like to comment on this story or anything else you have seen on BBC Culture, head over to our Facebook page or message us on Twitter.