Software Engineering Graduate Scheme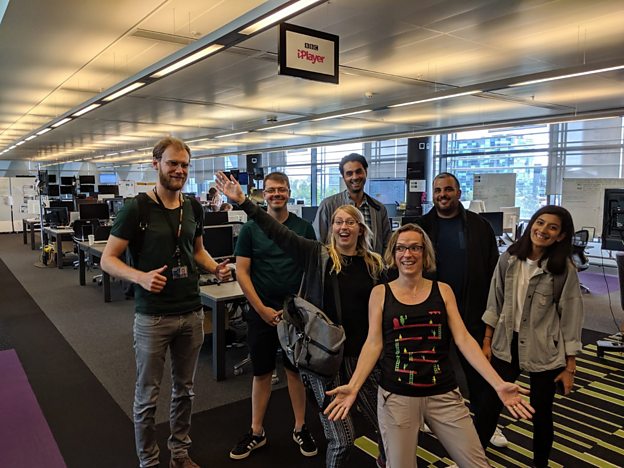 Applications for this scheme are currently closed.
Applications are reviewed on an ongoing basis and the role will close once we have filled all vacancies. Apply early to avoid disappointment
Introduction
The BBC is changing - we're adapting to our audience all the time, so we need passionate software engineers to join us, to drive innovation and help shape the future of the BBC.
We ask that you have a software engineering, or similar, degree, or equivalent knowledge and experience. We're looking for people who love working with others in a collaborative environment. And we're looking for people who want to apply their skills towards brands that reach millions each day.
How the scheme works
You will complete four 6-month rotations. You will choose rotations 2, 3 and 4 from a huge variety of teams. You are encouraged to experience as wide a spread of technologies as possible. Each team you join will provide you with experience in different languages, technologies and ways of working. You will get the opportunity to work on products such as BBC Sounds, BBC News, iPlayer, or the Alexa Kid's skill. You will also get the opportunity to work on vital back-end services that support our audience facing products, such as the Programmes Metadata Team, or the Content Management iSite Team. By the end of the scheme you will have been part of 4 distinct teams, having worked with many different technologies, people and products, allowing you to discover what suits you perfectly.
Technologies used by teams around the BBC include:
Amazon Web Services (including Lambda, DynamoDB, S3 and EC2)
JavaScript - Node.JS & React
HTML 5 & CSS 3
Kotlin & Swift
Java & Objective C
PHP
Python
Ruby
Scala
Haskell
Relational, NoSQL and Graph databases
Our award-winning BBC Training Academy offers a wide variety of training courses to help you in each rotation and you are encouraged to do as much relevant training, both classroom and online, as possible. When working in your team, you'll be able to learn from talented developers and product specialists in a positive, friendly and collaborative environment.
After the Scheme
You will go into a software engineer role within your chosen team. Our retention rate for graduates going into roles after completion of the scheme is 100%, with promotion to senior software engineer on average occurring after around 16 months.
BBC D+E
BBC Design and Engineering offers a wide range of careers that allow talented people to stretch themselves, explore their creativity and make an impact. We are the department that builds the BBC's digital products such as BBC Sport, CBBC, Bitesize, and the BBC Homepage. We develop, support and maintain the digital products that keeps the BBC online.
Diversity
We have over 100 years of invention and innovation behind us, and we achieved this by welcoming and developing people of all backgrounds. We take pride in our Diversity and Inclusion strategy. Please click here to find out more. We have big problems to solve, but we take the time to think and do things right. We don't focus simply on what we do – we also care how we do it. Our values and the way we behave are highly important to us.
Package Details:
£22,714 (outside London) and £27,319 (London) will be your starting salary, with an increase in your second year.
Unrivalled training and development opportunities – our in-house Academy hosts a wide range of internal and external courses and certification.
The latest Macbook Pro.
The opportunity to work on world-class digital products in an inclusive environment.
The option to do a rotation in a location other than your base location.
A dedicated mentor, often a former graduate, who can help you with your personal development and career goals.

A dedicated scheme manager who is always on-hand to assist you.
26 days' holiday with the option to buy an extra 5 days.
A defined pension scheme and discounted dental, health care, gym and much more.
Thinking about applying?
As long as you have the relevant skills in order to be a successful trainee software engineer we would love to hear from you. Whether you are a self-taught coder looking for a career change, or a graduate (no matter how recent); read on to find out if your skills match what we're looking for.
You will have completed a degree in a related field, or have equivalent knowledge/ experience.
You love working in teams, learning from others, and helping others to learn.
Our software engineers are really passionate about what they do, so you'll need to have the passion to match!
You will share our values (see the attached doc for more information).
We have opportunities in London, MediaCityUK (Salford) and Glasgow. Please state your preferred location on your application. Assessment days are held in MediaCityUK, London and Glasgow. We can only accept applicants who already have the right to work in the UK.