Where it Begins: The Radio 1, 1Xtra & Asian Network Placement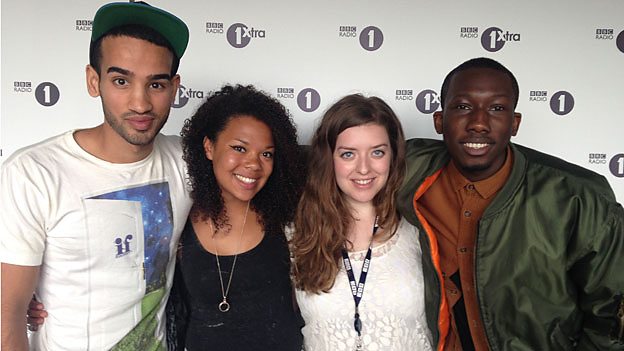 The deadline for applications for the Radio 1 placement has now passed. The Radio 1Xtra placement will open for applications in Autumn.
You'll work with our teams across shows and departments, learning about everything we do and how we do it. From daily shows to music sessions to digital content, you will get a chance to experience it all.
ARE YOU:
Passionate about the music and culture of Radio 1?
Already making your own podcast, broadcasting radio programmes, writing your own blogs or making your own films?
The sort of person who has the 'get up and go' and can get stuff done attitude.
DO YOU:
Want to get hands on experience across all areas at Radio 1, from the music team to programmes, to online and visualisation?
Want the chance to receive industry standard training from the BBC Academy?
Want a chance to share your creative ideas with programme teams across Asian Network and the wider BBC?
THEN OUR INTERNSHIP IS FOR YOU!
Our paid 8 week internships will give you the chance to work across our shows and departments. You'll get hands on skills at Radio 1 HQ.
The placement period will take place::
Monday 5th August - Friday 27th September.
About you
YOU NEED TO:
Be creative and brilliant, passionate about radio, music and everything that appeals to a young audience.
Know about current music and you'll be listening to Radio 1.
Be into new technology and social media and will get how this is impacting on us and our audience.
Be 18 or over and available to work across London for the 8 weeks of the placement.
Be from any background, and any part of the UK. You don't need to be a loud mouth! You could be quietly confident in your abilities.
​This placement is for people making their first steps in the industry. It is not suitable for people that already have professional experience in the media industry.
YOU DON'T NEED TO:
Be qualified! NB. You DON'T NEED any qualifications or radio experience. Instead, show us that you have a big imagination and a genuine enthusiasm for exploring and building a career in the media.
Want to be the next Greg James, Clara Amfo or Danny Howard. This is an 'off air' scheme, for people interested in careers in off air digital production roles. It is NOT a scheme for people interested in presenting or being DJs.
More detail about the Scheme
At the start of the placement, you will be set an Radio 1 research brief to prepare and develop across the 8 weeks. You will then present your findings and ideas to senior management at the end of the placement. This could be on anything, from how we use social media to comedy. We will give you creative and insight training to help you with this project. You'll have regular meetings with teams to develop your ideas.
During your time here you will also have a mentor. They will be a senior member of the Radio 1 team who will spend time with you every week to discuss how your placement is going as well as your future plans.
During your time at Radio 1, you will work with teams across both stations, spending blocks of time in different departments. You will take part in meetings and brainstorms and complete a range of duties for production teams prior to and during live shows.
Hours across the placement will mainly be 10-6pm Monday to Friday. However we are 24/7 stations and keen that our interns experience and get involved with as much as possible. We are looking for flexible people who will be able to work weekends or alternative hours on request.