Production Trainee Scheme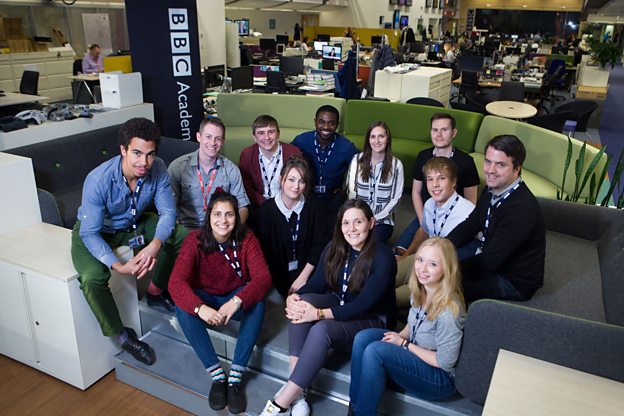 This scheme is now closed for applications. Check back early February 2019 for newest opportunities.
About the Production Trainee Scheme
The BBC's Production Trainee Scheme is looking for people, from all backgrounds and walks of life, to join our production teams and help us ensure that our content on screen, on radio and online reflects and represents the whole of the UK.
If you want to help us find and tell stories that speak to you, then, please, don't assume that there aren't opportunities for you here at the BBC. Help us enrich what the BBC does and work with us to find the voices and see the people who make up our communities in the UK.
The BBC's Production Trainee Scheme is recognised across the media industry for its training and placement opportunities.
We want to hear from anyone and everyone who loves to create content and is passionate about building a career in the media, but might not know where to start…
What can you bring to the BBC? We want to hear what you've got to say. If:
You are bursting with fresh, new ideas for TV, Radio or Digital platforms.
You have opinions on how the BBC connects with its audiences
You have a voice that you feel isn't currently being heard on the BBC
You have the drive and ambition to grasp the opportunities and experiences that will come your way over the 11 months
…then please do consider applying.
We are looking for all kinds of different people who have the ability and potential to join our programme-making teams and help us create exciting, innovative and ground-breaking content.
Through work placements in our production teams, and with bespoke BBC Academy training, this scheme offers you the chance to develop a range of understanding, knowledge and experience. Once the scheme has finished you will be well-equipped to apply for entry-level positions on a broad range of our TV, radio and digital output.
This is not a scheme where we focus on academic qualifications and acquired professional experience/skills. What we are looking for are driven and dedicated people who want to learn how to turn their creative ideas and passion into brilliant pieces of content for our audiences to enjoy and learn from.
What's on offer?
An 11-month fixed term contract currently paying £20,800 per annum for trainees based outside of London and £25,360 for those based mainly in the capital.
We also cover travel and accommodation expenses during training periods.
First-class training delivered by the BBC Academy from training specialists and senior BBC and freelance production staff.
The chance to work in a wide variety of production placements across TV, Radio and digital production, including possibilities in BBC Three, Radio 1/1Xtra, BBC Radio 2, BBC Radio 4, Current Affairs (TV and Digital), BBC Learning, BBC Films.
What you need to apply?
This scheme is not suitable for absolute beginners. The ability to demonstrate some solid evidence of your passion for programme-making and creating content is a must. We are looking for creative and driven people with great ideas and masses of potential.
You must also be able to show that you have an understanding of audiences across a range of BBC platforms and across other channels
If you have had continuous paid production work in the media industry, or at the BBC, for longer than 12 months then you need to consider whether this might be the right scheme for you as it may duplicate training and experience that you have already had.
There is no academic entry requirement. The main criteria we recruit on are creativity, potential and drive.
You must be able to work flexibly as working at the BBC is not always a Monday to Friday, 9 to 5, job. You may also be required to move productions every few months and may spend at least one of your placements in a BBC production centre away from your main base.
You will also be expected to demonstrate that you can work with a wide range of colleagues and members of the public.
What if I am disabled and I have access requirements? What should I do next?
Contact the BBC Resourcing Team if you have any concerns before, or during, the application stage including pre-assessments, assessments and interviews. We will be more than happy to assist and offer guidance.
We appreciate that disabled people, even those with the same disability, have different needs.
Our aim is very simple: to ensure you have an enjoyable and fulfilling experience whilst applying for a job opportunity at the BBC; beginning with your application right through to your interview, and everything-in-between.
Please be assured that we are working hard to make sure that the overall recruitment process is disability-friendly.
Further information
If you're interested in learning more about making programmes, visit the BBC Academy website.
For the latest information on trainee and apprenticeship schemes, along with hints and tips for your application, please follow @BBCGetIn
If you want to find out more about how the Production Trainee Scheme works visit our FAQ.