Production Apprentice Scheme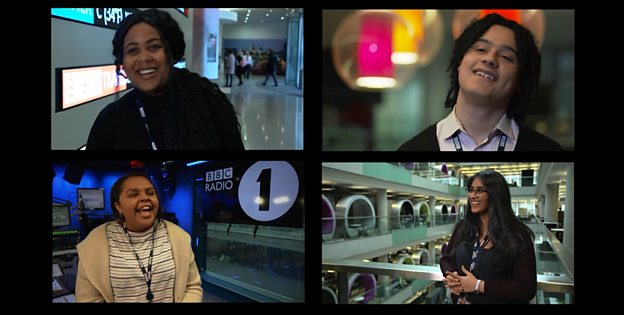 The Production Apprentice Scheme will open in December 2018 for new applications.
You are passionate about creating content for TV, radio and online
You love developing ideas and thinking about ways to capture sound and vision
You have bags of determination and drive and want to make the most of opportunities and challenges that come your way
You are excited by the idea of a career in the broadcast industry
If this sounds like you, then a place on one of our production apprentice schemes could be the first step towards your future career in the media.
We are looking for applications from people from all walks of life – talented, creative people with their own voice, own ideas and perspectives…people who have the potential to become the lifeblood of the BBC and our programme-making teams.
We offer scheme placements in multiple locations:
Interested in working in Wales? The BBC Wales Apprenticeship scheme is a fantastic opportunity to kick-start your career in the media industry, click here to learn more.
Ydych chi'n frwd dros y cyfryngau? Mae Cynllun Prentisiaeth BBC Cymru Wales yn gyfle ardderchog i ddechrau eich gyrfa yn y cyfryngau.
Scotland Apprentices have the chance to work on Radio, TV and Online content at BBC Scotland, click here to learn more about our Scotland Production Apprentice Schemes.
Apprentices on the Production Apprentice Scheme have the chance to work in bases across England on a wide variety of Radio, TV and Online content. Read on below to find out more.
What is an apprentice?
An apprentice is someone who learns professional skills from an employer through a combination of 'on-the-job' and 'off-the-job' training. That means they learn how to work in an industry through hands-on experience in a work placement and also through college learning.
Your duties as a production apprentice could include providing general administrative support to a production team; booking equipment; arranging meetings; collecting props; assisting camera and sound crew and doing basic research e.g. sourcing stories and finding contributors.
We will give you training and support to help you develop your skills, confidence and experience of working in a professional media environment. At the end of the scheme you will have a qualification and a solid foundation for applying for entry-level roles in broadcasting.
You will be paid an apprenticeship wage. You need to be aged 18 or over when the apprenticeship starts on the 17th September 2018.
About the Production Apprentice Scheme
During the 12-month Broadcast Production Assistant Apprenticeship scheme you will have the opportunity to combine work experience, in one of our exciting production areas, with college learning and bespoke training from the BBC Academy.
Placements are offered in a range of TV, Radio and online content in bases across England. Some placement roles may require you to accompany your production team on location, so flexibility to travel is preferred, but not essential.
Over the course of the year you will gain a solid foundation of core production skills and you will also have the chance to specialise in one of three production areas/pathways:-
Production Management: This is suited to people who have great organising and planning skills. Apprentices work towards a Production Management Assistant role: learning about budgets, copyright, health and safety and scheduling staff and kit. They also develop an understanding of what the creative and technical teams need from the production process and help make it happen!
Craft Skills: The ability to demonstrate some technical knowledge and understanding is needed for people interested in this pathway. Apprentices work towards Assistant Studio Manager (Radio) or Camera Operator (TV) roles. Learning includes training in the technical skills required to, for example, set up and run a radio studio or capture footage for a news story (TV or online).
Editorial: This pathway allows apprentices to work in our content-making teams towards a role as runner / junior researcher. This can involve running on the studio floor / on location; researching contributors / stories / locations; setting up shoots or coming up with and pitching programme ideas.
Whilst developing practical skills with hands-on learning on the job you will also study towards a Diploma in Creative Media Content and Production.
Next year placements will be available across TV, Radio and online production, including in:
Live programmes: You could be helping set up shoots or looking after guests on The One Show
Entertainment, Music and Events: You could be a runner on the next Children in Need or Strictly Come Dancing series
Drama: Working as a runner on EastEnders or Holby, or assisting the camera crew
BBC Radio 1/1Xtra: You could be coming up with content ideas for the Radio 1 website
Network Radio: For example, assisting the studio manager on Radio 4's Front Row show or at the BBC Proms
Children's: Working as a runner or in production management for CBBC or CBeebies
Broadcast Production Assistant Apprenticeship (Level 3)
The BBC Academy works with a training provider to deliver best-in-class courses and give apprentices a world-class foundation in production. This is a year-long programme where you will get to work on a range of content in the BBC, while studying towards a Level 3 apprenticeship.
Providing an excellent practical understanding of Television, Radio and online production processes, this apprenticeship will equip you with knowledge and experience that will place you well for applying for future production entry-level contracts.
Following an initial training period, you will then work in a production team on a placement / range of placements, with training at regular intervals over the 12 months (usually in blocks of 1 or 2 weeks).
Along with your scheme manager, you will have a placement manager who will be responsible for your learning objectives and progress. You will be assessed on these objectives during the course of the placement.
At the end of the scheme there will be a series of final assessments, in both the core skills and the specialist pathway chosen.
Curriculum summary
Learning will be delivered via our training partner and through the BBC Academy. The key areas of study will include:
Understanding the end-to-end production processes – from programme idea to delivery
Research skills / how to write a research brief
Ideas development & pitching / how to write a treatment
Storytelling – How to identify and appeal to an audience
How to make a taster or trail
Technical basics including: operating recording equipment (cameras and mics), editing and manipulating A/V files, radio studio management
Media and metadata management
Production paperwork
Content rights and copyright – an introduction
Using social media to support and enhance a programme
Industry ethics
What's on offer?
A 12 month fixed-term contract paying £14,250 per year, those based in London will receive £18,810. Training fees and travel and accommodation expenses for training are covered.
The chance to work in a professional production environment.
Gold-standard industry training delivered by the BBC Academy from specialists and senior BBC and freelance production staff.
Completion of a Broadcast Assistant Production Apprenticeship, supported by an experienced and established training provider.
The opportunity to contribute to creating exciting and engaging content in TV, Radio or Online.
What do you need to apply?
To be a successful apprentice, and to make the most of the apprenticeship year, you must have a passion for creating brilliant, diverse content either in a practical way or through developing ideas.
You must have serious determination and the motivation to make a career in the media is vital (this is not a gap-year activity).
Other key strengths you will need to have are resilience, motivation and an eagerness to learn. You must also be able to demonstrate the ability to combine working in a professional media environment with college study and additional training.
You will be punctual and responsible with good organisational skills.
This scheme is an entry-level scheme aimed at people with a maximum academic qualification of A-levels or equivalent. There is no minimum academic entry requirement. You do not need previous media experience, but the ability to demonstrate a keen and active interest in content, audiences (at the BBC and other broadcasters) and the media industry is a must.
You must be able to work flexibly as working at the BBC is not always a Monday to Friday, 9 to 5, job. Over the course of the year you may also be required to move between productions.
You will also be expected to demonstrate that you can work with a wide range of colleagues and members of the public.
Find out more
For all the latest news about apprentices and trainee schemes, and tips and hints for your application, please follow @BBCGetInon Twitter and Instagram
If you're interested in learning more about making programmes, visit the BBC Academy website.
Or you can read our Frequently Asked Questions.