Future Voices Programme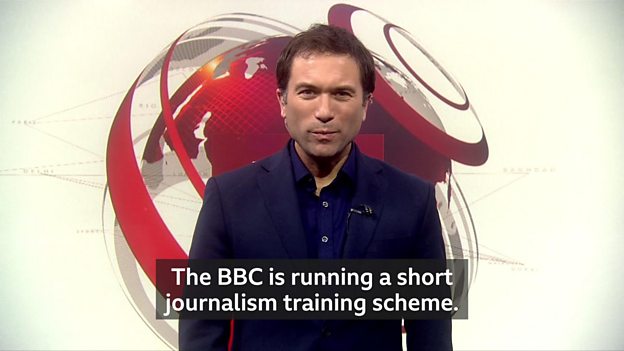 It was always my dream to work in World News, but I had no idea how to get started and Future Voices just kick-started my career.

Yanita Georgieva, Former Future Voices Intern
Applications for our 2019 intake for this scheme are now closed. Please check in 2020 for new opportunities.
Scheme Overview
Do you have strong communication skills and speak more than one language?
Are you interested in how news is told around the world?
If your answer is yes, then read on to find out more about our Future Voices Internship.
We are offering the opportunity to be trained up as a Journalist within the BBC World Service for a 6 week placement. The World Service is one of the world's leading news broadcasters. We are currently available in 41 languages, including English. The World Service Group, all the international parts of the BBC, has a weekly audience of over 346 million people around the world.
The BBC reports from more locations than any other international broadcaster, and we are always training up bilingual reporters and producers, who can bring us the story in English and another language.
This scheme is open to people from all backgrounds and from every corner of the UK. You do not need any journalism skills before you start but you must be able to demonstrate a genuine interest and passion for a career in Journalism.
Location
New Broadcasting House, London.
Start Date
There are two intakes for this programme throughout the year:
4th March 2019 – 12 April 2019
June 2019 (Dates likely to be June 17th – July 26th )
You can express your preference and availability on your application form.
Who are you?
Does this sound like the scheme for you? Here is what we are looking for…
You must have the right to work in the UK
You will be over 18 and available to work Monday-Friday for the duration of the placement.
You are passionate and interested in international news.
You will be a curious storyteller who enjoys communicating stories and experiences of others.
You must also be fully bilingual in speaking, reading and writing in both English and one of the following languages:
Arabic
Azeri
Afaan / Oromoo
Bengali
Burmese
Chinese
Dari
Igbo
Kinyarwanda
Kyrgyz
Korean
Farsi
French (for Africa)
Hausa
Pashto
Portuguese (for Latin America)
Pidgin
Russian
Sinhala
Somali
Swahili
Spanish (for Latin America)
Serbian
Tamil
Thai
Turkish
Ukrainian
Urdu
Uzbek
Vietnamese
Yoruba
What are we offering?
We will give you the chance to experience life at the BBC as a journalist, including what it is like working in two languages - English and one other of the World Service languages listed below.
During the scheme, we will provide you with a mentor and cover training across radio, TV and digital journalism.
Where could this take you?
You will gain lots of insight and knowledge into the world of international News.
This traineeship will give you the confidence and BBC contacts to apply for opportunities to continue developing your skills and experience.
The Application Process
As part of your application, you should be ready to:
Link to 2 pieces of content you have created, that will show us your creativity and demonstrate your passion for news - this could be anything from a tweet, a posting on your Facebook page, a blog, a piece of audio or a short film you have made.
Provide 2 sixty seconds clips of why you want to come on this training scheme and why we should choose you. This is your elevator pitch and should be done in both your languages.
Diversity
We are a diversity champion and we promote a good working environment for all existing and potential staff ensuring equal treatment for all of our employees. We have formed a partnership with VERCIDA, the UK's largest diversity and inclusion focused careers site. All of our vacancies are also listed on VERCIDA. Click here to view our vacancies in an accessible format. If you have a disability you will also have the option to go through our Extend Hub when you apply.