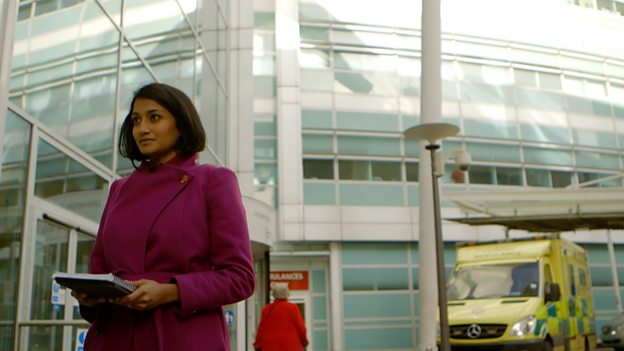 This scheme opens for applications on Thursday 10th January.
How long is the trainee scheme?
This is a 10 month scheme.
What is the application process?
The first stage is to complete your online application which will include a variety of questions around your interest in journalism and what you can bring to the trainee scheme. We will also ask you some questions based on situations you might encounter as a journalist at the BBC. We will ask you how you might approach different problems and challenges.
The application deadline is Thursday 7th February at 11.59pm.
If we like what we see, you will be invited to record a short video response to multiple questions. If you are invited to the next stage, you will be asked to attend an Assessment Day in May 2019 in Birmingham.
We will keep you updated via email throughout your application process.
I don't have a visa to live and work in the UK for the full duration of the scheme. Can the BBC assist with my application?
No. You'll be asked at the application stage if you are eligible to live and work in the UK. This is an entry requirement. You must have resided within the EU for the past three years. It is not possible for the BBC to support with visa sponsorship.
What does my Journalism Trainee Scheme year look like?
We want you to learn on the job – so we keep formal training to a minimum. Your first few weeks on the scheme will be spent training at the BBC. After that we will assign you to your first news team. Placements with online and digital, radio and TV news follow intensive training blocks in the skills you will need at BBC News.
How will I know how I am doing?
We monitor the progress of our trainees closely and there will be a structured evaluation process for the length of the scheme. You will be given feedback on your performance and you will be asked to give your own feedback as well.
What will I be doing?
Have a look at the job advert to give you a bit more information about what is likely to be involved. Generally, we aim to train you up to work as a Broadcast Journalist anywhere in BBC News. So your training and work placements will encompass radio, TV and online and digital news.
What hours will I work?
Although you should be working a normal 35-hour week, please note that working in journalism is not a 9 to 5, Monday to Friday job. The hours can be long when you are working to tight deadlines, but they can also be very rewarding.
How much holiday will I get?
As a member of BBC staff you will be entitled to 25 days holiday per year plus UK bank holidays (or time off if you are scheduled to work) and an extra day at Christmas as specified by the BBC.
How much will I be paid?
The salary for the year will be £21,216. If you are based in London, the salary is £25,776 per annum.
Will my expenses be met?
Travel, some food and your accommodation expenses are met while you are training with us. After that, we will not expect to reimburse you for any expenses involved in getting to and from your BBC base. If you are sent out on assignments during your training period you will be reimbursed for any legitimate expenses in line with the expenses policy of that particular office. You would also be reimbursed for attending any further training away from base which we may decide to send you on.
Where will I be based?
You could be based in any of BBC regional or network news centre across the UK. There are placements in cities including London, Salford, Cardiff and Glasgow
I am open to more than one location, Can I apply more than once?
The Journalism Trainee Scheme runs in the England, Scotland and Wales. You only need to apply to one location for your application to be considered for ALL.
Please only apply once. Duplicate applications (i.e. An application for Journalism Trainee Scheme - England, as well as the Journalism Trainee Scheme - Scotland) will not be accepted. We cannot guarantee that you will be placed in your preferred location but will take your interest into account.
Can I choose which News areas I want to be based in?
No you can't. You will be given the opportunity to state a preference but in general we expect our trainees to be based in different areas. That way you will gain the widest amount of experience.
Do I need specialist knowledge?
A good knowledge, understanding and interest in news and current affairs are essential for our trainee scheme.
We have a number of specialist placements such as the Gareth Butler politics placement where you will be based at our Westminster offices near the Houses of Parliament.
Anyone interested in one of our specialist placement needs to be able to demonstrate appropriate skills and knowledge.
Please note: applying for a specialist traineeship will not rule you out of being considered for a non-specialist traineeship.
I'm already working in broadcasting. Can I apply?
If you are already working as a broadcast journalist in TV, radio, and digital or online then please consider whether the scheme is for you. We would not want to duplicate training that you have already had.
I'm already training to be a journalist. Can I apply?
Yes. If you are currently studying, or have recently studied, journalism (including broadcast journalism) at undergraduate or post graduate level then you may apply for the scheme but again decide whether this scheme is for you. We do not want to duplicate training that you have already had.
I don't have any lengthy journalism experience or qualifications. Should I still apply?
You don't need a degree or postgraduate qualification to apply for the scheme but this scheme is not for complete beginners. You must be able to demonstrate evidence of some journalism. One of our aims is to find talented and creative people who might have been put off the idea of a career as a broadcast journalist because of the training costs involved. By the way, we are very keen to hear from people who have perhaps had a long-term ambition to work in broadcast news but for whatever reason, have been pursuing a different career.
Is there an age limit for trainees?
Due to health and safety considerations, we cannot accept applications from individuals under the age of 18 at the time of the scheme. There is no upper age limit.
I live abroad - can I apply?
You can apply as long as you have the right to live and work in the UK at the time of your application and for the duration of the scheme. The BBC cannot support visa applications.
What support will I get while I am on the scheme?
We will do all we can to help you to succeed.
In your first few weeks we will give you a good grounding in basic BBC journalism. We will take a close look at your training needs and help you to develop your skills and know-how. We will also give you all the relevant technical training to start your work placements, and top up your training in specific skills if you need it.
You will go on a BBC induction programme. You will also be assigned a mentor, someone to support and guide you throughout the year. Your mentor will be in touch with you regularly to see how you are getting on and to offer advice and encouragement.
By the end of the scheme we hope you will be in a strong position to apply for BBC jobs.
Will I get a job at the end of the scheme?
Upon successful completion of the scheme you will be offered a position to match your skills and abilities.
What if I am disabled?
The BBC welcomes applications from everyone, whatever their background or circumstances, as long as they meet the criteria for the role. The BBC is committed to being inclusive and accessible to disabled people. If you have access needs, please be encouraged to contact the BBC Resourcing & Talent team if you make the shortlist for assessment/interview. They would be happy to advise you further and to ensure that their colleagues will facilitate your assessment/interview and placement if you are successful.
For the latest information on apprenticeships and trainee schemes please follow @BBCGetIn on Twitter & Instagram.