Digital Journalism Apprenticeship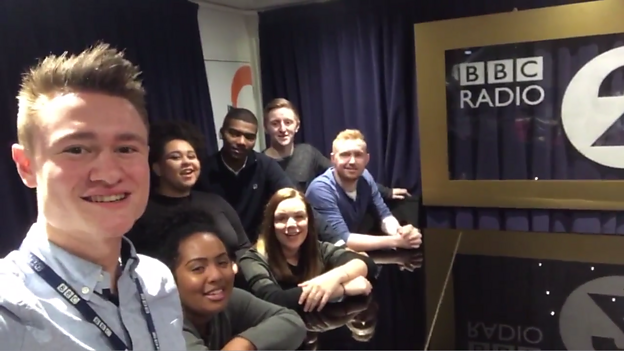 The biggest misconception about the BBC is that you already know what they're looking for. The first piece of advice I give to everyone is to just be yourself! We'll never know what people are looking for; as much as we all think we're mind-readers.

Chanise Evans, Former digital journalism apprentice
Applications for our 2019/20 intake have now closed. Please check back in 2020 for opportunities.
The Digital Journalism Apprenticeship runs in England, Scotland, Northern Ireland and Wales. You only need to apply to one location for your application to be considered for all.
Please only apply once. Duplicate applications (i.e. applications for Digital Journalism Apprenticeship - England, as well as the Digital Journalism Apprenticeship - Scotland) will not be accepted. We cannot guarantee that you will be placed in your preferred location but will take your interest into account.
Placement Overview
You can spot a story – and make it go viral.

You are a social media enthusiast who is already making great digital content.

You are interested in news and current affairs and love explaining complicated stories in a simple and refreshing way.

You understand how to connect with your local community and share their stories and experiences.
Does this sound like you?
The way we get our news is changing. We don't just listen to it on the radio or watch it on television. Millions of people are finding out what's happening first on social media and on their mobile phones.
We want to hear from you if you want to tell stories and reach people who don't normally consume News. It really is a very exciting time to come and train as a Digital Journalism Apprentice with the world's biggest news organisation, the BBC.
If you are switched on, creative, and you can bring us your experiences of living in the UK today, then we want to hear from you.
About the Digital Journalism Apprenticeship
You will work alongside BBC News teams on work placements and assist them with delivering quality News output and content, whether that is online and digital, radio or television. Meanwhile, you will be working towards a Level 3 Diploma in Journalism. Balancing your time between learning on the job and in a classroom environment will be essential.
Locations
Your work placements could be based at a number of BBC news centres including London, Birmingham, Norwich, Nottingham, York, Oxford and Southampton. We have opportunities based in Northern Ireland and there are also places working in News and Sport with BBC Scotland based in Glasgow.
When applying you need to be flexible about where you live, as well as your working hours. Working at the BBC is not a Monday to Friday nine-to-five job.
Start Date
September 2019
Who are you?
You should be creative, curious and resilient.
You must love all things digital and be able to show you are already using social media to tell stories.
You must have a passion for writing.
You must be interested in what is going on in the news
This is a scheme aimed at non-graduates. But you need to have at least 5 GCSEs with Maths and English at a C or above (or equivalent) or Grades 9 to 4. In Scotland you need to have five National 5's, Grades A to C including Maths and English.
We also welcome those who are doing a completely different job – and want to make a career change to become a journalist.
Are you a graduate with ambitions to start a career in Journalism or an individual who can demonstrate their journalistic potential through existing experience, then our Journalism Trainee Scheme may be a better fit for you. To find out more click here.
What are we offering?
An apprenticeship to train to be a journalist with the BBC - with a diploma in journalism accredited by the National Council for the Training of Journalists (NCTJ) at the end of it.
You will learn how to create great content for BBC News across TV, radio, digital, online and social media.
You will train and work alongside top Editors and staff across different parts of BBC News and Current Affairs.
You will get to tell news stories which appeal to a whole range of people who might not normally watch or listen to the news.
Where could this take you?
You will have the opportunity to apply for roles at the end of the scheme. The nature of the broadcast industry is that people often work on 3, 6 or 12-month contracts and your training will provide you the skills to apply for a Broadcast Assistant position.
The Application Process
You will complete an application form. This consists of questions that will allow you to tell us why you want to be a journalist, about your passion for writing and how you can help us to reach our audiences. We also want your ideas for a news story. This application will also include a series of questions where we would like to know how you would behave in certain work situations as a journalist at the BBC.
After the closing date on 20th February 2019, your application will be reviewed and if we like what we see you will be invited to complete the next stage. This stage is a video interview, where we will ask you to answer multiple questions which are relevant to the scheme. This will help us get to know you better as you will submit a video response.
The successful candidates at the video interview stage will be invited to an assessment centre which takes place in Birmingham or Glasgow in June. The scheme will begin in September 2019.
Due to health and safety considerations, we cannot accept applications from individuals under the age of 18 at the time of the apprenticeship. There is no upper age limit
For any questions and updates about the BBC's Journalism schemes follow @BBCGetin / #bbcgetin on Twitter & Instagram.
Diversity
We are a diversity champion and we promote a good working environment for all existing and potential staff ensuring equal treatment for all of our employees. We have formed a partnership with VERCIDA, the UK's largest diversity and inclusion focused careers site. All of our vacancies are also listed on VERCIDA. Click here to view our vacancies in an accessible format. If you have a disability you will also have the option to go through our Extend Hub when you apply.