IMPORTANT: An update on covid-19
The situation regarding the coronavirus outbreak is developing quickly and the BBC is keen to continue to ensure the safety and wellbeing of people across the BBC, while continuing to protect our services. To reduce the risk to everyone at the BBC as of Wednesday (18 March) it will not be possible for external visitors to access BBC buildings unless they are essential to our broadcast output.
How does this affect the BBC recruitment process?
From Wednesday 18th March until further notice all assessments and interviews will be conducted remotely. We recognise that this may not be something you are familiar with and we have pulled together some hints and tips to consider before a video interview –
Block out distractions - before you begin your video recording, it's important to remember that whilst you're in the comfort of your own home, or in a library, or even a cafe, don't be overly casual. You still need to be heard, you need to not be interrupted and you need to make sure that you're in a place where you can answer the questions to the best of your ability.
Preparation - there's nothing worse than having a technical glitch because you aren't used to the software. Is your sound on? Is your microphone on? Is the device you're using in a secure position and at an angle where we can see you clearly?
Be authentic - try your hardest to let your true personality shine. In whatever role you play at the BBC, you'll be given the space and support to let your unique brilliance shine. We are looking for people who share our values, and reflect the diversity of our audience. To get the real you across we would encourage you to make eye contact, avoid watching yourself on the screen and instead, look directly into the camera.
Be part of something special. Join the BBC.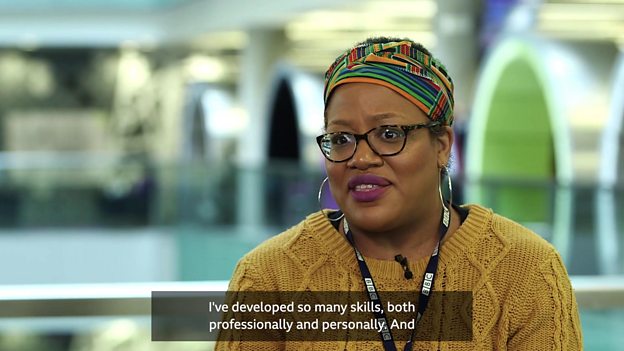 The BBC is the world's leading public service broadcaster. Funded primarily through the television licence fee, the BBC provides audiences in the UK with high quality and distinctive services across television, radio and online. In the UK the BBC provides 10 network television services, 10 network radio services, 46 radio services in the nations and regions of the UK, plus an extensive online presence. The BBC also delivers impartial news and information to audiences around the globe through the World Service. The BBC offers a wide range of careers in the areas of journalism, broadcasting, technology as well as corporate roles such as HR, legal, finance and administration.
Our aim is simple – to enrich people's lives with programmes and services that inform, educate and entertain by being the most creative organisation in the world.
But we don't focus simply on what we do – we also care how we do it. We have six values, or standards, which people across the BBC share. They represent the expectation we have for ourselves and each other, they guide our day-to-day decisions and the way we behave.
Check them out at the bottom of this page.
Want to help deliver award-winning content? Create your Careers Hub profile. Search our current vacancies on the BBC Careers Hub.
You can also sign-up for Job Alerts. Create your job alerts and you'll be one of the first to hear about jobs that match your requirements.
Diversity
We are a diversity champion and we promote a good working environment for all existing and potential staff ensuring equal treatment for all of our employees. We have formed a partnership with VERCIDA, the UK's largest diversity and inclusion focused careers site. All of our vacancies are also listed on VERCIDA. Click here to view our vacancies in an accessible format.
BBC Schemes, Apprenticeships & Work Experience
You can view the latest opportunities at the top of the page.
Follow us on Instagram & Twitter @BBCGetIn for news, updates & Life at the BBC.
We don't just focus on what we do. We care how we do it.
We have six values, or standards, which people across the BBC share. They guide our day-to-day decisions and the way we behave. Learn about the expectations we have for ourselves and each other.

We work with the wider industry, equipping people with skills they need for a lifetime of employability in the ever-changing media landscape. Discover how you can develop your career at the BBC.

You'll have lots of opportunities to give something back to communities in the UK and around the world. We work hard to use resources wisely to reduce our impact on the environment. Find out how you can make a difference.