Coming to BBC One this Christmas is a brand new adaptation by BAFTA Award-winning Amanda Coe (Apple Tree Yard, The Trial of Christine Keeler) of Black Narcissus, Rumer Godden's iconic 1939 tale of sexual repression and forbidden love. Amanda introduces the drama below.
The next recording in our Ask the Write Questions podcast series will be with Amanda Coe. In this podcast all the questions come from you, the audience.
So what would you like to ask Amanda? You can email us writersroom@bbc.co.uk or tweet @bbcwritersroom
Watch the trailer for Black Narcissus
In the unfettered sensuality of the so-called House Of Women, Sister Clodagh (Gemma Arterton) finds herself increasingly attracted to the handsome and damaged land agent Mr Dean (Alessandro Nivola). As the repressed memories of Clodagh's past become entangled with the tragic history of Princess Srimati (Gianni Gonsalves), to the fascination of troubled Sister Ruth (Aisling Franciosi), history seems doomed to repeat itself. But are there really ghosts in the Himalayas, or are the incomers succumbing to long-repressed primal desires?
Amanda, why did you choose to adapt Black Narcissus and what was the thought process behind it?
Black Narcissus has been a dream of a job. It's a fantastic book and the original 1947 film is a masterpiece, which was slightly daunting. It's been a joy seeing it come to life from the screenplay.
I was approached by DNA, the production company, about adapting the book. I was very aware of the film - it's a huge favourite of mine - but I'd never read the book. When I read it, I realised the book is wonderful in its own right and I could see why there was a case for going back to the book and doing a different sort of adaptation that would feel more contemporary and would bring the story to a new audience.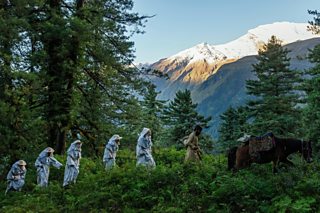 Black Narcissus (Image Credit: FX Productions/Om P. Yadav)
How did you approach the subject matter and how does it differ from previous incarnations?
I approached it cautiously as the book is really leanly written. It's very evocative, but it has the compression that a screenplay has in many ways in bringing this world to life. In terms of turning it into a three-part drama, it felt like we had more time to stay with the characters and bring a different perspective about how each character comes to be at the palace of Mopu. It was a chance to flesh out all the characters more than they are in the film version.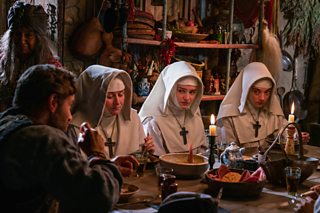 Angu Ayah (NILA AALIA), Mr Dean (ALESSANDRO NIVOLA), Sister Briony (ROSIE CAVALIERO), Sister Ruth (AISLING FRANCIOSI), Sister Blanche (PATSY FERRAN) in Black Narcissus (Image Credit: FX/Miya Mizuno)
Were there any particular themes that you wanted to place more emphasis on?
I think this version of the story emphasises more the effect of the Palace on everybody. There's the sense that these nuns are coming into a place that has a history that they are very unaware of and they have to learn to integrate - or attempt to integrate with the community at Mopu, and that brings a huge challenge to them.
There's a bit of a theme of taking responsibility for your own past. It obviously touches on the colonial world of the book, which also plays a significant part in the journey that the Western characters go on. Part of that journey being the impossibility of being true to yourself unless you own your history.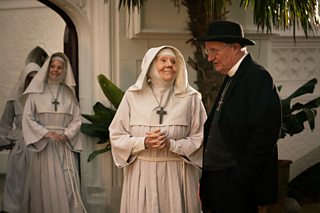 Mother Dorothea (DIANA RIGG), Father Roberts (JIM BROADBENT) in Black Narcissus (Image Credit: FX/Miya Mizuno)
Could you tell us a little about your working process?
It's been a long journey on the scripts, because I think so much of the book is about shifts of mood and internal processes. One of the challenges as a screenwriter adapting the novel and bringing it to screen is to find a way to render those external and make them dramatic.
I felt a great responsibility to bring the mood of the book, which is very powerful, and it's a story about how atmosphere works on you. It's been a very rigorous process of drafting and redrafting at the development stage with the production team, and then when Charlotte Bruus Christensen came on board she bought a particular vision and approach to the material.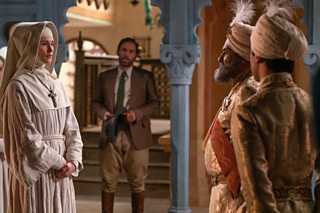 Sister Clodagh (GEMMA ARTERTON), Mr Dean (ALESSANDRO NIVOLA), General Toda Rai (KULVINDER GHIR), Dilip Rai (CHANEIL KULAR)(Image Credit: FX/Miya Mizuno)