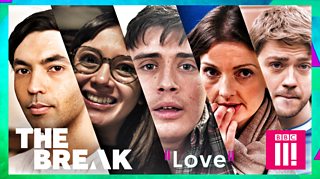 Developing and Producing the latest series of The Break in Scotland gave us the perfect opportunity to tell contemporary stories not only set here but about life here. All five of our selected writers (Anita Vettesse, Stewart Thomson, Omar Raza, Grace Knight and Sophie Wu) have worked tirelessly to create their own unique, thought provoking and compelling monologue that looks at love in all its various shapes and forms. I have to give special thanks to The Comedy Unit and the entire cast and crew who were brilliant throughout the process and were instrumental in bringing these fantastic monologues to life. We hope you enjoy them.
Angela Galvin, BBC Writersroom, Scotland
There's nothing more exciting than working with passionate new writers who have such original voices. Huge thanks to the three very talented directors (Stuart Elliott, David Hayman Jr, Raisah Ahmed) across the shorts who have done a superb job of realising the vision of the writers from page to screen. I am so proud to have been involved with such talented individuals and I'm sure their innovative story telling will be a hit with audiences.
Gavin Smith, Producer
Meet the 5 writers and watch their episodes
You Really Got Me Going started after reading an article about male loneliness in Britain. I'd always thought of loneliness as a disease that happens later in life, not to 20-year olds. The more I began to research it, the more I realised this wasn't just afflicting Britain, this is a worldwide epidemic.
From day one of creating The Break it's been the most brilliant, rewarding experience. The support from BBC Writersroom Scotland, especially the note sessions, pushed the project to a new and very exciting place that I don't think I would've got to otherwise.
The day of filming itself was quite surreal. Nothing prepares you from being cooped up in a room with your laptop to be being out in the fresh air with lots of people bringing the story to life. It's a lovely feeling!
Anita Vettesse
I'm interested in baddies. So the idea I originally pitched to The Break was just that: an exploration of a completely amoral character. A few drafts later and something happened to me that had never happened before: I got the same set of notes twice. So I chucked out my whole story. I kept the character and put her in a situation where the stakes couldn't be higher. I got through.
The entire team were gloriously, fanatically perfectionists. The Costume Designer Carole Fraser plucked the perfect costume from a vague note saying the character is 'neatly dressed' and director Raisah Ahmed saw right to the heart of the character and turned her into something real. I spent the day on set in astonishment as the character I made up stood there in the flesh.
Grace Knight
I thought I stood no chance when applying for 'The Break'. In fact, when I was selected, I cried and then I cried a bit more through sheer happiness.
Throughout the entire development process BBC Writersroom Scotland and The Comedy Unit have continued to nurture my idea, support me in its development and help me to break down barriers. Specific barriers that I had been struggling to break down on my own for years as a writer.
My idea focuses on the complexity of cultural, religious and sexual identity blending together. I wanted to showcase a character that deals with making a respectable, responsible and independent choice about their identity without self-destructing. Rather than it being a problem, my story was seen as ambitious and became a real labor of love for everyone working on it.
Omar Raza
I've been a Rangers fan my whole life. My father is a Rangers fan as his father was before him. The passion for Rangers and Celtic is unrivalled, the baggage of hatred fuelled by religious division is as problematic as it's ever been. Most fans are tired of the curious banners and unsavoury songs, an ever present background noise with little relevance to the modern football fan. Having recently moved to Swansea (a one team city) Glasgow's 'vocal minority' has never felt louder. I was drawn to the imagined quandary that only in Glasgow would a young man be more concerned about telling his father what team his boyfriend supported than the fact that he was gay in the first place.
Seeing the script take shape and being present for the shoot itself was a fantastic experience. Through the development process it became obvious that as well as dealing with the negative side of The Old Firm, it was important to shine a light on the positive too. Glasgow has its problems with football, but with the most passionate fans in the world, most of whom are ready to leave the past where it belongs, hopefully one day that problematic monitory can be silenced.
Stewart Thomson
This is a story about a half-Chinese social outcast doing anything she can to pick some scraps from the feasting table that is the school social scene. It is a story about the comedy of desperation, loneliness and the impossibility of acceptance. Being half Chinese myself the viewer may lazily assume that this is in some way autobiographical, and make the knee-jerk, uninformed assumption that these are the sorts of sorry events by which my own school life was marred. They'd be absolutely right, of course. For that reason I have loved transforming these horrendous anecdotes into something enjoyable and of course therapeutic, in a way.
In this monologue we see Franny Wong trying desperately to get into a party, to which she has brought a bottle of (my favourite) dry sherry, in order to snare the man of her dreams, Ferdinand Trotter. (Disclaimer: All names and likenesses to real individuals are purely coincidental.) I am of course extremely grateful to the BBC Writersroom for giving me the platform to vent my excruciating teenage angst and of course to give me as a new writer confidence, help and a writing credit!
Sophie Wu