Wolfblood was inspired by a shelf of second-hand books. Which just goes to prove that writers can get inspiration from pretty much anything. I was standing in a charity shop, browsing the books, when my brain somehow read half of one title and half of the one next to it, producing a new title  - Wolfblood.  "Interesting," I thought. "What's a Wolfblood?"  And thirty seconds later, I was dashing out of the shop to buy a notebook and pen and start scribbling...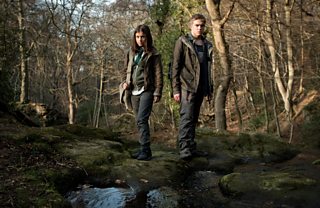 Image from CBBC's new drama Wolfblood
I knew pretty quickly what the story was about: a girl who'd always kept a secret, abut her family and herself, and a boy who threatened to betray that secret to the world by refusing to live the way she did. It would riff on werewolf clichés, but it wouldn't be bound by them. Being a Wolfblood wasn't a curse, but just who they were; they would have to change at full moon, but could also transform at other times. There would be echoes of The Incredible Hulk, Jekyll & Hyde, and perhaps most all, The X-Men, who often had more problems with just being teenagers than with defeating super-villains…
What I didn't really know was what to do with the idea. I was more used to writing genre pieces – science fiction, crime, thrillers – and I'd never written for children. But when the writersroom announced an open call for children's drama scripts, in association with CBBC, the opportunity seemed too good to miss.
When Wolfblood made it through to the final round, I was among the eight writers whisked off to a remote conference centre for a few days of intensive development. This also functioned as an introduction to the unique challenges and possibilities of writing for eight to twelve year-olds. Children view the world very differently to adults, and the desires and emotions that would drive an adult drama may not appeal to them. It's also a challengingly wide age group to write for: you can't scare or bore the younger viewers, but neither can you pitch the story too far towards older viewers. A good CBBC show has to have something for everyone.
To my amazement, Wolfblood was one of two projects chosen to be developed by CBBC – and then the real work began! "Development" is probably the most accurate term in television: you're taking something largely unformed, like a negative from a camera, and developing it into the best possible version of what that negative contained. Characters get bigger and bolder, locations and plot evolve to reflect the themes of the series, backstories, rules and mythologies are tweaked to ensure we have interesting places to take the characters.
Jimi is the school bully and his side kicks Liam and Sam are never far from him.
The real elephant in the room, though, was money for the visual effects. A show where characters regularly take the form of wolves is never going to be cheap – and it was vital that the wolf-forms felt every bit as real as the human characters and the dramatic Northumbria locations. A co-production deal with ZDF/ZDFE brought in European funding, and with German FX house Trixter on board, we were finally ready to go…
As I and the team of other writers raced to finish the scripts, filming started – in the coldest, wettest and generally most hostile February for years! Cast and crew shivered through night shoots in the woods, presumably cursing my name...
For me, the major attraction of television writing is that you're creating a starting point for a collaborative effort. Your ideas don't just sit there on a page – they inspire others to contribute their ideas and skills to a work that's bigger and better than any individual's contribution. What started as a random made-up word is now a whole dramatic world brought to life by dozens of talented people. And now the audience can share that world too.
So, welcome to Stoneybridge, where no one is quite what they seem – but be careful in the woods, especially at full moon…
Debbie Moon is the writer and creator of Wolfblood, a brand new fantasy action drama for CBBC.  Watch the first episode today at 17.15 on CBBC.