Writing for Perceptive Media
There was an hour before the submission deadline and my ideas were becoming increasingly surreal. As a member of the BBC's Northern Writers Group, I had been given the opportunity to pitch a short audio play to be developed with the BBC Research & Development department.
The team were trying out some new technology and needed a piece of writing to demonstrate what it could do, but there were a few conditions. There could only be one human character talking to a synthesised voice and as few location changes as possible. What's more, the robotic voice's dialogue would change every time someone pressed play.
The idea was that the story would tailor itself to the listener, becoming set in their location, with the robot dropping in references to things personal to them. It was an exciting project I wanted to be part of, but as the deadline loomed, I'd somehow landed on a rather far-fetched idea involving a talking dog from the future and a woman trapped inside a cardboard box. Back to the drawing board.
I looked back at some of the lessons I had learned in a course BBC New Writing Manager Henry R Swindell was running at the time. One of the things that had really stuck in my mind was that strong characters are often struggling with an internal conflict or fear that they are forced to confront.
So at the last minute and stuck for ideas, I decided to take this quite literally and trap an agoraphobic woman three storeys high inside a talking lift. (In the play, obviously, that's not just something I do to help me think!).
A couple of weeks later, I was delighted to hear my submission had been picked for development, although a little daunted by the prospect of writing something so different to anything I had written before. But I wouldn't be working alone. Henry, along with Ian Forrester and Tony Churnside from R&D, helped me to mould my story into a much simpler one (I hadn't been able to resist adding a few fantastical elements in my first pitch!) and it started to take shape. After our first chat, I felt a lot more confident about what I would be writing.
The first stage was to write a detailed outline of how the play would run. I got feedback on how the story was looking as well as whether my ideas were technically possible, then I began the first draft.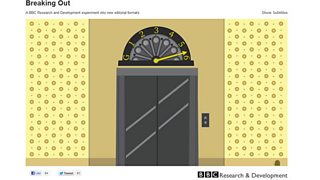 A still from BBC Research & Development's 'Breaking Out'.
I continued to work with the R&D department as I built on the play and got to see the project evolve as they came up with new ideas for the technology as well as for the story itself.
Slotting in new variables as they were suggested became one of the most fun parts of the project. The goal was to hide the tailored parts of the script discreetly into the dialogue so the listener wouldn't spot it, and hopefully there's at least a few parts of the play where that's worked nicely!
It was exciting to be given a new kind of challenge as a writer and to be involved with technology that has only been around for a matter of months! I love the idea of a story morphing itself to the listener and I hope more projects like this come up in the future.
I think the constraints of the project have also been a great learning experience for me, as in the past I tended to end up with sprawling plots and a large cast of characters. Being forced to stay in one location and on one conversation has taught me a lot about focusing on my characters when I write and letting their fears and desires - rather than set changes - move the plot along. The ideas I have come up with since writing the play have all been a lot simpler and more contained, which I think is a great improvement. One of them is still set in a cardboard box, though. Nothing wrong with that.
Sarah Glenister is the writer of Breaking Out for BBC Research & Development. 
An experiment into a new editorial format, Breaking Out is an audio play that has been created in a rather novel way. Plug in your speakers or headphones and head over to this link to hear it.
The play uses a new audio standard, the Web Audio API -  the only browser to support it fully at the moment is Chrome (Opera and Firefox will also support it a bit - but we recommend using Chrome). Make sure you allow it to access your location.
BBC Research & Development's Ian Forrester talks more about the concept of Perceptive Media and its potential impact on traditional broadcasting on the BBC R&D blog.