BBC Writersroom Wales: The Last Six Months...
New Year, New Team
2018 started with a bang – since the New Year BBC Writersroom Wales has had a new team. Helen Perry joined as Development Producer and Emily Angell as Development Coordinator. We have been busy travelling the country meeting people, attending screenings, and running events waving the BBC Writersroom Wales flag.
It's been an exciting start to the year; we have a number of schemes in the pipeline and many schemes underway already.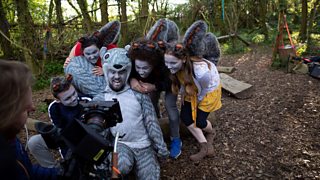 The cast of Outsiders during the shoot
Outsiders
Shooting is complete on Outsiders, a series of five short-form comedy dramas with a musical element (we like a challenge) dealing with mental health issues young people face.
Produced by BBC Writersroom and Boom Cymru, the shorts stand alone as 5 minute episodes and will play out on BBC iPlayer. They can also be enjoyed as a single 30 minute comedy drama which will air on BBC Wales.
Outsiders has been developed by BBC Writersroom Wales and is written by five talented emerging Welsh comedy writers - Alan Harris, Amy Howerksa, Darragh Mortell, Kiri Pritchard-McLean and Sam Bees. It also features new local acting talent. We're extremely proud of it, it's a hugely ambitious piece and we are looking forward to sharing it with the world.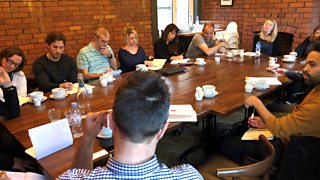 One of our Welsh Voices sessions in action
Working with Writers
This year we created an invitational group, lovingly called Welsh Voices, made up of the writers across a spectrum of experience who we are specifically championing and developing. We meet monthly for masterclasses, workshops and creative discussion sessions. Each year we hope to refresh our intake of writers to Welsh Voices. The aim of the group is as much about creating a sense of community amongst writers in Wales as anything else. But we're happy to say there have been tangible outcomes from the process – for example we've facilitated bursaries for writers on projects such as 'Tourist Trap' with The Comedy Unit and with the BBC innovation team.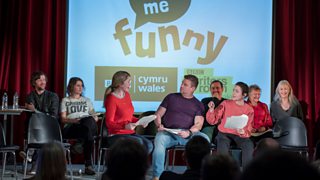 Find Me Funny Script in Hand Readthrough. (photo credit: Huw John)
Find Me Funny
We ran a comedy pilot initiative with BBC Cymru Wales, Find Me Funny, aimed at discovering up to three new sit-coms for BBC One Wales and BBC iPlayer. From just under 350 submissions (349 to be exact!) we now have our shortlist of 8.
At the start of March we organised the Find Me Funny Showcase, during which extracts from our 8 shortlisted scripts were performed by a cast of incredible Welsh actors. These extracts were performed to an audience of commissioners, producers, production companies, writers and other industry experts. It was a chance for us to celebrate the new talent the scheme had uncovered and for all 8 shortlisted writers to meet with programme/decision makers.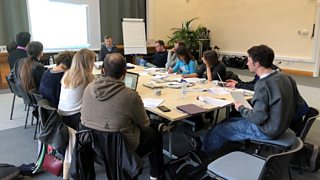 Philip Shelley leading the Writersroom Wales Workshop for It's My Shout 2018
It's My Shout
For the second year running, BBC Writersroom Wales partnered with Its My Shout during the shortlisting and development of submissions for their annual training scheme.
We ran a 2 day intensive writers' workshop where we were joined by script consultant Philip Shelley to develop the shortlisted scripts with writers. Each successful candidate's script will be brought to life in a 10-15 minute film which will be shot over Summer 2018 and broadcast on BBC Wales or S4C.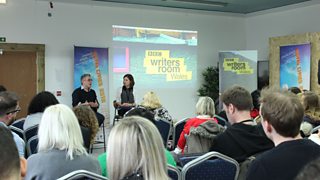 Matthew Hall and Helen Perry at Digital Cities Cardiff
Out and About: Sessions Around the Country
In February, we ran an exclusive hour long session 'The Art of Storytelling' at Digital Cities Cardiff 2018
We were joined by Welsh writer Matthew Hall, creative genius behind the new 8-part thriller series 'Keeping Faith' for BBC Wales for a Q&A session that explored key elements of drama writing such as character, structure, dialogue and genre. Matthew discussed his journey as a writer, along with how to find emotion and inspiration for writing. Scripts for 'Keeping Faith'/' Un Bore Mercher' can be found in our Script Library and it's exciting news that the series is now coming to BBC One network.
BBC Writersroom Wales were also at Machynlleth Comedy Festival over the early May Bank Holiday where we were joined by BBC Wales Comedy Commissioner Paul Forde, writers Kiri Pritchard-Mclean, Beth Granville, and Sian Harries and Sarah Asante, Assistant Commissioner for BBC Comedy for a session titled 'Breaking into Comedy'. During the discussion we looked at ways in which new writers can kick start their comedy careers with the BBC and shared top tips and practical advice.
June saw BBC Writersroom Wales join the Craft of Comedy festival in Llandudno. Craft of Comedy UK is the annual comedy 'party conference' at the seaside. There we delivered two sessions – the first addressed the basics of sit-com writing, dissecting an episode of Derry Girls to prove our points. We also discovered that that particular episode was structured exactly like a Shakespearean 5 act tragedy. Who knew! We also hosted a panel discussion to examine the Writer / Producer relationship; why it matters, how do you forge a successful working relationship, or can / should writers go it alone. We were joined on that panel by Amanda Farley (BBC Writersroom), comedy writers Gareth Gwyn and Gemma Arrowsmith and producer Lyndsay Fenner.
Watch 'Porta-lols' written by Kirsty Roderick and starring Ellen Jane Thomas. Music by BBC Introducing act CHROMA. Filmed at Singleton Park, Swansea.
Biggest Weekend Music Monologue
We were delighted to be part of this scheme which offered new writers the chance to gain their first BBC writing credit. Joining forces with The Biggest Weekend we put a call out for 60 second comedy monologue scripts based on the theme of festivals. As BBC Writersroom Wales we looked after submissions inspired by the Biggest Weekend Swansea site and line up. After whittling down the submissions we ran a two day workshop with the 11 shortlisted writers. The workshop focused on writing short form online content and gave the writers the chance to redraft their scripts with notes from development producer, Helen Perry.
Kirsty Roderick's script 'Porta-lols' was then shot on location with at Swansea's Singleton Park with local actress Ellen Jane Thomas and features music by BBC Introducing act Chroma. 'Porta-lols' premiered on the live event screen at The Biggest Weekend festival Swansea and has been published across selected BBC sites and Social Media.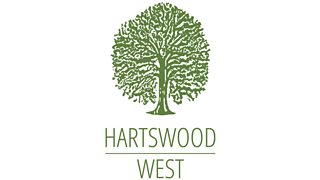 Hartswood West Writers' Award
Hartswood is an independent production company based in London and Cardiff, that works with exceptional talent across drama and comedy. Best known for the global hit Sherlock, recent credits include Lady Chatterley's Lover, Edge of Heaven, The Guilty, and the forthcoming Dracula.
We've partnered up with Hartswood West in Cardiff and Creative Skillset to find and develop the most exciting, up-and-coming TV writers with a strong connection to Wales through the Hartswood West Writers' Award. We are looking to invest in two ambitious new writers and develop their ideas to initially pitch to the BBC. We are looking for ambitious scripts and distinctive voices. Drama or Comedy, we are open to anything that reflects how you write.
This fantastic opportunity is open to Welsh writers, those living and working in Wales, and also those who can authentically depict Welsh stories and Welsh characters and reflect the culture of Wales in their writing. Find out more here and apply by 10am on Monday 2nd July 2018.
Haunted House
Following a workshop with BBC Innovation, playwright (and member of Welsh Voices 17/18) Brad Birch has been commissioned to write Haunted House' (working title), a 30 minute immersive audio Halloween drama for BBC Taster. We'll be working closely with BBC Research and Development to create a cutting edge drama using pioneering technology that can enable stories to play out over multiple home devices, possibly interact with the audience and also potentially include augmented reality visuals.
So that's what we've been up to over the last 6 months. But to find out what we've got coming up please keep checking the Opportunities page of the website. We're extremely proud to be championing talent and stories from Wales and we're committed to keep hunting for new voices, to supporting writers and to finding platforms to showcase the very best of Welsh comedy and drama.