BBC Radio 4 - Porcelain: The Trial for the Killing of Sophie Lancaster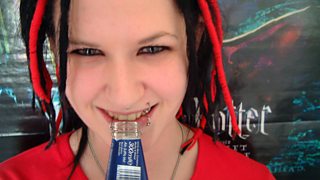 I've been asked to write a little something on our forthcoming radio play - Porcelain – The Trial For The Killing Of Sophie Lancaster – I say 'our' rather than 'my' because it certainly isn't just my piece: there have been many people involved in the making of this particular 'play'.
I'd heard about the attack on Sophie and her boyfriend at the time – a young couple seemingly attacked for looking different, for dressing as what the press termed 'Goths', although Sophie and her boyfriend never labelled themselves as that.  The attack was brutal, and the details upsetting, it was headline news. 
A few years later, my wife (Julie Hesmondhalgh) bumped into Kate Conboy-Greenwood (from the Sophie Lancaster Foundation) at a theatre in Manchester, Kate introduced herself, gave her a S.O.P.H.I.E. wristband and told her all about the foundation and its work.  My wife came home, told me about it and we soon became involved with the foundation.  We became friends with Sylvia and everyone connected with the foundation – Kate, Stacey and Odette.  We went to peace seminars where bereaved parents talked of how they'd tried to deal with the aftermath of having their child taken from them.  We went to gigs where Sylvia was invited onstage to speak before the main acts (The Skints and The King Blues) and where audiences would fall silent to listen to this mother tell her story and urge them to spread the word of the foundation's aims – to Stamp Out Prejudice & Intolerance Everywhere.
I started to think about telling Sylvia's story, essentially of how an 'ordinary' woman became an 'extraordinary' woman, going into schools teaching workshops on difference and acceptance, addressing members of Parliament and the European Parliament, liaising with police and law makers and campaigning to change current Hate Crime Legislation to include attacks on people of alternative sub-cultures. 
I witnessed first hand well-meaning people talking to Sylvia about how they thought 'Sophie would have grown out of wanting to look the way she did' and Sylvia calmly replying that there are seventy year olds at Whitby Goth Weekend who still haven't 'grown out of it'. 
Tattoos, piercings, hair colours and clothes aren't a phase, alternative people don't 'become' alternative they already 'are' – yes, some people experiment with looking different but most 'just are', it's not a choice, they 'just are' in the same way others who are attacked for being different 'just are'.  Surely the mark of a free society is people being able to be who they want to be and to express themselves without fear of prejudice and attack.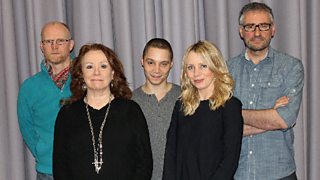 Porcelain cast
I listened to Sylvia's frustrations about the trial, and her shock at the workings of the judicial process, about how painful and disempowering, it had been and wondered if some things should change within the justice system. My aim was to help tell her story.  
Around this time the genius that is Simon Armitage wrote 'Black Roses' – recorded interviews with Sylvia interspersed with Simon's haunting poetry, it was broadcast on Radio 4 and subsequently staged at Manchester's Royal Exchange Theatre (with my wife playing Sylvia on stage alongside Rachel Austin playing Sophie). 
We're perhaps used to experiencing strong emotion through drama and fiction then being able to park it and move on with our lives, but Sylvia and Sophie's story isn't fiction - it's heartbreaking, it's painful, raw and real.  It's about to start another (sold out) run at the Royal Exchange before going on a short tour of communities in the North West and eventually arriving in London's South Bank Centre in March.
Sue Roberts who had produced the play for Radio 4 (and co-directed the stage version with Sarah Frankcom) knew I wanted to help tell Sylvia's story of the trial, how Sylvia wanted the story to be told and that the audiences at Black Roses had wanted to know what happened next.
Sue talked to Jeremy Howe (the drama commissioner) about a play of the trial and we were soon talking to Sylvia in a studio at Media City, Salford – recording Sylvia's feelings about the trial and giving her an opportunity to speak.  Armed with hours of interviews and court transcripts, I searched for a way to tell this huge story in 45 minutes – it had to a story that people who hadn't heard Black Roses could access yet also one that wouldn't go over the same territory as Simon's play.
Sylvia's interviews had to occupy the bulk of the piece and I tried to structure the timeline of the piece using excerpts of her interview as a spine to hang the re-enactments from – we had to hear what Sylvia was commenting on and moreover it had to have a point.  Why put Sylvia through the interviews (and the recording) of the trial unless it had a point, a purpose?  The difficulty was there were simply too many points, too many issues, too many important thoughts and feelings to express to get into 45 minutes.
I delivered a lengthy first draft and Sue and I trimmed and cut sections back, then went into the studio with an astonishing cast who were all deeply affected by the story. We all wept, and when Sylvia ended the piece by doing what she needed to do (as you will hear) we were broken.  We ended the day with 68 minutes…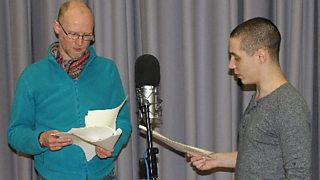 Conrad Nelson & Robert Haythorne recording in studio.
Sue spent all week editing it down to 45 minutes to fit the slot and the play as it stands in its 45 minute form tells Sylvia's story, and it has a point, it has a lot of points.  (NB - we're planning to play a longer version at a free 'Listen In The Dark' event at the Royal Exchange on March 8th)
I hope it provokes discussion, I hope it will create understanding and I hope that it may help to bring about change.  It's no easy ride and nor should it be, it's a story that is as fragile and as delicate as porcelain – a word borrowed from Sylvia's description of her beautiful, delicate and unique daughter.
S.O.P.H.I.E.
You can find out more information about the Sophie Lancaster Foundation on their website here. 
Listen to Porcelain: The Trial for the Killing of Sophie Lancaster is a drama documentary with extracts from an interview with Sophie's mother Sylvia Lancaster and dramatised scenes, including the trial of Brendan Harris based on the court transcripts written by Ian Kershaw
Listen to Porcelain: The Trial for the Killing of Sophie Lancaster on Radio 4, on Mon 3rd Feb, at 2.15pm.
There will be a free 'Listen in the Dark' event taking place at the Royal Exchange Theatre in Manchester, on 8th March, at 6pm.  For more information and to book tickets please visit the Royal Exchange Theatre website.