Updating Dickens for Daytime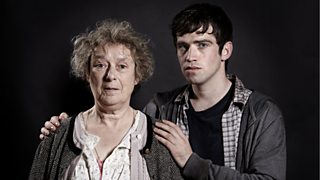 Andrew Simpson & Linda Bassett in BBC ONE drama Nick Nickleby
Why wasn't I daunted? It is daunting, taking a much-loved Dickens classic and rewriting it for today. How could you do that and expect some people not to hate it? Well, as the writers who read this blog probably know, in that moment when you come up with the idea, you can't be daunted, or worry about what people might think. You're too busy being excited.
I got the e-mail from Kindle, an independent production company that I'd tried to work with a couple of times before on projects that didn't get beyond the whiteboard. At the time, when these things sputter and die, it seems like it's all been a waste. But later you realise maybe they just weren't supposed to happen, there and then. Maybe they were just a warm up, a way of getting to know that team of people, proving to them that you weren't a loon and could deliver when the right project came along.
So this e-mail comes – 'Dickens 2012. Kindle would like to pitch a 5-part modern adaptation of a Dickens novel to BBC Daytime. Any ideas?'
Go on. Be honest. You can't help it, can you? You're not thinking – oh my, but it's Dickens! I couldn't possibly put my greasy paws all over his sacred text. You're thinking – What would I do?
It's a writer's fantasy. A dream brief. The kind of thing you might make a game of. And at that stage, it is playing, making things up. Let's play Dickens in modern day. Who do you want to be? What could happen? What if… And then, if it wants to play, it takes on a life of its own.
I thought I'd do Hard Times. That was the Dickens I knew best. I'd studied it at uni and it was about education so immediately felt relevant to today. So I tried and I scribbled, but on a practical level, I couldn't make it work as a five-parter, and, more importantly, it just wouldn't come out to play. Everything felt like I was forcing it. So I let it be and wondered if the Let's Play Dickens game was not for me after all. Perhaps someone cleverer should do it. For a moment, I let myself feel daunted.
Then I thought of Nicholas Nickleby. Initially, I'll admit, because it was long – no problem with the five parts! Then I remembered how I'd first come across it, on a rainy school trip to Southport to see a youth theatre version of the spin-off kids' musical Smike. I must have only been eight or nine and had no idea about Dickens, what it was or ought to be. But I remember I had a great time.
My next encounter was through the David Edgar RSC adaptation, reading the plays first, then seeing them on film. It's inventive yet faithful, extremely funny, and with a moment which made me fall in love with the story, when Nicholas walks through London and suddenly his story becomes everyone's. That's what took me to the book. And when I picked it up and re-read it again, that's what made my heart beat faster, when I started getting excited. Nicholas Nickleby wanted to play.
Maybe that's the difference between studying something and truly loving something – the friends you make just because they're in the same class as you, and the friends you would always have chosen because you make a real connection. And when you get together, there's no stopping you.
So Kindle was swiftly bombarded by my e-mails. First a few sentences, summing up my idea – the school as a care home, Smike as Mrs Smike, the story of a young man and an old lady, trying to take care of each other in a world where care has become big business. Then a two-pager with more detail, then random thoughts as they came flooding. Ralph could own the care homes. Mulberry Hawk could be an oligarch, Hawkovsky. Nick's gentle sister Kate could become the feisty Kat. Madeline could be Madhi, a single mum. Wackford Squeers could be… he had to be Wackford Squeers.
I was excited. So was Kindle, and the BBC Daytime execs, although they were still a bit daunted, because it's their job to think of the audience before anything else. So they were excited, with notes. Which is when you move from playing to working. Really hard. To take everything you've imagined and try to make it work onscreen.
Now that it's going out, okay, I am a bit daunted. No doubt some people will have their own ideas of what Dickens is or ought to be. But I'm very proud of what we've made and I hope that lots of people will have a great time watching it.
Nick Nickleby is on BBC One at 2.15pm from Mon 5th November – Fri 9th.
You can catch it on BBC iPlayer from Mon 5th Nov.