Writing Narrative Radio Comedy
As I found myself verbally pitching my new radio comedy idea to Jane Berthoud (Head of Radio Comedy) and Kate Rowland it was hard to believe how far all of our ideas had come in just three days.

At the beginning of June I was lucky enough to be among a group of nine comedy writers - all women - invited to take part in a writers' residential at Bore Place in Kent. Organised by writersroom and BBC Radio Comedy, we were each asked to come along with the germ of an idea and our task was to develop those ideas into narrative radio comedy series over the course of three days, culminating in a pitch on day four.
What we had in common as a group was that we all already had a certain degree of comedy writing experience, from broadcast series to published books and in some cases, comedy performing experience too.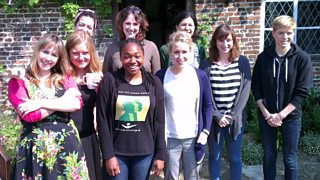 Sian Harries, Sue Elliot-Nichols, Maeve Higgins, Rose Heiney, Paula Hines, Lucy Beaumont, Marie Phillips, Isy Suttie and Mae Martin at Bore Place.
It takes time to be creative. The tricky thing is that day-to-day stuff like the washing, the internet, that phone bill that needs paying, the flat to clean... (and did I say the internet?) can sometimes distract us. One of the big luxuries of being at Bore Place was that it gave us uninterrupted time and space to develop our ideas as well as a chance to be in a supportive environment among fellow writers with whom we could bounce ideas around.  It was also interesting to see that some of the writers in our group ended up discarding the original ideas they'd arrived with and came up with something totally new and even better.
The schedule was brilliantly packed with some great sessions whilst still allowing us writing time to work on our ideas. By day we had sessions with visiting writers, producers and execs and the evenings we watched comedy DVDs and listened to the openings of numerous radio shows, with much discussion on what worked and what didn't and why. 

Christopher Douglas (Ed Reardon's Week) shared his experiences of writing radio sitcom and Arthur Matthews, co-creator of Father Ted talked to us about set pieces and the origins of some of his ideas.

Alison Vernon Smith and Steve Canny from Radio Comedy led sessions on writing treatments and breaking down an episode of Parks and Recreation respectively, while the brilliant Lyndsay Fenner, also from Radio Comedy was there to support us throughout the four days.

All in all it was like a sitcom boot camp, but with none of the pain of an ex-military bloke barking at you.  In fact, far from boot camp torture, the whole experience was great fun and very positive. I feel privileged to have been there among such a brilliant bunch of women. As we know, writing can be a lonely business at times, but I think I can safely speak to the group when I say we came away from those four days feeling we'd found some new Comedy Compadres.
After our pitches we all received individual feedback on our ideas from Kate and Jane. Now we have until the end of June to re-write our treatments in full, and in July we will pitch our ideas to Caroline Raphael (Commissioning Editor for Comedy & Fiction on Radio 4 and 4Extra).  So, I'd better get back to writing!
- Paula Hines is a writer and script consultant - visit her website to find out more about her work.
- Paula was one of a group of nine female writers invited by BBC writersroom & BBC Radio Comedy to spend four days at a residential in Bore Place developing sitcom ideas for Radio 4.  The scheme was designed to address a lack of female comedy writers for TV and radio - read more in BBC Ariel's piece - Female writers go to the funny farm.