The Sarah Jane Adventures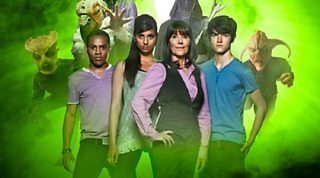 Phil Ford
For anybody who hasn't watched it, The Sarah Jane Adventures is the CBBC spin-off from Doctor Who - I'm guessing that you've probably seen that, and indeed the only reason you've never tuned in to SJA is because it's on before your home time - or you think it's just for kids.
Well here's a hint on how to write for kids - DON'T.
I've worked on every series of Sarah Jane (I've also done Doctor who and I've done Torchwood) and I've written scary stuff for all of them, emotional stuff, and stuff that's there to make you think.
Because that's the secret of writing for children - respect them; they're a smart bunch. And tell stories that entertain you, the adult. Stories that you would want to watch, something that would satisfy you, and feed your imagination. Don't give them candyfloss - it might look bright and colourful, and it might taste good, but an hour later you're either hungry again or nursing a stomach ache.
So I never write for this show thinking of it as a kids' show, just as a medium to tell a great, thrilling story.
Okay, let's be sensible; there are things that you wouldn't do in a show that goes out around teatime, but that's just common sense. That doesn't mean you can't tell your story in a grown-up way. It doesn't mean you can't be challenging in your themes or nature of your story.
Our show might deal with aliens - even some that fart and explode in messy goo - but we've also talked about serious subjects like dementia, marital break-ups, and (no pun intended) teenage alienation.
On the other hand, The Sarah Jane Adventures is also fun - it's a rollercoaster ride of thrills and fun and drama that's about family and the wonder of the universe, and the wonder of life itself. And The Vault of Secrets is very much a romp that doesn't take itself too seriously.
It sees the return of two extra-terrestrials that I've written for in the past - Mister Dread and his Men in Black who first appeared in my animated Doctor Who story, Dreamland, and Androvax the Veil who has a nasty habit of slipping inside other peoples' bodies as he sets about destroying their planet.
Androvax first appeared in the previous season's Prisoner of the Judoon story which was itself connected with Dreamland (the wonderful thing about working in the Whoniverse is the opportunity to cross-reference shows like this). But the only reason to ever bring a creature back is in order to learn more about them (don't forget aliens are characters and worthy of development just as much as any human protagonist) - and in The Vault of Secrets we get to see another side of Androvax, and get a better grip on Mister Dread and his purpose on Earth.
For all its running about and shapeshifting hi-jinx, however, there is also a real moral dilemma at the heart of this story, and that's why I love it.