Dramatising Saturday Night and Sunday Morning for radio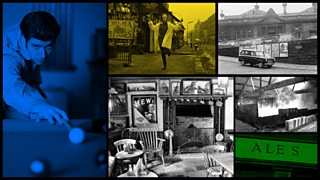 Radio 4's British New Wave season celebrating the fiction which became iconic films of the 1960s kicks off this weekend with This Sporting Life.  On Sunday, you can hear the first episode of Saturday Night and Sunday Morning by Alan Sillitoe dramatised by Robert Rigby.
Alan Sillitoe's Saturday Night and Sunday Morning has been rightly hailed as, 'that rarest of all finds: a genuine, no punches-pulled, unromanticised working-class novel.' Published in 1958 it is also a seethingly atmospheric story, very much of its time, with a broodingly magnificent, anti-hero central character and a host of superbly drawn supporting characters, both male and female. It's a natural for radio – who wouldn't want to dramatise it? I certainly did, and thoroughly enjoyed the entire process, from first draft to recording.
Sillitoe admitted that the book evolved from a number of short stories. Some of these stories are quite detached from the main narrative line so choices on what to include and what to leave out were made easier. Another decision was to give Arthur Seaton the narrative voice. In the novel, Sillitoe does this a few times, occasionally at strangely arbitrary moments, but for radio it felt right to give Arthur his head and his voice throughout. He's that kind of guy.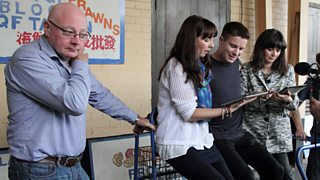 Natalie Grady (Brenda), Joe Dempsie (Arthur Seaton) and Sarah Smart (Winnie), prepare to experience the ghost train, flanked by dramatist Robert Rigby (far left).
And talking of Arthur – you have to when discussing Saturday Night and Sunday Morning – when working on the dramatisation I swiftly came to the realisation that he would never get away with his philandering ways now. Back in 1958 he could stagger from one pub to another with his latest married conquest on his arm fairly confident that only bad luck and a chance meeting would lead to discovery. These days he'd be plastered all over Facebook and every other social media outlet within five minutes of stepping through the public bar doors. On the other hand, Arthur has so much personal philosophy to share with the world he would probably embrace modern day technology at the first glimpse of a Smart Phone. I can see it now – Arthur Seaton #dontletthebastardsgrindyoudown.
Saturday Night and Sundy Morning will be on Radio 4, Sun 1st Sept, at 3pm.
You can find out more about Radio 4's New Wave season here.