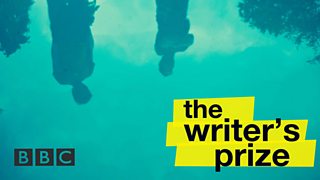 Image for the The Writer's Prize for radio.
1200 scripts: when you see them all together stripped bare of their envelopes, it's daunting, a room full of ideas, new worlds, exposition, un-thought through ideas and thank goodness strokes of genius that make you read on and laugh out loud.
So from all these the submissions in different shapes and sizes our readers started their work  in December to find the most compelling drama and comedy scripts. This takes time, and  after weeks of reading and much debate a shortlist was created for both sets of judges. Ten dramas for writer,  Roy Williams and R4 Drama Commissioner  Jeremy Howe and eight comedies for Caroline Raphael, Commissioner R4 Comedy  and Miles Jupp, Comedy Writer and performer, with me reading all of them. 
I'm always asked how can you tell whether it's any good, what do you mean by the writers voice, when you say my play lacks ambition what's really wrong with it. Of course it's got a story say you and I say actually no nothing happens, no one is changed, the stakes aren't high enough, I just don't care what happens to those characters. And with comedy we're looking for original ideas with a strong premise, real characters not cliches, that have the potential to surprise and  engage an audience week after week.  It's not easy,  and we were looking for work to develop and commission so its real time and money at stake. But then something inexplicable, compelling, extraordinary grabs you and makes you turn the page.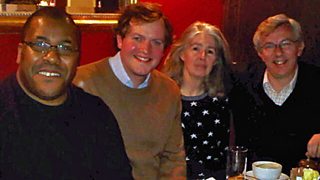 The Writer's Prize Judges: Roy Williams, Miles Jupp, Caroline Raphael and Jeremy Howe
Yes it's all subjective but when the judges met on Wednesday February 6th, all of us with a vast experience of  reading scripts, to consider the  final short list for the Writer's Prize one thing was certain, we did not feel that our time had been wasted. Roy Williams, Jeremy Howe and I were genuinely impressed by the range and calibre of the Drama scripts we were asked to consider. From cycling grannies in space to noir thrillers and pharmacies, boy eating polar bears and the ethical dilemma of which parent do you kill when the food runs out. We were confronted by complex storytelling, boldness and an emotional engagement that comes from writers passionate about their subject.  We were unanimous about the strength of the two dramas we selected for commission-  Rock me Amadeus by Simon Topping and Bang Up by Sarah Hehir.  Jeremy Howe said that "Rock me Amadeus by Simon Topping is a delightful sharp romantic comedy with a difference. Charlie is 16, and has a twin sister. Although he is a boy, he knows he should really be a girl. He has a crush on the German exchange who comes to stay with them, and so does his sister, only he can't admit it – because he is a boy and he is not gay. It is clever, beguiling and handles a tough subject with a lightness of tone and a freshness of voice that makes it an utterly engaging read. Bang Up by Sarah Hehir is a drama about a woman trying to teach a young offender in a detention centre. Her life is imploding, while his has hope, but through the course of the play she finds her way as he utterly loses his,  it is beautifully written, moving and insightful." Perhaps we were more disappointed by the range of ideas for comedy, the lack of and maybe too many familiar set ups but the selected script  for Comedy development was The Joy of Adult Education by Mark Wallington in which a beginner's woodwork course and a small earthquake help an everyday couple save their exotic ravioli business. Miles Jupp said " The characters are beautifully and lovingly drawn too, giving a real warmth to this understated joy of a script."
Here's what the writers had to say:
Simon Topping
"I'm absolutely thrilled, honoured, flabbergasted, flattered, gobsmacked and very grateful that my play has been selected. Thank you bbc writersroom and judges! Wow, wow, wow, wow, wow, as Kate Bush might have said (the last two wows in a deep voice)."
Sarah Hehir
"Being selected for the  Writer's Prize feels like a life changing moment. I'm so excited about the future!"

Mark Wallington
"Delighted to be working in radio again. I've always thought radio is about as much fun as a writer can have".
Anyway we will keep you in the loop with developments. But don't forget be bold, don't try and second guess what you think the networks are looking for - what do you want to hear?  Write that as best as you possibly can and keep writing. (Oh my god that sounds like Brucie!)
The Writer's Prize was a joined partnership between BBC writersroom and Audio & Music for radio drama and comedy writers.  The prize was the opportunity for a Radio 3 or Radio 4 Drama commission, or a pilot commission for a Radio 4 Comedy.