Shetland: Author, Ann Cleeves, on seeing her books adapted for TV
On Tuesday 11 March, Shetland, starring Dougie Henshall as Jimmy Perez, returns to BBC One and I'll be glued to my screen to watch the bleak and beautiful landscape as the story unfolds. I've already seen this episode – one of the perks of being the writer of the books is that I get sent an advance DVD – but I like the idea of television as a social activity. I know that all my friends in Shetland will be watching too.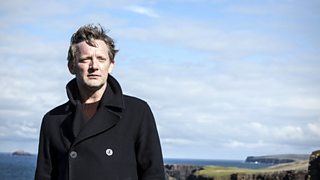 Douglas Henshall stars in Shetland
The process of adaptation has been a joy for me. Some novelists find it tricky; they feel excluded and side-lined as the drama develops in ways they never considered. My experience has been quite different. Elaine Collins, executive producer of the show, discovered my books in an Oxfam shop in North London, so she was a reader before she commissioned the scripts. I went with her and two of the scriptwriters to Shetland to help them get a sense of the place. We spent an hour chatting to sixth formers in the high school in Lerwick, met the crew of the mail boat that runs to Fair Isle and had a tour of the police station with Eddie Graham the local inspector. I lived in Shetland for a short while in the seventies and have been visiting ever since so I have lots of useful contacts!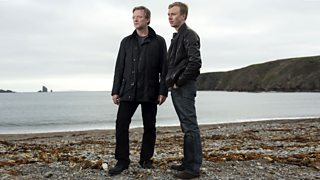 Jimmy Perez (Douglas Henshall) and Sandy Wilson (Steven Robertson)
I know the actors have a deep respect for the islands too. I had a message from a poet friend of mine to say that Brian Cox had been to visit her. He wanted to hear the rhythm of her speech before filming started. It helps that one of the stars of the show – Steven Robertson who plays Sandy Wilson – is a Shetlander and Marnie Baxter, who guests in Dead Water, grew up there too. From the beginning it was important for the whole team that despite the difficulties and expense much of the action should be filmed in Shetland.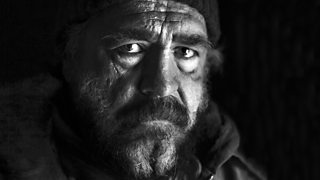 Brian Cox in BBC One's Shetland
Of course the series will be different from the books. Television is a different form, and I'd prefer a good drama to a faithful adaptation that doesn't work on the screen. Some plotlines are cut and others are developed. New characters are created; I wish I'd written 'Tosh' played by Alison O'Donnell! But a writer loses possession of her work as soon as it's reaches its audience. Each reader brings his own experience and prejudice and imagination to the work. Television adaptation just goes one step further and the novelist has to learn to let go.
Ann Cleves is the author behind both BBC One's Shetland and ITV's Vera.  Find out more about Ann and her work on her website
Shetland returns to BBC One on Tuesday 11th March 2014 at 9pm
Read cast interviews and watch clips