The Writer's Prize commission: Bang Up
I stood at the plate glass window of my hotel room, high above MediaCity and grinned. Then I did a dance of pure glee!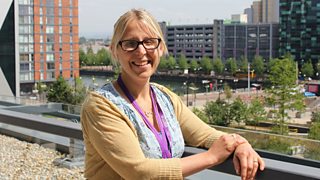 Bang Up Writer and BBC Writer's Prize recipient, Sarah Hehir.
It was about a year ago that I started writing Bang Up: a play for radio inspired by the time I spent teaching in a Young Offenders Institute. I entered it for the BBC Writer's Prize and in March, balancing between three young daughters and two suitcases on a crowded train, I couldn't help myself from glancing at my phone one more time. At the top of the inbox was the heading 'Writers Prize'. ..
Dear Sarah
Congratulations – I'm delighted to say that you have been selected as one of two writers who we will be taking forward to commission for the Radio 4 Afternoon Play.
I shouted "I've won!" and only my eleven year old daughter, Esmé, understood the significance; the rest of the carriage looked at me strangely. I stayed in bed the whole of the next day in a state of blissful shock. 
Finally, wonderfully, I was just one sleep away from it being recorded for the Radio 4 Afternoon Drama slot! As it turned out, I couldn't switch my brain off and I hardly slept at all; it felt like Christmas Eve.
The two days in the studio were fascinating. Sue Roberts had discussed the play in detail with me and had sent me updates at all stages of casting; she is an award winning and highly experienced producer and someone I was very happy to put my trust in. Still, having come this far I was nervous about how the play would sound once lifted off the paper.
After a whole cast read through in the green room, I sat in the kind of radio production room I'd seen in photographs – with buttons, screens and a microphone to communicate with the actors. Working with professional actors was very satisfying; they responded to Sue's notes with expert ease and produced great performances on the first or second take. The BBC production team were like a machine that was so well oiled that after a while, I relaxed and enjoyed the creative energy they ran on. In the BBC canteen, I tried to look cool and pretend I was used to being there. Luckily I knew a few of the actors felt as giddy about the whole experience as I did!
It's no myth that writers are a valued part of the team in radio drama. We worked like mad for the two days but it was friendly, supportive – in fact great fun! I was there at every stage of the record and my ideas and feedback were welcomed and listened to.
I quickly learnt that there is no point being too precious – if the recording is too long then something has to go!
I didn't include many directions in the script and I'd keep it that way in future writing – I liked how it gave the actors the freedom to try different interpretations of a line.
I'm more keenly aware that the writing has to be vital and engaging, tightly structured and written to be heard rather than seen. I also learnt that the writer is not alone: the producer, actors and sound engineers will add to the drama and that it is well worth being open to all the ideas offered.
Radio can whisper stories into people's ears and in the process move and unsettle them; the range of narratives structure and conventions you can use to tell these stories on the radio means that writing is always exciting.
I'd spent the last twenty years writing, scribbling notes, half-writing and sometimes wondering if I could actually write at all. Five years ago I went on an Arvon Writing for Radio Course with Sue Roberts and Simon Armitage as the tutors. In the heat of a Shropshire summer and six months pregnant, I learnt more of the craft than I realised at the time. Back home - back to a new baby, toddler, school runs, nappies – I struggled to stay awake late enough to write. But it was all in there somewhere and ideas brewed! Sue's gentle slashing of a sample script I took to Shropshire became my measure for editing.
About eighteen months ago, with a couple of hours suddenly free in the afternoons, I discovered the BBC writersroom and got stuck into writing again using the competitions on their opportunities page as motivation. At about the same time, I got my first work as a writer for Needlefoot Dance which was invigorating and more social than writing alone! I started going to the theatre more often and met other writers in the ever more creative Medway underground music and arts scene.
I listened to lots of drama on Radio 3 and 4, read scripts and started to get a feel for my own style: discover the kinds of things I really wanted to write about. The pressure of a deadline and the constraints of competition rules would get my heart racing and keep me up into the dead of night. It was exciting! I drank a lot of coffee and felt like a proper writer.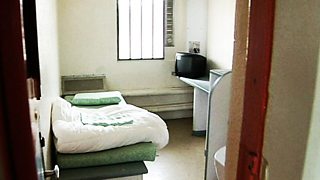 I was teaching literacy in a young offenders institute and I knew I wanted to write something about what it's like to be in prison - I just wasn't quite sure what story I wanted to tell. I'd come out of that experience knowing that many of the young men came from troubled backgrounds and continued to struggle with difficult relationships, addiction and a lack of concrete skills. This didn't surprise me; the humanity, humour and optimism did.
What was heart-breaking was how easily good intentions came crashing down. Prisoners who had gone out on tag would come back in again; sometimes because they had broken their license by not coming home on time, sometimes it would be for something far more serious.
I was interested in the characters of these boys who had defied my expectations.  I knew I wanted to reflect the complexity of this strange and isolated community but I still needed to decide where the story was going to come from. I didn't want it to be about me. The character of Emma is not me but is obviously influenced by the time I spent teaching in prison. I wanted to combine the tensions and potential violence of prison (the atmosphere there can turn on a word) with the unexpected tenderness and camaraderie that exists between the guards and the boys.
People I've spoken to make assumptions about prison before they've been inside one; their preconceptions seem to be based on media representations and rumours. My experience unravelled my own expectations and prejudice. I think most people who have been inside would agree that it's a difficult, diverse and complex environment but one where hope can be found in the most unexpected of friendships.
Now the Bang Up has been made, I don't feel like I own the characters of Emma and Lee anymore; I listen to the play and find myself rooting for them even though I know every word they're going to say!
Entering the Writer's Prize has made me feel so much more confident and keen to develop my new ideas. I also have support from the writersroom and the development opportunities in the BBC that mean I'm no longer writing alone in my room – although there is no guarantee that a script will reach production, there are people who will read it and help me to develop it.
- Listen to Bang Up at 14.15 on 8th August 2013 on BBC Radio 4. Listen back on iPlayer and find out more on the programme page.

- Sarah Hehir was commissioned to write Bang Up for Radio 4 after entering her script to the BBC Writer's Prize.
- Follow Sarah on Twitter: @hehirsarah